Vanderbilt's coach said his program wouldn't be where it is today without the contributions of the coach who'll stand in the opposing dugout this week.
It was in 2003 that Tim Corbin hired Erik Bakich as an assistant. They worked together at Vanderbilt for seven years.
And Sunday, Corbin shared his admiration for Bakich, who took the Michigan job in 2012.
"Vanderbilt is not Vanderbilt without Erik Bakich," Corbin said. "He just needed the opportunity, and he was not going to take no for an answer in anything that he ever did."
The mentor and protégé will match up this week. The Commodores and Wolverines are playing a best-of-three series for a national title.
It's a meaningful occasion for both.
"This is the first time seeing this guy not in the same uniform together, and I know I wouldn't be here without him," Bakich said. "We were talking (Saturday). There's not a better way for our friendship than to be at the pinnacle of our game right now."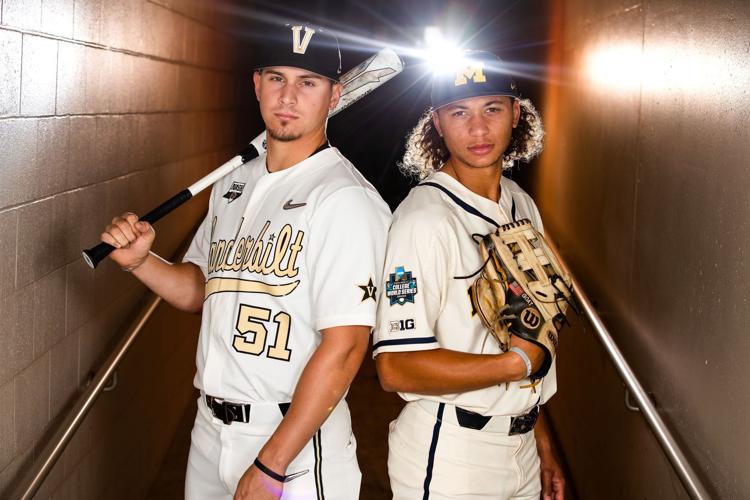 Something they can agree on
The two coaches who'll play for the national championship agree with Mississippi State's Jack Mangum, who delivered an impassioned speech at a press conference about the need for a third assistant in the sport.
The NCAA's Division I counsel, mostly made up by athletic directors and conference commissioners, shot down a rule proposal that would allow for a third paid assistant in baseball — which, for most schools, would mean elevating a volunteer coach to a full-time job.
Mangum couldn't believe the rule didn't pass.
"Every year we've had assistant coaches that have not been paid who spend hours upon hours upon hours doing all they can for our program, sleeping in the offices, scouting for us, dealing with camps," Mangum said. "It's time to change. It really is."
Corbin and Bakich agreed at Sunday's CWS final preview press conference.
Corbin said the decision represented the "most short-sighted-thinking aspect of our game."
Bakich said he thought the proposed legislation was "low-hanging fruit," and he was disappointed it didn't pass.
Currently, college baseball has one coach and two assistants for a roster that is permitted to top out at 35 players — a maximum of 27 players can split 11.7 scholarships.
"For a 21-year-old kid like Jake Mangum to speak up says everything you want to know," Corbin said. "Student-athletes thinking about that position, thinking about that position and someone that they work with every single day, someone who's always there, and you can't compensate them or reward them with just simple medical benefits, it's baffling, and it's sad.
"It needs to be adjusted quickly, without question. We're better than that."
Extra rest for both
For the first time in six years, both teams playing in the CWS final will enter with two full days of rest.
Michigan and Vanderbilt avoided playing an extra game in Omaha — they swept through their brackets with 3-0 records.
The last time that happened was 2013, when UCLA and Mississippi State played for the title.
Corbin spoke after the Commodores' dramatic 3-2 win over Louisville on Friday night — and he indicated that his team could benefit from a chance to reset.
"I think right now I just want to enjoy this win and focus on the kids and the ability just to decompress and take a breath — them, us, everyone," Corbin said.
Both teams will be back in game mode starting Monday night.