Auburn had some big-name supporters in the stands Sunday night for its first College World Series game since 1997.
Tiger football coach Gus Malzahn, sporting his trademark visor, sat next to the school's basketball coach, Bruce Pearl, in the Auburn fan section behind TD Ameritrade Park's first-base dugout.
And seated behind those two recognizable faces? Tim Hudson.
Hudson was on that 1997 team. He ended up playing 17 seasons in the major leagues, retiring in 2015.
Auburn legend Bo Jackson tweeted earlier this week that he wouldn't be able to attend the CWS, but he expressed his support for his alma mater with a screenshot of the Tigers' celebratory dogpile after they'd clinched a CWS berth.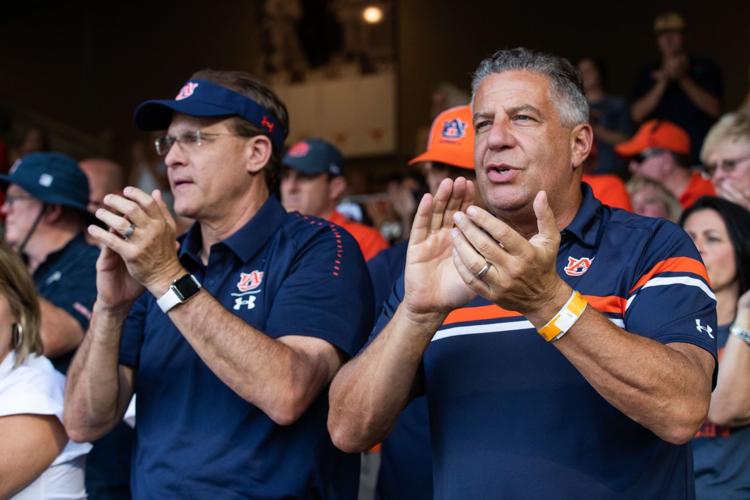 Omaha isn't easy for Cards
Louisville had arguably the most convincing set of wins in the super regional, steamrolling into Omaha with as much confidence and momentum as it has had all year.
The Cardinals outscored East Carolina 26-1 in two wins last week.
Omaha is different. Always is.
And Louisville should know this better than anyone.
The Cardinals dropped their CWS opener against Vanderbilt 3-1 Sunday. They're 2-9 all time in Omaha — and have lost three straight here.
Louisville was not at its best Sunday.
"We always say we have to be who we are, and we play a certain way, a certain style with a certain type of energy," Cardinal coach Dan McDonnell said. "And I just didn't think we were that (Sunday). Hopefully we get back to who we are on Tuesday."
Father's Day shoutout
Mississippi State designated hitter Gunner Halter is the son of Shane Halter, who played for the Omaha Royals and four major league teams: Kansas City (1997-98), the New York Mets (1999), Detroit (2000-2003) and Anaheim (2004).
Though primarily a utility player, Shane has the distinction of playing all nine positions in a single game, one of five players to accomplish that feat.
Gunner contributed to the Bulldogs' attack Sunday with an RBI single in the sixth.
Dad's Day shoutout II
Longtime Atlanta Braves starter and hall of famer Tom Glavine was at the game Sunday night.
He was cheering on his son Peyton, a redshirt sophomore pitcher for Auburn.
Tom finished with a career record of 305-203 and had 2,607 strikeouts. He played 15 years for the Braves and five for the Mets before finishing his career with Atlanta in 2008.
The 10-time all-star was elected to the baseball Hall of Fame in 2014.
Photos: 2019 CWS Day two: Vanderbilt, Louisville, Mississippi State, Auburn