The diamonds of Kimera Bartee's childhood are rough now. Mostly buried.
Every winter he flies home to Omaha from his job as Pittsburgh Pirates first base coach and drives down North 72nd Street, where he played Little League in the 1980s. Where they paved paradise and put up a housing development.
Bartee, the last African-American from Omaha to play in the major leagues, came from good bloodlines; his father was a St. Louis Cardinals minor leaguer.
Kimera idolized Vince Coleman, Ozzie Smith and Willie McGee. But he could've picked dozens of African-American baseball heroes in the '80s: Tony Gwynn, Barry Bonds, Dave Winfield, Andre Dawson, Kirby Puckett, Bo Jackson, Doc Gooden, Darryl Strawberry, Rickey Henderson or his favorite, Eric Davis.
Thirty years later, Bartee looks at opposing dugouts and rarely sees more than one or two African-American players on a team.
"I can probably name them all on my fingers and toes."
Baseball's leaders have been asking the question since Bartee was turning double plays at Omaha Central.
Select youth baseball changed the finances of America's pastime, cutting off the bottom half of the socioeconomic ladder. Michael Jordan changed the dreams of African-American kids, inspiring them to trade baseball cleats for sneakers. Inner-city facilities deteriorated and coaches disappeared. The list of reasons is long.
But according to Bartee and other African-Americans, there's a cultural element that too often goes ignored. Black kids don't feel as comfortable in baseball anymore. They're turned off by the sport's unnecessary constraints on personal expression and showmanship. The code.
"We love to have fun," Bartee said. "We love to put energy to what we do. And we like to show it. ... The game has a way of keeping that under wraps."
Bartee's complaint isn't unique. To a growing chunk of sports fans, baseball is like music before Elvis and James Brown. It's like moviemaking before "Jaws" and "Star Wars." It's stiff and stuffy.
But the game's image has taken the biggest hit in African-American communities, where not everyone is as diplomatic as Bartee.
Derrick Nesbitt coached Little League for years in Oakland, California, and his son Channing pitched for Washington in the College World Series this year. Derrick sees a sport that stifles young people of color.
"It's the All-American white game."
* * *
Roger Cador watched the theatrics from his favorite living room chair, delighted by the vibrance and personality on display. The color.
Here were James Harden and Draymond Green yapping back and forth. Here was Steph Curry shaking his shoulders when he swished a 3-pointer. And Chris Paul shimmying right back at him.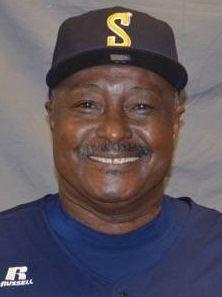 Look how much fun they were having in the NBA Western Conference finals. Look at how the crowds responded to them. Why, Cador wondered, couldn't America's pastime look like that?
"People want to be entertained!" he said, yelling into the phone. "They work hard all day. They're frustrated with their job. They're frustrated with their home life. They go out of their home to be, what? Entertained!
"They don't want to go watch something boring and then come home frustrated. They want to be able to talk about it. And their kids want to be able to say, 'Daddy, did you see LeBron do that 360 dunk?' "
The Louisiana coaching icon won 913 college baseball games and 14 SWAC championships in 33 seasons at historically black Southern University before retiring in 2017. But Cador long ago became disenchanted — no, disgusted — by his sport's traditions and their effect on baseball's popularity among African-Americans.
He sees the world's greatest soccer stars scoring goals, immediately ripping off their jerseys and sliding on their knees across the pitch. He sees NFL receivers strutting across the field after a first-down catch.
Then he sees major leaguers enforcing unwritten rules that squeeze baseball players into a sanitized box. Why can Steph and CP3 trade shimmies and laugh about it, but a baseball All-Star can't flip his bat after a home run without prompting a brawl?
"That's stupid!" Cador said. "That's part of why you're losing the black kids."
* * *
Major League Baseball started gaining the black kids April 15, 1947. The day Jackie Robinson broke the color barrier.
Think of the 71 subsequent years like a mountain. In the first half, the percentage of African-American players in the majors climbed little by little, peaking in the early '80s at, depending on the source, about 20 percent.
The descent has been long and maddening for people like Cador. This March, even with a slight uptick in the numbers, African-American players comprised 8.4 percent of major leaguers.
The gap is wider at the college level.
In 1988, 2.6 percent of NCAA Division I players were African-American, excluding historically black colleges and universities.
In 1990, New York Times columnist William Rhoden examined the issue, counting six black players at the College World Series.
In 2002, TV analyst Harold Reynolds told The World-Herald the lack of black players in college baseball was disturbing. "I think it's the saddest part of college sports," he said. "It's something that definitely needs to be addressed because a lot of talented players aren't getting a chance."
Year after year, baseball leaders express their concern. Year after year, little changes.
In 2017, 80.8 percent of college baseball players outside the HBCUs were white, 6.5 percent were Latino and 3.7 percent were black. Players of two or more races made up 3.7 percent of the survey.
Of the nearly 300 players on CWS rosters last month, less than 5 percent were black.
Contrast this to men's college basketball, where African-Americans make up 53 percent of Division I rosters. It's 44 percent in college football. More than 70 percent of NBA and NFL players are African-American.
If the problem was just economics, baseball might find a way to bridge the gap, at least at the professional level. But the sport is fighting its image, too.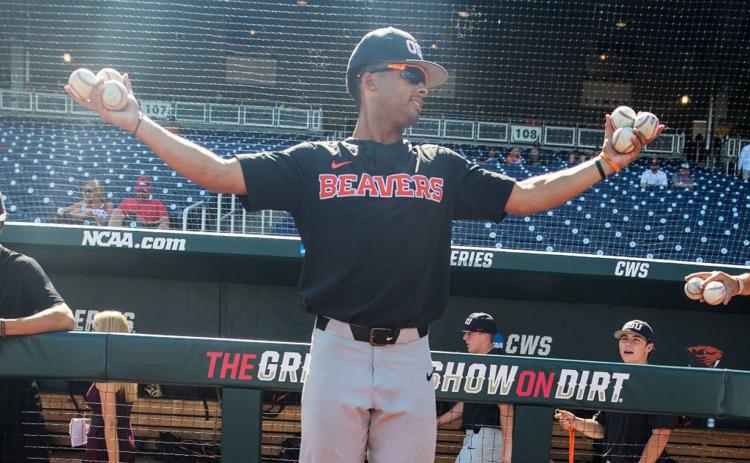 "Baseball's not really the coolest sport," Washington's Christian Jones said. "It doesn't really get all the shine."
Said Oregon State's Preston Jones: "Growing up, I was always told don't show emotions when you play baseball. You got to look intimidating. You can't wear your emotions on your sleeve. That might show weakness or it might get you in trouble. ..."
Let's be honest, the Beaver center fielder said, big league players don't look like they're having fun.
"It all seems like business."
Attend a major league game and you'll see mascot races, costume contests, bobblehead giveaways, T-shirt guns and dozens of other forms of entertainment. But give the players freedom to wear different-colored cleats? No way.
(It's true. According to MLB uniform rules, "at least 51 percent of the exterior of each player's shoes must be the club's designated primary shoe color and the portion of the club's designated primary shoe color must be evenly distributed throughout the exterior of each shoe.")
"If the game had not stayed so conservative," Cador said, "I guarantee you, with all of the issues going on in football, more parents would put their kids in baseball. Football is a dangerous, lethal sport.
"Baseball would win out if they put a little more spice in it."
* * *
Cador knows all about spice.
He grew up in Louisiana in the twilight of the Negro Leagues, hearing stories about Cool Papa Bell, Josh Gibson and Satchel Paige. As a teenager, he played against grown men. He watched black catchers call the action to the crowd's delight.
"Come to me, baby," one catcher said. "Walk away from your daddy, but stay with your mama. Come to me!"
"White people would never do that!" Cador says now.
He spent five seasons in the 1970s in the Atlanta Braves farm system. When Cador became a coach at Southern, he tried to sustain the culture he knew as a kid. SWAC games resembled playground basketball duels full of good-natured showboating. Grambling had a player who was 6-foot-5, 350 pounds, the son of a former Tampa Bay Buccaneer.
"He hit one against us that's probably still traveling," Cador said. "He took his time rounding the bases. He was talking. He touched home plate with the tip of his finger and the fans went wild. They just loved it."
Another time, a Grambling hitter smashed a grand slam, rounded the bases and did the Pee Wee Herman dance at home plate.
"I had a white assistant coach who got mad. I said, what are you angry about? He said, 'He's showing us up.' I said, 'Look at the fans! They're enjoying it!'"
Cador always told his pitchers: If you don't want to get shown up, don't give up the home run.
"Everyone is so sensitive now," Cador said. "Pitchers will endanger someone's life if he tries to entertain."
Part of what made the Negro Leagues so popular, Cador said, was the individual freedom to stand out. To show spirit and personality. That culture was lost after integration.
"Baseball did a terrible job of selling itself," Cador said. "It was a country club sport and owners didn't do a good job of making it sexy."
Basketball marketed superstars. Baseball with few exceptions — perhaps most notably Ken Griffey Jr. — did not.
Cador doesn't lose sleep over African-American participation in baseball. Not anymore.
There are more African-Americans working as doctors, lawyers, accountants, pilots and hundreds of other important jobs. It's better to have kids grow up thinking they can do anything.
But he would like to see baseball accommodate black culture. The game would attract more kids. It would make nights at the ballpark more memorable.
"What does a bat flip do?" Cador says. "It doesn't harm anyone. It's part of entertaining your constituents. They'll want to come back and see something they're not going to see again."
* * *
Cador knows the issue is far more complicated than bat flips.
Entertainment value isn't responsible for baseball's demise in the African-American community. Popularity waned when black kids started looking at major league rosters and saw fewer faces that looked like their own.
Anthony Holman, NCAA administrator for the CWS, draws a contrast to the 1960s and '70s, when black participation was rising. Why? Because kids were influenced by their fathers, who took pride in Jackie Robinson and the Negro Leaguers, Holman said.
Baseball essentially lost a generation of African-American fans, Holman said, and the game is paying for it now.
"If your dad didn't play," Holman said, "you won't play."
Said Bartee: "Growing up, my dad was like, let's watch baseball. That's what inspired me. I don't know if that happens now."
Baseball in the African-American community needs a grassroots revitilization, Holman said. MLB has sponsored the RBI (Reviving Baseball in Inner Cities) program for decades, but "building a field isn't enough. Where's the coaching? Where's the turf maintenance? We need a sustained commitment."
The sport also may need a transformational superstar. An African-American player so skilled, so charismatic, that kids can't turn away.
A Tiger Woods-like figure.
Would another Griffey restore baseball in African-American communities? Bartee has an interesting take.
"The next Ken Griffey Jr. may have already come and gone and we missed it," he said. "There were a lot of you-never-knows and there continue to be."
America didn't stop producing Ozzie Smiths and Tony Gwynns, he said. What changed is the desire to play. What changed was opportunity and development.
Even if baseball's version of Tiger shows up, would he stand out? Would his appeal be limited by the game's unwritten rules and deference to traditions and customs? Would he have the capacity to do what Cador desires: Make fans forget their problems, rise from their seats and cheer with delight?
The Louisiana legend is shouting into the phone again, this time with a sense of longing.
"You want to see players having fun so you can jump up and say, that's great!"
Photos: College World Series championship cover pages through the years
Check out every Omaha World-Herald cover page since the College World Series moved to Omaha in 1950.