The evolution of Austin Martin was on full display Sunday. It came just in time for Vanderbilt to keep its locomotive-like momentum going in Omaha.
The sophomore leadoff man deposited a 90 mph fastball into the left-field bleachers on the first pitch of the game. Then he kept his hands inside on a low change-up for a tiebreaking two-run homer to left in the seventh.
Combined with a strong outing from Drake Fellows, it added up to a 3-1 victory for the No. 2 national seed against seventh-seeded Louisville that made the Commodores 4-0 in College World Series openers.
"I definitely did have jitters," Martin said. "I mean, I feel like everybody would, coming into this amazing environment. But I just tried to keep it simple, just tried to see the ball as well as possible."
A year ago, Martin was a displaced Florida native who hit one home run while adjusting to college baseball. But there he was on the grand stage at TD Ameritrade Park, confident enough to swing at the first offering that whistled his way. Smart enough to listen to teammate Harrison Ray and move off the plate a few inches in the seventh as Louisville's reliever attacked inside.
Martin, who entered the day hitting a team-best .410, also homered twice in the super regional clincher last week against Duke.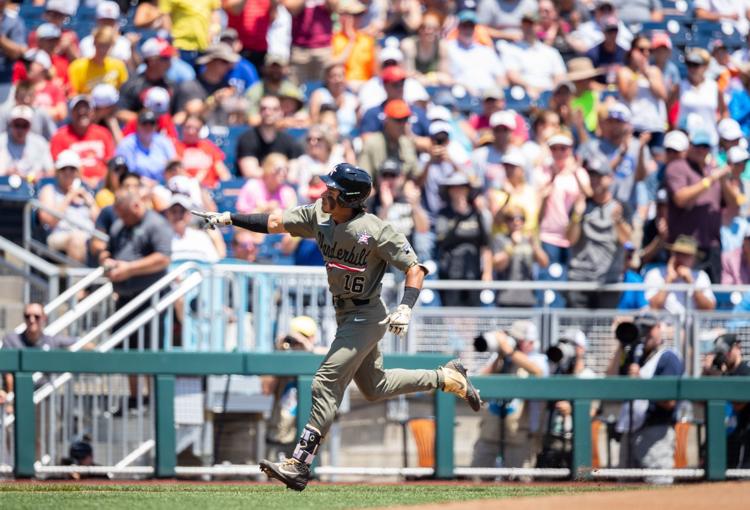 "It hurts," Louisville coach Dan McDonnell said, "when their best player beats you."
Other trends also continued for Vandy (55-11), which has won 28 of its past 30 games. Fellows won again to move his nation-leading win total to 13. Outfielder JJ Bleday reached base for a 46th straight contest in a 1-for-2, two-walk day. The program moved into the winners bracket again and will face the Mississippi State Tuesday at 6 p.m.
Fellows worked around an error and a single in the first three innings while effectively mixing a fastball and slider. The Cardinals' biggest threat came in the fifth, when a Justin Lavey double and Henry Davis RBI single tied the game 1-1. Lucas Dunn and Logan Wyatt then singled to load the bases with one out before Fellows escaped with a groundout.
The sixth-round draft pick to San Diego struck out six and allowed seven hits and a walk in seven innings before the bullpen sealed the triumph.
"The plan was just to go out there and attack the hitters and just getting all my pitches over for strikes," Fellows said.
Martin's first blast to left was the only damage the Commodores managed against starter Reid Detmers. While the ACC pitcher of the year wasn't his normal sharp self — issuing a season-high six walks and posting his lowest strikeout total (five) since the season opener — the sophomore lefty turned away Vanderbilt time and again.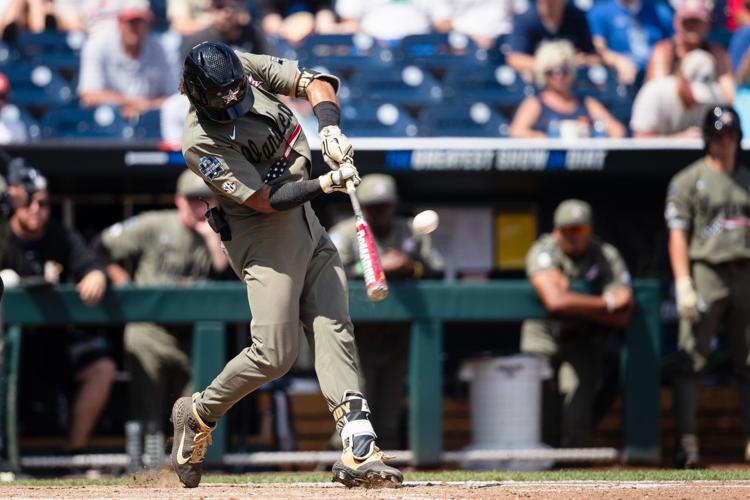 The SEC regular-season and tourney champs stranded two runners in the first. Two walks and an error put men on the corners with no outs in the second, but Detmers struck out No. 9 hitter Julian Infante and Martin hit into a 4-6-3 double play. Louisville (49-17) eluded damage again in the third despite allowing a walk and a single.
Detmers settled in late, retiring 10 of his last 13 batters. He lasted 5⅔ innings and 102 pitches while allowing three hits. Martin's two-run shot to left in the seventh off Bryan Hoeing put the Commodores ahead for good.
Martin's exploits send Louisville to an elimination contest against Auburn Tuesday at 1 p.m.
"He's probably one of the best hitters we've faced all year," Detmers said of Martin. "As you can tell, he can basically hit anything anywhere he wants it."
The player teammates refer to as "A-Mart" and "Marty" downplayed his performance, crediting a deep lineup for providing support. But Sunday, he generated all the offense as the Vandy machine stayed on course in its quest for its second NCAA title in six years.
"Simply today, Austin was the best player for us, and he did perform amazing," Infante said. "It's true. He did a great job."
Spotlight
Vanderbilt's Austin Martin got around on a 1-0 inside change-up and sent it out to left field for his second homer of the game in the seventh inning. This one broke a 1-1 tie to give the Commodores a lead they would keep the rest of the way.
Martin, a sophomore from Jacksonville, Florida, has four homers in his past two games. His first blast Sunday allowed his team to settle in quickly, and his second capped a day in which he accounted for all the offense.
A few fans made some good foul-ball grabs? In the absence of a standout snag, let's credit Louisville catcher Henry Davis. He finished 2 for 4 with an RBI and caught Detmer as the ace found a rhythm in the middle innings.
Vanderbilt first baseman Julian Infante dropped a popup over his shoulder as he ranged back into foul ground in the sixth. But the play was close enough to the line to prompt a video review, which upheld the call. The ball came off the bat of Justin Lavey, who would strike out to end the inning with a man on second.
Louisville had Vandy starter Drake Fellows on the ropes in the fifth as it strung together four hits and tied the game 1-1 with the bases loaded and one out. But the Cardinals followed with a foulout to first and a soft grounder to the right side in what was their one big scoring chance.
Vanderbilt has as much pitching depth as any team in the CWS, so winning that first game against an opponent's front-end starter bodes especially well for the No. 2 national seed. And the Commodores did it despite most of their potent lineup staying quiet. They could be just getting started in Omaha.
"I think (the CWS opener) is a very difficult game to play. I think it's the toughest one all teams have to play. To start off in this environment ... we've done it four times, but it's not easy. I told them when they got through that game, that might be the most difficult game they play regardless of what happens after this." — Vandy coach Tim Corbin
Photos: 2019 CWS Day two: Vanderbilt, Louisville, Mississippi State, Auburn