Before any questions were asked following North Dakota State's win in the FCS semifinal, coach Chris Klieman had something to say about his quarterback.
"Easton Stick is the best player in college football. Period," Klieman said Dec. 14 after his team beat rival South Dakota State 44-21. "He's the best player in college football. We're lucky to have him."
The feeling is mutual. Stick found a home in the Fargodome after graduating from Omaha Creighton Prep in 2014. He is 48-3 as NDSU's starter.
If he can lead the Bison to victory over Eastern Washington in Saturday's FCS championship — which would deliver their seventh title in eight years — he'd finish with more victories than any other FCS quarterback.
Sign up for World-Herald daily sports updates
Get the headlines from Creighton, Nebraska, UNO, high schools and other area teams.
"It's been awesome," Stick said. "We've been fortunate to win a lot of games, I've been fortunate to play in a lot of them. Fans sell out the Fargodome every week and then go watch wherever we are on the road.
"I'm really glad I made the decision to come to Fargo, and I'd make that decision again 100 times over."
Stick comes into Saturday needing 104 yards to become the school's career passing leader. He is at 8,495 and holds NDSU's record for career TD passes (86) and is seventh in rushing touchdowns (38). With the addition of his 2,402 rushing yards, he holds the program record for total yards, too.
In his senior year, he has completed 61.8 percent of his passes for 2,554 yards and 26 touchdowns to go with 645 yards and 14 TDs on the ground. He was one of three finalists for the Walter Payton Award, the FCS equivalent to the Heisman Trophy. Stick leads the FCS with a 172.6 passing efficiency. In the FBS, only four players had a higher rating, and three were Heisman finalists.
Stick signed with the Bison in the winter of 2014 along with Prep teammate RJ Urzendowski, who graduated last season as one of the top receivers in program history.
They'd been recruited to North Dakota State by coach Craig Bohl. But Bohl left for Wyoming after the 2013 season, when he led the Bison to their third straight FCS title.
The school promoted Klieman, Bohl's defensive coordinator, to head coach. And Stick stuck with his commitment.
Chris Nizzi, who coached Stick at Prep, knew the kind of players the Bison were getting in Stick and Urzendowski. He saw the same qualities in Stick that he displayed at North Dakota State.
"He's always studied film, even as a high school kid. He's always thinking about what will happen next and what the opportunities will be," Nizzi said of Stick, who graduated summa cum laude while earning his bachelor's degree in 3 ½ years and is pursuing a master's.
"And then he has enough poise not to force things but to take what's available to him. Everyone had a lot of respect for him because of his work ethic. He's a great worker and you earn a lot of people's respect that way, and that gives you more license to be a more influential leader."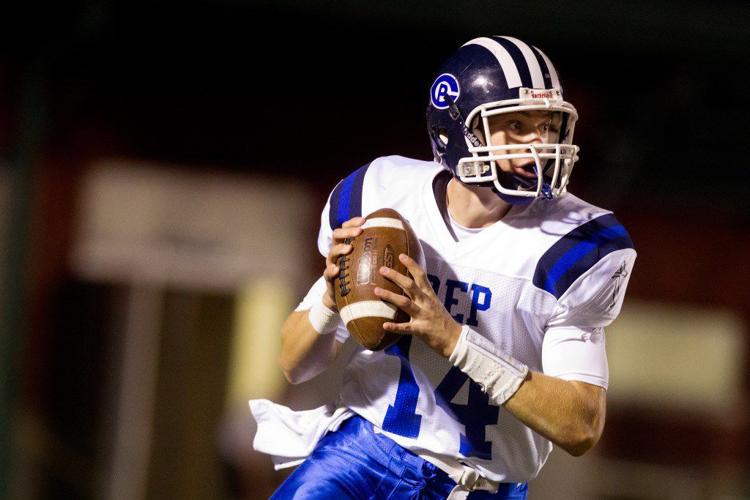 Stick redshirted his first year in Fargo, then was pressed into action in his second when Carson Wentz was injured. Stick went 8-0 as a starter and the Bison won the 2015 title. Wentz went on to be the second overall pick in the NFL draft by the Philadelphia Eagles.
"He was a really good mentor and friend when he was here," Stick said. "We're still close and talk quite often."
Stick has settled in as the starter the past three years, leading the team to last year's title when he was named the game's MVP.
Entering this year's playoffs, he said, "this is the most comfortable I've felt going into a playoff run." But there was a speed bump.
Five days before the South Dakota State game, Klieman accepted the job to replace Bill Snyder at Kansas State. But Klieman, who has gone 68-6 in five seasons at NDSU, said he would finish this season with the Bison.
"It was an emotional week, but honestly Coach handled the whole situation really, really well," Stick said. "It was a difficult week for guys, but the guys stuck together and stayed focused. Coach did the same thing."
Cornerback Jalen Allison, a Papillion-La Vista graduate, also redshirted in 2014 and will play his final collegiate game Saturday. He agreed that Klieman handled the situation the right way.
"We're trying to get one (more title) for Coach before he leaves," Allison said.
Playing in this year's championship means a lot to Allison, too. He is a three-year starter but hasn't seen many minutes in title games. He started the first 14 games last year before missing the championship game against James Madison with an injury.
This season, he missed November games with a sprained MCL but returned for the playoffs. Allison, who leads the Bison in pass breakups (10) and is second in passes defended (12), initially was concerned the injury might end his season.
"Because it's your knee and you go to the worst automatically," he said. "After they checked it out, I realized it wasn't that bad and I could get back at some point. It's great to be back out there with your brothers and be healthy for the playoffs."
Allison and the NDSU defense are allowing 11.8 points per game, but face an Eastern Washington team that averages 44.5 points with 263 rushing yards and 277 passing a game.
"We can't try to do too much because they run a lot of bubbles and gos. They go no-huddle sometimes," Allison said. "You just have to be locked in and do your assignment."
Allison would like to continue playing after this season and Stick may get a chance to play at the next level, as well. But Stick isn't looking too far ahead.
"Hopefully we find a way to win one more game in Frisco, Texas. We have 24 seniors and we'd like to end it the right way," he said. "After that, I'd love the opportunity to keep playing, but we'll see where that all goes."
Nebraska to NDSU pipeline
It's been a decade of dominance for North Dakota State football, winning six FCS national championships since 2011. The Bison go for No. 7 on Saturday.
Nebraskans have played integral roles for the Bison throughout the decade. There were four Nebraskans on the first title team in 2011. That group included Omaha Skutt graduate Christian Dudzik, a safety who would start all 61 games of his NDSU career while playing on four title teams, and Schuyler's Kyle Emanuel, a Buck Buchanan Award winner now playing linebacker for the Los Angeles Chargers.
The 2014 Bison had 10 Nebraskans — Easton Stick and Jalen Allison were redshirt freshmen that season. That team also included Millard North linebacker Nick DeLuca, who played for the Jacksonville Jaguars this season, and receiver RJ Urzendowski, Stick's Creighton Prep teammate who finished his career fourth in NDSU history in TD catches (22), fifth in receiving yards (2,435) and sixth in receptions (149).
This year there are three Nebraskans on NDSU's team — Stick, Allison and Millard North redshirt freshman Jack Begley. Stick said he hopes NDSU coaches continue to recruit Nebraska athletes.
"I think there's good high school players in Nebraska. At the end of the day, it's about fit and finding the right guys," Stick said. "When guys are the right fit and have the opportunity, it's a great place to play."
Here's a list of the Nebraskans who have played for NDSU during its title run:
» Garrett Bruhn, Beatrice, tight end, 2009-12
» Christian Dudzik, Omaha Skutt, safety, 2010-14
» Kyle Emanuel, Schuyler, defensive end, 2010-14
» Jesse Hinz, Beatrice, center, 2010-14
» Bo Liekhus, Bellevue West, linebacker, 2012-15
» Derek McGinnis, Crete, quarterback, 2012-14
» Sam Hahn, Tri County, offensive line, 2012
» Tyler Wrice, Papillion-La Vista, wide receiver, 2013-14
» Nick DeLuca, Millard North, linebacker, 2013-17
» RJ Urzendowski, Creighton Prep, wide receiver, 2014-17
» Jalen Allison, Papillion-La Vista, cornerback, 2014-18
» Easton Stick, Creighton Prep, quarterback, 2014-18
» Jack Begley, Millard North, linebacker, 2017-18