You usually don't get the money quote first.
But as I sat in Trev Alberts' office this week, the question just came out. I was there to talk about Alberts' milestone year. His 10th at UNO.
I'm amazed by that. It's hard to believe Alberts is still here. Or, that he lasted this long.
Just ask him. Not long after Alberts announced that UNO was cutting football and wrestling in order to secure a financial future, an NU regent told him, "You're not going to make it."
That was nearly nine years ago. Alberts is still here.
The only thing more surprising to me is that he took the job in the first place. Ten years ago, UNO athletics were an absolute mess. It was a revolving door for athletic directors.
Alberts was a Husker legend whose NFL career was shortened by injuries. He tried ESPN and CBS. He was looking for a career. But this was a way to kill his career and business reputation.
Ten years later, I was wrong. A lot of people were wrong. Can you believe he's still here?
"If I had known what we were going to have to do," Alberts said, "I wouldn't have taken the job."
If he hadn't, UNO might not have Division I sports, might not have a new arena or paid for the big-money coach who made the NCAA Frozen Four, might not have made the NCAA Division I baseball tournament. Might not have a $1.8 million surplus, thanks to a massive buy-in from the Omaha money folks.
You can argue that UNO still might be in the business of Division II sports. Or, given how the city has grown an appetite for spending on big-time sporting events, maybe not.
Perhaps someone else would have come in and gotten all that done. But what are the chances he would have gotten a meeting with the city's money people? Thanks in part to his Husker heritage, Alberts got that meeting.
It's the very same identity Alberts seemed to trade away by taking the UNO job. When you think of Alberts, you think UNO, not Huskers.
We talked about that and a lot more:
Q: Did you ever think about leaving when you found out what you had to do?
A: "Failure just wasn't an option. We weren't going to quit. We had to find a solution.
"One of the best benefits of not having past administrative experience was I didn't know what I didn't know. I had no idea what it meant to be an athletic director. I was asked to serve by a Board of Regent member."
A: "Our kids were getting involved in club sports. Working for CBS, I was gone from Wednesday through Sunday night. Even though it wasn't 52 weeks a year, it just hurts when your little third-grade daughter says, 'Where's Dad?' Those six years (in TV), I wasn't around. I didn't like that. But I wasn't out looking to be an A.D."
A: "The first thing I asked John (Christensen) was, 'Define victory for me.' He said, I need a 25-year plan for financial stability. I didn't even know what that meant. I remember walking back to my office and saying, 'We're in trouble.'
"After six months, I brought our staff together and said, 'We have three options. We can do what past A.D.s here did, which is to blame the academic side. The relationship was so broke. They couldn't stand us.
"Or, we can just quit. Or, we find work and find a solution to this.
"My wife (was) really upset with me. We took a significant reduction in salary and moved to a city where she didn't know anybody. She said, 'What are you going to do?' I said, 'I'm going to call a meeting with every business leader in the city, and I'm going to ask for help. And if all of them say, 'Sorry, Trev, we don't care about UNO athletics,' we'll move back down to South Carolina.' But I knew they cared.
"I called the meeting. It was surreal. It was scary. You want to talk about being intimidated, go down to the Kiewit conference room, where everybody in the room is a CEO or chairman, and everybody is five times smarter than you and either a billionaire or close. But I just thrive on adrenaline. It was awesome.
"They all expressed an interest in helping. But they said they would create the working group committee. And that's when I found out, community here is so important. But unless you engage them in the process, they're not going to stand with you when things get tough."
Q: Do you think you would have gotten their help if they knew you were going to cut football and wrestling?
A: "I don't know. A lot of those people didn't know about Title IX. A lot of them, their solution would have been to get rid of every sport except hockey.
"I remember one of the business leaders told me, 'The people of Omaha are wonderful. They will expect and demand progress. But they don't like change. There's your challenge.' "
Q: Is there anything you could have done differently?
A: "I suppose you could have waited a year (to cut the sports). I've seen other schools try this (moving to Division I and reorganizing the department) and no longer sponsoring these sports. How does that work?
"First, if student-athletes think there may not be a team in a year, they're leaving. Then maybe boosters say, 'We can endow it.' For instance, we'll keep the women's tennis team if we can get it endowed. What's that number? Well, it's $1.2 million. What if you only raise $800,000? Now what do you do?"
Q: Did any UNO boosters or business leaders come to you and offer to put together a plan to fund football?
A: "No. I never had one person come to my office and talk about it. I did have somebody recommend to me — and he'll know who he is — that we just start underfunding wrestling until it's unsuccessful and it will be a lot easier to cut four or five years from now. I said, 'I'd never do that.' "
Q: You came here not knowing anything about hockey. Convincing Dean Blais to come here has to be one of your top accomplishments. And Baxter Arena. But more important was getting UNO into a marquee league.
A: "When the Big Ten started hockey, everything changed. Those programs realized it might not be the best thing for college hockey, but they were saying they could no longer subsidize the lower programs, the Lake States and Michigan Techs. Well, if they can't, UNO sure can't.
"Dean's credibility helped get us into the WCHA. But when the Big Ten teams in that league left, it was a short conversation with Colorado College, Denver and North Dakota. It was untenable for us not to have stability.
"The NCHC is an incredible league. We have a $1.8 million surplus. I can't imagine what it would look like if it wasn't for the NCHC. That doesn't mean it's easy to win it."
Q: Something I've always found interesting. You had this incredible career at Nebraska. All-American. The guy who helped start the 4-3 and the '90s run. Butkus Award. The '94 Orange Bowl. But we never see you in Lincoln, never wearing Husker red, never getting to go back and hang out with your teammates. A lot of folks don't think of you as a Husker. Does that ever bother you?
A: "It's hard. If our women's soccer team is playing on Saturday at noon, and they see pictures of me down in Lincoln, how does that make them feel? I'm going to be here and I'm going to work. I owe it to our student-athletes and our coaches.
"I got to be a former Husker last weekend. I was in Champaign, Illinois, with all the former Butkus Award winners for the unveiling of the Dick Butkus statue. Just an incredible time. I do wish I could do that more, but I feel my principal responsibility is to be here."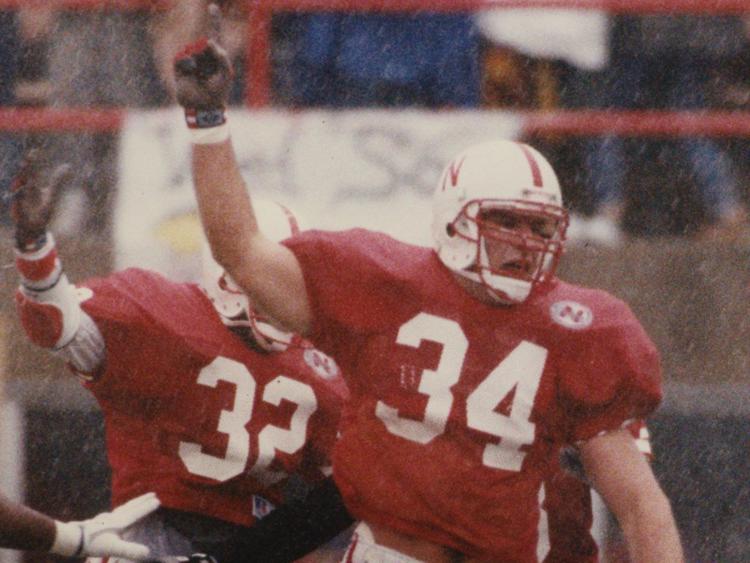 Ask him what he's most proud of in 10 years, and Alberts gives an interesting answer: watching a young man named Tra-Deon Hollins come from Omaha Central and become a starter for UNO basketball and nearly make the shot to put the school in its first NCAA tournament.
Also, putting UNO at a $1.8 million surplus and on the way back to having a $3 million surplus.
Alberts turns 50 next August. Gray hairs are emerging. His son, Chase, graduates from West Point this year. Daughter Ashtynne plays for Clemson's volleyball team. Breanna is a sophomore at Omaha Marian.
There's speculation around town that Alberts might leave after Breanna graduates. After the UNO baseball/softball complex goes up in the next year, what else is there for him to do?
He says he's never pursued other jobs but has been approached. He turned them down.
"We're not done here," Alberts said.
Ask him to name his biggest accomplishment, and the former Husker and guy who used to argue with Mark May on ESPN — the guy who never dreamed about being an athletic director — has another interesting answer.
"If the (UNO) job was open now, a guy like me (in 2009) wouldn't have a chance to get it," Alberts said. "I think it's a great job."
Photos: Trev Alberts through the years
From his Husker football playing career to his time as UNO's athletic director, here's a photo gallery of Trev Alberts through the years.