UNO's wait is almost over.
"It was a long summer and the guys have been working hard,'' Maverick coach Mike Gabinet said. "Everybody is excited for the start of the season.''
The Mavericks play an exhibition against Manitoba at 7:07 p.m. Monday at Baxter Arena. The regular season begins Oct. 11 at home against Alabama Huntsville.
Gabinet, who spoke Wednesday during the team's media day, will begin his third season at the helm. The Mavs have an infusion of youth — 12 freshmen on the roster — after going 9-24-3 last year.
Sign up for World-Herald news alerts
Be the first to know when news happens. Get the latest breaking headlines sent straight to your inbox.
"Some people might consider that a disadvantage," the coach said. "But I see it as an advantage because we have a lot of good, young players."
Among the promising newcomers will be Isaiah Saville, one of three freshman goalies. The 19-year-old was the USHL goaltender of the year last season and also has experience on the international level, competing for an Under-20 U.S. team.
"To have someone of that caliber is a real positive," Gabinet said. "We think a lot of all three of our goalies."
Also in the goaltending mix will be Austin Roden and Jacob Zab. Roden was 27-11 last year with Merritt of the British Columbia Hockey League, while Zab was 5-3 in 12 games for Pittsburgh of the United States Premier Hockey League.
Two returning defensemen — team captain Dean Stewart and alternate captain Ryan Jones — joined Gabinet at media day. Both seniors spoke about preparing for this season while welcoming so many freshmen to the team.
"We were all here most of the summer and I think we built up some really good team chemistry," Stewart said. "We've all put in a lot of hard work in the weight room to get ready.''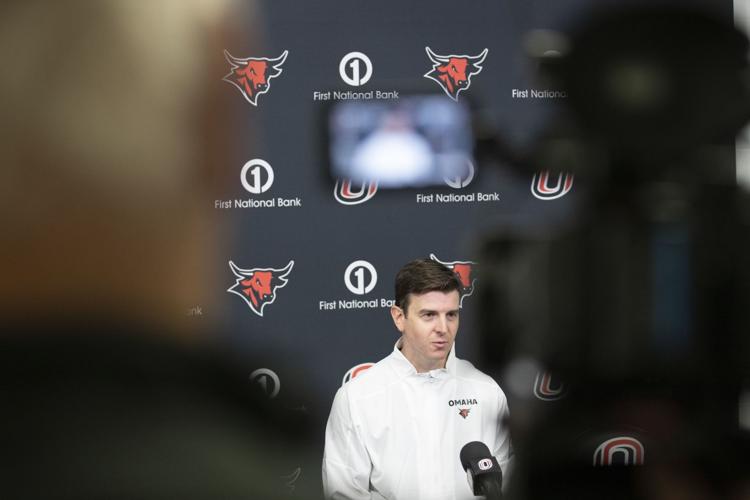 Jones agreed that the ability to bond with the younger players will be crucial to the Mavs' success.
"It's important to get the boys together,'' he said. "Our job is to guide them on the right track and show them how it's done.''
The players also were asked about the preseason media poll that picked UNO to finish seventh in the eight-team NCHC. It's the third straight year the Mavs have been picked in that spot.
"I think we're ready to prove people wrong,'' Jones said.
Gabinet said he isn't going to dwell on the prediction, either.
"We're just going to worry about ourselves,'' he said. "And if everybody does their part, we hope to surprise some teams.''
While Gabinet stressed that a strong defense will be key to the Mavs' fortunes, the offense also will need to step up to compete in the NCHC. UNO graduated its top two scorers but the players who finished third through ninth in scoring are back.
Leading the way is sophomore Taylor Ward, who had nine goals and 18 assists. Senior Zach Jordan had nine goals and 17 assists. Stewart led UNO defensemen with five goals and 16 assists.
Gabinet said he likes what he sees from his young team heading into this season.
"I've got a good feeling about them,'' he said. "From Day 1, our coaches have been talking about how much our guys are improving.''
The coach added that he's hopeful the fans will continue to support his squad.
"Our guys have been working hard and will be competing hard,'' Gabinet said. "I'm confident the people of Nebraska will respect that.''
Gabinet, a defenseman for the Mavs from 2000 to 2004, will be assisted by former Mav Dave Noel-Bernier and Lake Superior State graduate Paul Jerrard.
Meet the 2019-20 UNO hockey team