From C-1 to D-I. That was UNO setter Sami Clarkson's transition this season.
"It's one of the biggest hops you can make. I've really enjoyed it," Clarkson said. "In college, you need to be on every game, every point."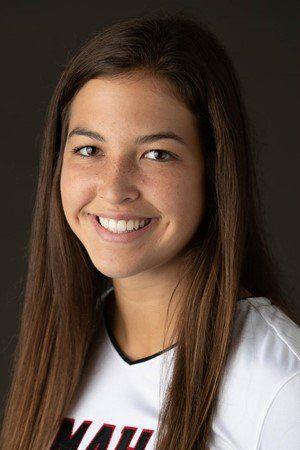 One year ago, Clarkson was setting for Omaha Concordia, where she broke the school's career assist record with more than 3,100. She helped the Mustangs win the the Class C-1 state title as a sophomore in 2016.
She spent this summer connecting with her new UNO teammates and getting acclimated to coach Matt Buttermore's uptempo offense. And after backing up Jaclyn Taylor early in the season, Clarkson took over as the Mavs' starter five weeks ago.
"My teammates definitely make it way easier on me," said Clarkson, who is second in the Summit League in assists, averaging 10.9 per set. "It's definitely a role I want to be in. It's super exciting and fun. And Jaclyn does a good job of helping me see things from the bench that I can't see in games."
Clarkson stepped into a lineup that returned three full-time starters across the front line. All three are in the top 11 in the Summit in kills per set — Isabella Sade (third at 3.57), Sadie Limback (eighth at 3.17) and Anna Blaschko (11th at 2.69).
"Our offense requires the second ball to be good, and she does a good job of that," Buttermore said. "She thinks things through. She still makes freshman mistakes, but she's a player who understands what needs to happen. As she gets older, that will get better."
As the season has gone on, Clarkson said she's getting more and more comfortable running the offense.
"I'm still working on it everyday," she said. "This is way faster (than high school), so I work on it a lot in practice, get a lot of reps in practice."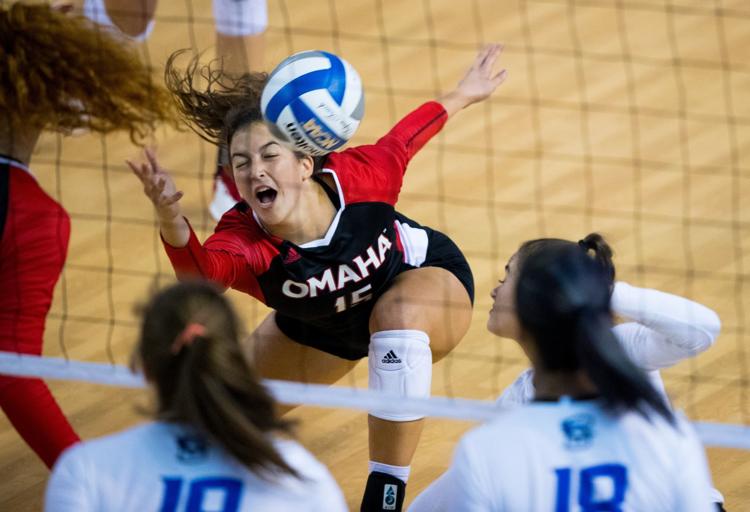 Lately, Clarkson has been getting a lot of reps in matches. She's had at least 49 assists in nine of UNO's past 11 matches. Eight of those matches have gone five sets.
She also finished with six double-doubles, including 58 assists and a season-high 13 digs last Sunday against Purdue Fort Wayne. She followed that with 56 assists and 10 digs two days later against Denver.
The drawback to those five-set matches is that the Mavs are coming up short in them. Since winning a five-setter during the season's opening weekend, UNO is 1-8 in five-setters. The Mavs are 3-4 in Summit play with all four losses in five sets.
"Every time we get pushed down, we just have to bounce back," Clarkson said. "We need to take more of the momentum of the other sets into that game."
UNO (10-11 overall) looks to even its league record when it hosts South Dakota State (5-14, 2-5) at 7 p.m. Monday.
Photos: Meet the 2019 UNO volleyball team