Only a few games into the season, UNO's Isaiah Saville already has made his presence felt.
The 6-foot-1 goalie is one of 12 freshmen on a team that's embracing its youth. Saville is Exhibit A why the future looks bright for the 3-1 Mavericks.
The 19-year-old has excelled at every hockey level, starting with his high school team in Anchorage, Alaska. He won a state championship and was all-state.
That was followed by an outstanding season in the USHL, where he was named the league's goaltender of the year after posting a 25-4-2-1 record.
He also won a gold medal with the U.S. Junior Select team in the World Junior A challenge, making 25 saves in a shutout of Russia in the championship game.
He made 24 saves Oct. 18 but the Buckeyes scored three power-play goals to prevail 3-2. He was even better the next night, making 37 saves in a 2-1 victory.
Those performances improved his conference-leading goals-against average to 1.68 and his save percentage to .938.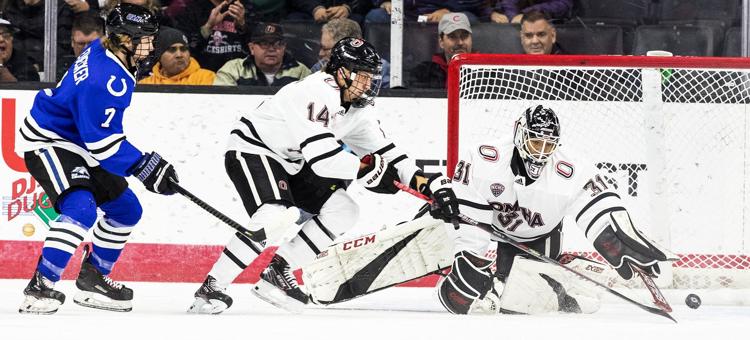 "He was good both nights, but Saturday he was excellent," UNO coach Mike Gabinet said. "He's really composed and sees the puck extremely well."
Saville said he enjoyed his time in Columbus, Ohio.
"It was a really fun experience," he said. "They're such a highly touted team that I think it fired us all up."
The goalie also was quick to credit his team's penalty-killing units that did their job, especially Saturday night.
"They were phenomenal," he said. "It's definitely not a one-man show, and I thought our whole team brought the energy in both games."
Saville said it's already been a transition from last year, when he had a 1.90 goals-against average for the Tri-City Storm.
"The college game is faster," he said. "And players don't shoot from everywhere. They know right where they want to put the puck."
Saville's effort last weekend didn't escape the attention of the more experienced players on the team.
"He's given us a chance to win every time he's in the net," team captain Dean Stewart said. "He's made some saves that we probably didn't expect him to make."
Sophomore forward Chayse Primeau agreed.
Sign up for World-Herald daily sports updates
Get the headlines from Creighton, Nebraska, UNO, high schools and other area teams.
"He was huge for us," he said. "It was like a highlight reel of saves, and you know that's going to build confidence."
Saville has teamed with fellow freshman Austin Roden to give the Mavs a strong goaltending duo. In his one start against Alabama Huntsville, Roden posted a 5-0 shutout win.
Gabinet said he liked what he saw from both goalies that night.
"I couldn't tell after that game who was happier," the coach said. "Isaiah was happy for Austin's success and I know it's vice versa, so that's pretty special."
A third freshman goalie, Jacob Zab, has yet to see action this season.
"All three of us are battling," Saville said. "We enjoy the competition and we're definitely pulling for each other."
Saville, a fifth-round selection of the Vegas Golden Knights in the 2019 NHL draft, said he is determined to be part of a winning program at UNO.
"We're young but I know we have a good team," he said. "We just need to keep getting better with every game we play."
Meet the 2019-20 UNO hockey team