It didn't take much time for what was looking like a stellar UNO performance to go sour Saturday night.
No. 14 Arizona State stormed back from a 2-0 deficit with four goals in a span of 6:03 in the second period to hand the Mavericks a 5-4 loss in front of a Baxter Arena crowd of 5,479.
It was the fifth loss in six games for the Mavs, who outshot the Sun Devils 48-21 for the game and 22-6 in the third period. But the UNO comeback came up just short.
Nolan Sullivan and Zach Jordan each scored a goal to give UNO a 2-0 advantage, and third-period scores by Teemu Pulkkinen and Taylor Ward tied it.
But Brett Gruber got the game-winner on a short-handed goal with 7:55 left for the Devils.
UNO coach Mike Gabinet said it was frustrating to come away with a loss after the Mavericks had dictated play for most of the game.
"I thought at times it was our best hockey we've played all season long. I thought we outplayed them. They got a couple bounces there, and we didn't. We've got to find a way to win those games when you play like that," Gabinet said. "I thought the puck was laying around the crease for us tonight, and we didn't put it in the net there. So, you know, one of those nights that we're doing everything right, and they're getting the bounces."
Jordan echoed Gabinet's sentiments.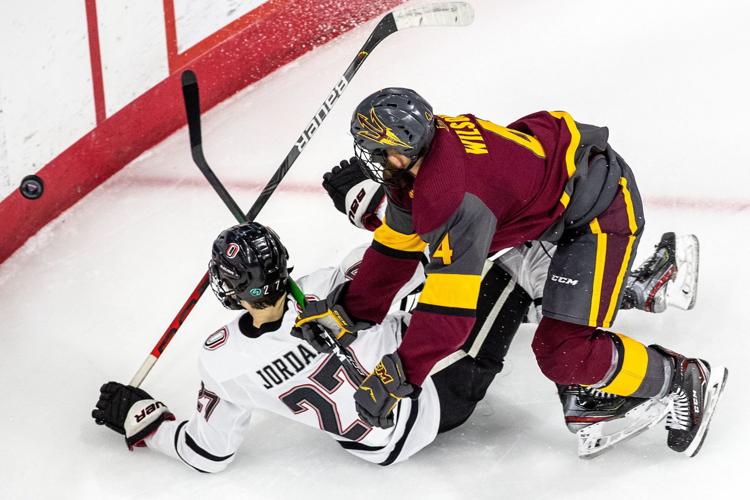 "It was just kind of tough. We outplayed them the whole game. They just buried on their chances more there in the second. It was crazy," he said. "You can blame it on bad bounces, but I think we got the two-goal lead and started cheating for offense a little bit."
Sullivan got UNO on the board when he stripped an ASU defenseman of the puck at center ice and beat Sun Devil goalie Evan DeBrouwer on a breakaway for his fourth goal of the season.
Jordan made it 2-0 with his team-leading eighth goal of the second 7:53 into the second on an outnumbered attack three seconds after a slashing penalty on ASU's Austin Lemieux had expired.
But Arizona State stormed back with a pair of goals 46 seconds apart by Filips Buncis and Jordan Sandhu to tie with 8:22 remaining in the second period.
Then the Sun Devils (10-5-2) grabbed a 3-2 lead 48 seconds later on an unassisted goal by Willie Knierem, and Johnny Walker made it 4-2 with 3:05 left in the second.
Despite being down at the second intermission, Sullivan said the Mavs never felt like they were out of it.
"I think it's just having that faith and confidence that, 'Hey, we're going to get it done here.' I thought we had a good third, honestly. I thought we showed up for sure," Sullivan said. "I thought all four lines were going, and we were one shot away there from getting it."
The Mavericks got back to within one 4:11 into the third period when Pulkkinen got a shot off in front of DeBrouwer and then banged in the rebound for his fourth score of the season.
Taylor Ward tied it at 4-4 as the extra attacker on a delayed penalty with a goal from the slot on a pass from Tyler Weiss.
But the Sun Devils got the lead right back on the ensuing Maverick power play on Gruber's short-handed goal.
UNO and Arizona State will finish their series Sunday starting at 4:07 p.m.
Arizona State (10-5-2) 0 4 1—5
Second Period: 1, UNO, Nolan Sullivan (unassisted) 2:27. 2, UNO, Zach Jordan (Chase Primeau, Ryan Brushett) 7:53. 3, ASU, Filips Buncis (unassisted) 10:52. 4, ASU, Jordan Sandhu (Johnny Walker, Jacob Wilson) 11:38. 5, ASU, Willie Knierim (unassisted) 12:26. 6, ASU, Johnny Walker (unassisted) 16:55
Third Period: 7, UNO, Teemu Pulkkinen (Chayse Primeau, Tristan Keck) 4:11. 8, Taylor Ward (Tyler Weiss, Ryan Jones) 6:52. 9, ASU, Brett Gruber shg (Sandhu) 7:55.
Power plays: Arizona State 0 of 3; UNO 0 of 4.
Penalties-minutes: Arizona State 5-13; UNO 4-11.
Goaltenders: Arizona State: Evan DeBrouwer (48 shots, 44 saves, 60:00); UNO: Austin Roden (21 shots, 16 saves, 58:24).
Three stars: 1, ASU, Sandhu. 2, UNO Primeau. 3, ASU, Walker.