If you read this space with any regularity, you know I love history. It's no secret.
So I had an obvious cure for how to cope with a world without sports for however long this lasts.
I'm going to pick one of my columns from the archives. And also write about the memory or experience and how it came together, maybe what it means now.
This will get me through, and hopefully you, too.
Terrell Taylor's shot to beat Florida on March 15, 2002, in the United Center in Chicago is one of my favorite moments I've witnessed in the NCAA tournament.
The others? Glad you asked:
Sign up for World-Herald daily sports updates
Get the headlines from Creighton, Nebraska, UNO, high schools and other area teams.
No. 10
The 1984 NCAA tourney in Lincoln. This was the first NCAA tournament I covered. I was there for the Kansas City Star, following Kansas.
It sounds crazy now, but I flew to Lincoln on a small airline called Air Midwest. Why wouldn't you just drive three hours? I don't know. We drove to Des Moines but flew to Lincoln. Maybe because back then, Highway 2 from Nebraska City to Lincoln was a two-lane hazard.
I remember everything but the games. They turned the Husker wrestling room, behind one basket, into the media room. Alabama football coach Ray Perkins was on hand to watch the Tide lose to Illinois State. There were a bunch of Chicago media there to cover DePaul coach Ray Meyer's final games. I had dinner at a spot called Tony and Luigi's. There was a huge snowstorm that stopped the city. And, Kansas lost to Wake.
No. 9
A couple of years after Greg McDermott finished playing at Northern Iowa, his coach, Eldon Miller, led one of the all-time upsets in NCAA tourney history.
It was in Richmond, Virginia, on March 16, 1990. I was there to watch Norm Stewart take another shot at making the Final Four. Stewart had just bounced back from cancer. His No. 3-seeded Tigers had been ranked No. 1 off and on all season.
The 14th-seeded Panthers — then of the Association of Mid-Continent Universities conference — had a good game plan and a bunch of scrapping Iowa kids and one big shot.
Maurice Newby, a guard who came off the bench, hit that shot right in front of where I was sitting. He launched it 5 feet behind the 3-point line and it went in right before the buzzer. UNI won 74-71. I'll never forget that shot.
No. 8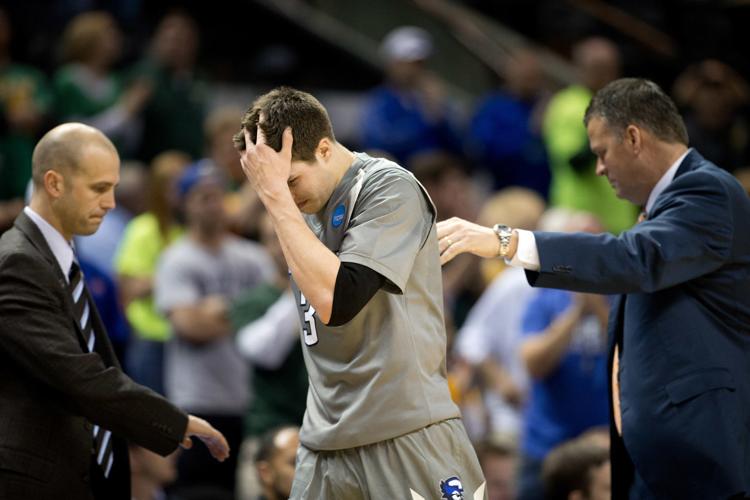 The 2014 NCAA tourney should have been one of my all-time favorites. Start with San Antonio. Both Creighton and Nebraska there. Doug McDermott's final run. But all I remember are the pigeons.
NU's surprising run to the tourney ended with a 14-point loss to Baylor. Tim Miles got ejected. Good run, but the Bluejays and their senior team were the story.
That was one of my favorite teams — a special team, older guys, smart guys, good quotes and perspective. They brought their "A" game to the national media that weekend.
I remember San Antonio columnist Buck Harvey interviewing Doug, previewing a possible future Spur.
In the it's-a-small-world category, Iowa State and Fred Hoiberg also were there and beat Roy Williams and North Carolina right before Creighton-Baylor.
I'm still stunned by that game. Yes, the Jays looked old and slow compared to the fleet Baylor team. But the Bears were not 30 points better. During the blowout loss, Harvey leaned over to me on press room and said, "Oops."
The Creighton locker room after that one was the worst I've ever seen. Incredible emotion. I didn't stay long. Tight deadline. And now the run-down Spurs arena was in full swing late on a Sunday night. As the workers tore down the setup, an army of pigeons marched into the press room, climbing on tables and chairs. As I tried to describe what I just saw, one pigeon sat right next to my computer, like a scene from Alfred Hitchcock's "The Birds." Horror, indeed.
No. 7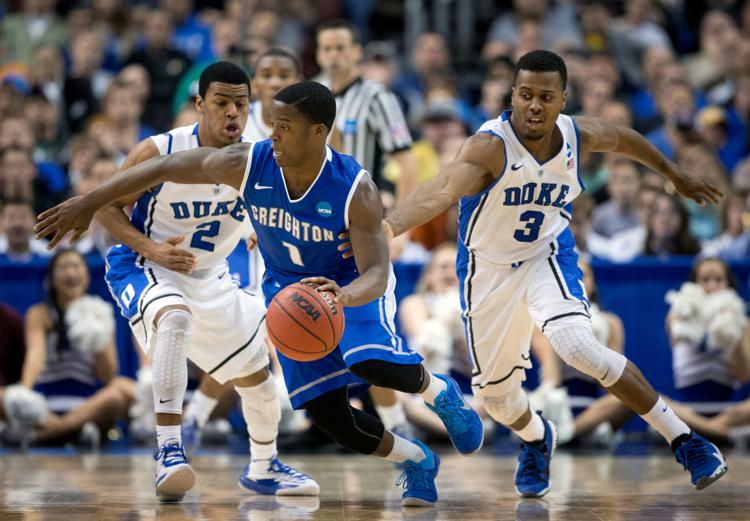 The 2013 NCAA tourney in Philadelphia was memorable for a few reasons.
Days before, Creighton joined the Big East. I discovered the Reading Terminal Market in downtown Philly, which was a former train station turned into a giant food court filled with incredible things. Also, we finally got Creighton-Duke, but had to wait until 9:30 p.m. local time on a Sunday to get it.
Mostly, I remember Duke coach Mike Krzyzewski, the day before the game, talking about Doug McDermott. Coach K is one of the best quotes in sports. And he delivered again when asked about Doug.
To paraphrase, Coach K called Doug a "beautiful player," "one of the best offensive players in the last decade." A counter-puncher, where if the shot called isn't there, he finds something else. A player who makes his shot before he even gets the ball.
There was a moment where Coach K met with Doug and teammate Grant Gibbs outside the locker room that I'll never forget. The game? Already forgot it.
No. 6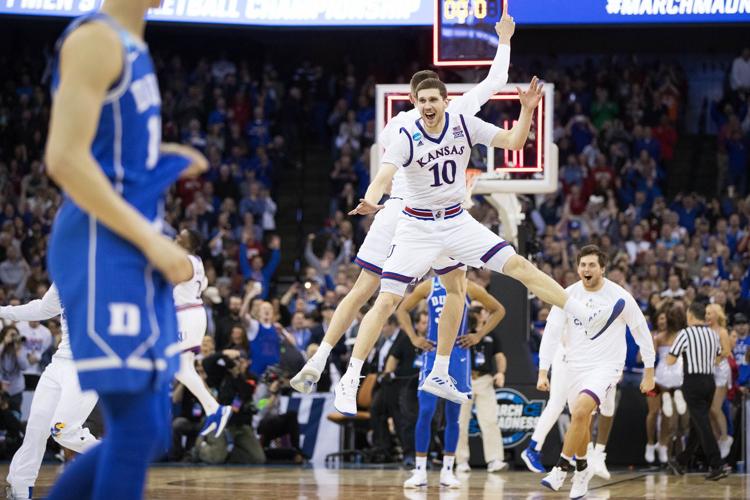 The Kansas-Duke regional final at the CHI Health Center in 2018.
For a big event town, they don't get much bigger. It was the perfect intersection of party, legendary names and high-stakes event. For me, still the biggest sporting event in our town.
Yes, I know about Joe Frazier and Michael Phelps.
No. 5
The best team I ever covered.
That was Missouri, 1988-89. Norm Stewart's most talented team was missing its leader: Stewart had just passed out on the team flight to Oklahoma and been diagnosed with cancer. Assistant Rich Daly, the central figure in an NCAA investigation, was the interim coach.
The Tigers' first opponent was Creighton, with Tony Barone, Chad Gallagher and Bob Harstad at Dallas' Reunion Arena. I was two years away from moving to Omaha. I should have sought out The World-Herald writers.
Missouri survived the Jays and would advance to the regional semis in Minneapolis. A rematch with Illinois to go to the Final Four was waiting if Missouri could beat Syracuse and Pearl Washington. Missouri led by seven in the second half before Syracuse went on a 16-2 run — with no timeout from Daly. Unreal. Syracuse won.
No. 4
During the 1988 NCAA tourney, Billy Tubbs showed off his comedic skills while his Sooners entertained on the court. The best line came at the 1988 Final Four in Kansas City.
During the press conference before the OU-Kansas championship game, Tubbs was asked about basketball and religion. He couldn't help offering a wisecrack: "What number does God wear?"
Rick Brewer, the press conference moderator and the sports information director at North Carolina, leaned in and said, "23."
No. 3
Albuquerque, 1983. I went to this Final Four as a fan, bought tickets through the NCAA office in Kansas City. I was there for the Saturday semifinals at "The Pit," and watched Houston and Louisville play one of the greatest games in NCAA tourney history and certainly one of the top I've witnessed.
It was an up-tempo space age dunk fest, played breathlessly at high altitude, that grade schooler Fred Hoiberg and high schooler Greg McDermott would one day appreciate. Somewhere, I picked up a "Phi Slama Jama" button.
No, I didn't stay for the final. I figured Houston would hammer North Carolina State. Plus, I had to get back to work. But I did watch it on TV. I think I still have that button somewhere.
No. 2
Taylor. An incredible weekend in Chicago, where it was St. Pat's weekend. Most of my memories are in that column, except for this one.
The day after the Florida win, The World-Herald requested to shoot a photo of Taylor next to the Michael Jordan statue. Coach Dana Altman said no way. But Altman could do nothing about the mob of 25 writers around Taylor's locker after practice.
No. 1
Kansas City, 1988. The team I covered won the national championship in the city where I worked, and I had a seat at midcourt to watch it. There were a lot of good memories that weekend, but one always stands out.
The morning of the KU-Oklahoma title game, my editor called and said I needed to do a story that detailed the entire Kansas season. The catch: The story would only run, and run on the front page, if KU won the game.
I got to Kemper Arena at 2 p.m. for an 8 p.m. game. I wrote the story, sent it in about 5 p.m., and humbly told someone, "That's the best story nobody will ever read."
The NCAA tournament writes its own stories. I can't wait to visit again next year.
Photos: History of Creighton men's basketball in the NCAA tournament
Creighton has made the NCAA tournament 21 times in program history. Here are some of the best photos taken in that time.