LINCOLN — Vanessa Bouvet played golf atop oceanside cliffs in New Zealand. Her first round was in Venezuela. She has lived in five countries — across four continents — with a different best friend in each.
Now the 20-year-old is a sophomore on the Husker golf team.
So what makes Nebraska enjoyable after years of living in Brunei? "I like how easy it is here compared to elsewhere."
Having played in so many countries, Bouvet said most tournaments are the same, save for the opening ceremonies.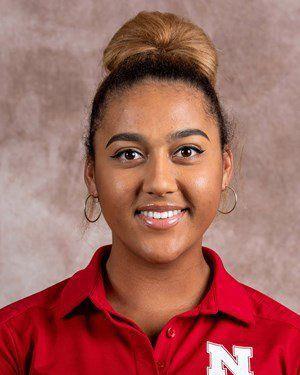 "Some are more serious and some are more fun. The Asian ones are more fun," Bouvet said. "They give out sick prizes like iPads and all that, but obviously I can't accept them anymore because of (NCAA) rules."
Robin Krapfl, the now retired Husker golf coach, received a message from Bouvet in May 2017. She told the coach she would be playing in tournaments in the U.S. that summer.
Krapfl was intrigued by Bouvet's résumé. At 17, Bouvet placed fifth in the Belgium International Amateur Championship and third in the Singapore Island Country Club Invitational.
So the coach went to watch Bouvet play.
"I knew right away once she hit her first shot — she bombed it ... just crushed it," Krapfl said. "And I started the recruiting process from there."
Krapfl later gave Bouvet a tour of NU's campus, golf course and athletic department. For Bouvet, it felt like home right away.
"When I left to go visit other schools, she was like, 'You'll be back,' " Bouvet said. "And I was, so she was right."
Since joining the program, Bouvet has averaged 75.79 per round, third-best for a freshman in school history. She also tied for third out of 75 golfers at the Ptarmigan Ram Fall Classic last fall.
Yet the transition from Brunei wasn't always smooth. Bouvet experienced culture shock from Nebraska's faster pace, more homogeneous racial population and even Husker football.
"There's no football in New Zealand," Bouvet said. "Like there's rugby, obviously, but it's not the same. So the first football game I went to, I didn't know what was happening. But it was fun."
But one of the biggest challenges for Bouvet was the separation and 13-hour time difference from her family in Brunei.
After 18 years of Noor Ahmed's father prodding her to speak up for herself, after nearly two decades of silence while others pointed at her hijab or told her to remove it, the first Muslim athlete in Nebraska women's golf history is on a newfound mission to spark change around her. To show whoever, wherever, she belongs.
Bouvet said she's very close to her 13-year-old sister, despite their age difference. Back home, Bouvet spent a lot of her time hanging out with her sister and friends swimming, seeing movies and bowling.
Now she makes an effort to maintain Snapchat streaks with her friends abroad and Facetimes her family at least every couple of days.
The first part of her freshman year was hard, Bouvet said. Being an international student, she couldn't always relate to the other athletes and felt like she didn't really fit in.
"It was just kind of intimidating being around all the athletes, to be honest, and not knowing anyone," Bouvet said. "It was kind of like being back in high school."
She added that if it hadn't been for the golf team — her first friends in Nebraska — it would've been harder to meet others.
Despite setbacks, Bouvet tries to maintain a positive attitude and likes to make practices fun.
"I like to make (my teammates) laugh," Bouvet said. "Just like crack jokes and kinda lighten the mood."
Bouvet also is optimistic about her golf career, saying she wants to go to the NCAA championships and eventually play professionally after college.
"I've been really close to winning a lot. It'll come with age," she said. "But those top finishes I'm proud of."
New Husker coach Lisa Johnson also has confidence in Bouvet.
"She's someone to watch," Johnson said. "She has a great game, great personality and she can really do something with her talent for Nebraska."
Krapfl said Bouvet has the skill set and the length to play professionally.
"It's just a matter if she has that drive and desire," Krapfl said.
The Nebraska 100: Our greatest athletes
The Nebraska 100, originally selected in 2005 and then updated and re-ranked in 2015, came from a pool of nearly 500 names from the ranks of high school, college, amateur and professional sports from the past 140 years. Assistance came from a panel of veteran sports observers from across the state, with the newspaper's sports staff determining the final rankings.