LINCOLN — The match was not quite settled, but for the fans at Pinnacle Bank Arena, few rallies could end so satisfyingly as the one early in Game 4 of Tuesday's meeting between Team USA and Korea at the Volleyball Nations League.
That was when two former Husker greats teamed up to bring the crowd to its feet. Jordan Larson, the USA's 32-year-old captain, sent an out-of-system set from the back row to Mikaela Foecke, who waited at the left pin and blasted it for a kill.
Separated by 10 years in age but joined both by their places in Husker lore and their USA jerseys, Larson and Foecke each had their highlights for the Americans, who shook off a creaky start to beat Korea 19-25, 25-15, 25-22, 25-18 and improve to 6-1 in Volleyball Nations League play.
"I think it's just so satisfying to be able to execute well at a high level," Foecke said. "To have it coming from Jordan and obviously to be in front of a home crowd here back in Lincoln is just so satisfying."
Foecke, who drove across Iowa on Sunday to rejoin the team following her Saturday wedding, had eight kills and served one of the Americans' 11 aces. She joined Larson in the starting lineup, making her second start of the Volleyball Nations League.
"When I found out I was going to start I was really just ecstatic," Foecke said. "Obviously there are so many great players here, and to have the opportunity to prove myself and play among some of the best, I'm just so grateful for that."
Larson had three aces and nine kills in her first match since being called in to the team this week for the first time this year.
"There was a little rust on playing with new players," she said. "A couple of these girls I just met a couple of days ago. Getting on the court for the first time and kind of learning each other is an interesting transition. I thought it went well considering the obstacles we had to go through."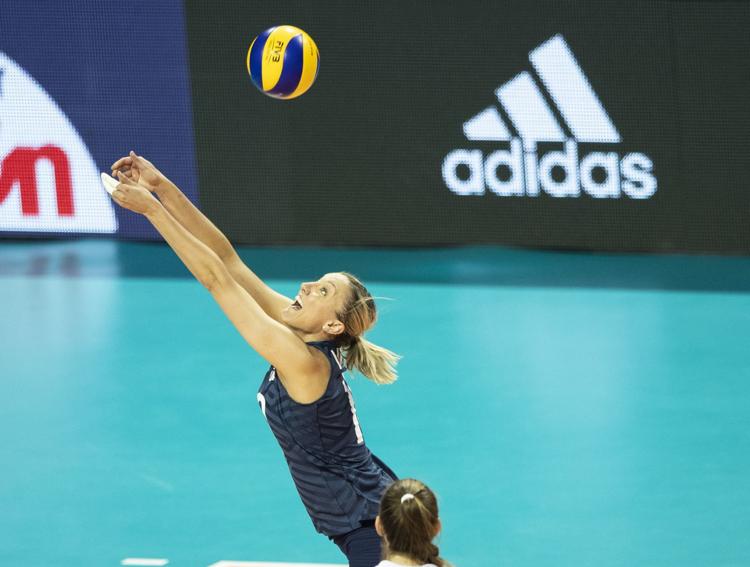 The Americans would finish with a 56-49 advantage in kills, but had to claw back from dropping a mistake-prone first set playing with a lineup still feeling each other out. The USA had seven errors in Game 1, but quickly jumped ahead in Game 2 behind six straight points on Larson's serve that included back-to-back aces.
"The Korean team really relies on passing in system and running a lot of combos, so I think that we could get them out of system with serving pressure really took the pressure off of us defensively," Larson said.
Much of the USA's success came from a pair of newcomers. Middle blocker Chiaka Ogbogu made a strong case for consideration alongside the Americans' Olympic veterans at the position. The former Texas All-American had a team-high 13 kills.
"It's a focus of ours to get our middles going," USA coach Karch Kiraly said. "And we had tremendous passing tonight between Megan Courtney at the (libero) spot, and Mikaela, and Jordan. That was the best passing match we've had so far in Nations League."
The Americans also got a boost from another rookie, opposite hitter Jordan Thompson. Thompson, who will be a senior at Cincinnati this fall, had nine kills coming off the bench to replace starter Annie Drews, including seven in the clinching set.
"It's interesting because that's the pair of opposites we've had so far in Nations League, and when one struggles, the other comes in and it's like crazy good," Kiraly said. "They take turns coming in and supporting the other person and giving the team a lift."
In tournaments like this, teams often shuffle their lineups from one match to the next. The Koreans played star outside hitter Kim Yeon-koung, the MVP of the 2012 Olympics, only in the first set and got 13 kills from opposite Kim Hee-jin.
If Kiraly puts Foecke in a reserve role in Wednesday's 7:30 p.m. match against Germany, instead using another former Husker, Kelsey Robinson, Foecke would understand.
Even if she's not used to being a backup, wearing a new uniform, or taking the court with a wedding ring stored back in her locker, some of the big parts still felt familiar.
"Playing back in Pinnacle and coming here, it all feels great," Foecke said. "Being back in Lincoln, it all feels great. Knowing we have the opportunity to play in front of Husker fans again is just so satisfying."
Korea (1-6)............25 15 22 18
USA (6-1)..............19 25 25 25
Germany def. Brazil 3-2
Upstart Germany, ranked No. 15 in the FIVB world rankings, stunned No. 4 Brazil 21-25, 31-29, 21-25, 25-20, 15-13 in the opening match.
Louisa Lippmann, Germany's 6-foot-3 opposite hitter, had 25 kills to lead all players and propel Germany to a win over a Brazilian club rebuilding following the retirements of several long-time stars.
Ana Paula Borgo Bedani Guedes led Brazil (4-3) with 20 kills.
Germany (2-5) will face the U.S. at 7:30 p.m. Wednesday, while Brazil will face Korea at 4:30 p.m.