It's been about 15 months since Bill Moos was hired to become Nebraska's athletic director. In a statement released Tuesday, President Hank Bounds and Chancellor Ronnie Green said, "In his first 15 months, Bill has done a great job guiding our athletic department."
So what has happened over Moos' first 15 months? Here's a timeline highlighting some of the notable moves and events that have happened since Moos came to Nebraska.
Sign up for Big Red Today news alerts
Get a daily Husker news roundup, recruiting updates and breaking news in your inbox.
Oct. 15, 2017: Moos, who had spent the previous seven years at Washington State, is named the athletic director at Nebraska, replacing Shawn Eichorst, who was fired about a month earlier.
Oct. 28, 2017: Moos attends his first Husker football game as athletic director. Nebraska beat Purdue, 25-24, the last victory of that season.
Oct. 31, 2017: Moos appears on a local radio station and talks up Scott Frost when asked about his potential as a coach. "Of course, he does have the roots here, raised in the state of Nebraska and playing for the icon that Tom Osborne is. A lot of things very positive," Moos said.
Nov. 11, 2017: Nebraska loses 54-21 at Minnesota with Moos in attendance. Moos would later say that it was this game that ultimately solidified his decision to fire Mike Riley.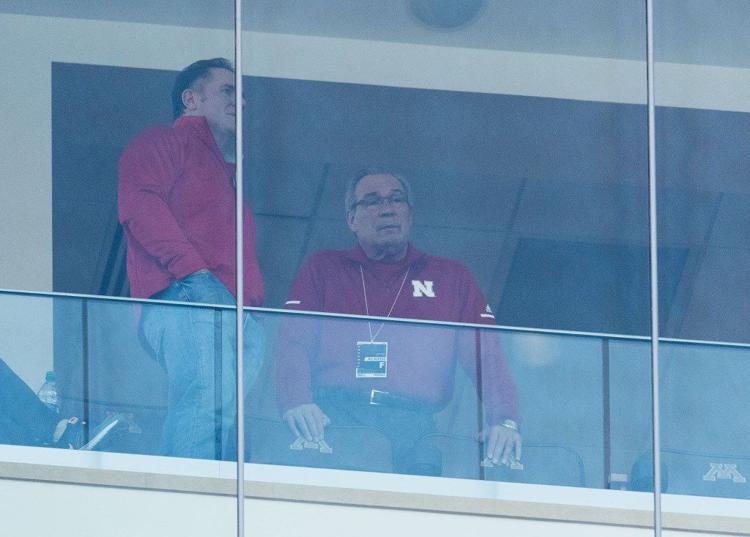 Nov. 17, 2017: Though Mike Riley was still in place as Nebraska's football coach, Moos — with the help of Matt Davison — meets Scott Frost for the first time in a secret meeting held at a hotel near the Philadelphia airport. That meeting helped pave the way for Frost's return to Nebraska.
Nov. 25, 2017: A day after Nebraska's loss to Iowa — completing a 4-8 season, the worst in program history — Moos announces that Mike Riley has been fired as the Husker football coach.
Dec. 2, 2017: While Scott Frost was leading Central Florida to a conference championship, news breaks that he will become the next head football coach at Nebraska.
Dec. 3, 2017: Moos officially introduces his new football coach at an event that brought hundreds of former and current Husker football players, school administrators and more. "We got the pick of the litter," Moos said.
Dec. 16, 2017: Nebraska volleyball wins the first national championship under Moos' watch. "Our volleyball program serves as the poster child for what we want to do across the board," Moos said.
March 9, 2018: Moos announces a restructuring of the athletic department's senior leadership, the first step in his "blueprint for success." The six key administrators: Bob Burton (chief of staff), John Jentz (chief financial officer), Pat Logsdon (senior administrator for women's sports), Marc Boehm (external operations), Dennis Leblanc (academics) and Jamie Vaughn (compliance).
March 26, 2018: Moos offers his first significant public thoughts on the Nebraska basketball program following a promising season that disappointingly didn't end in the NCAA tournament. "Tim is doing good things here," he said.
April 17, 2018: Moos gives Tim Miles a one-year contract extension, though there was some questions regarding why it was only a one-year extension. "I like the direction we are moving with Tim," Moos said. "I just felt to protect the university at this juncture that a one-year extension to three overall would be good, and we could talk about it again after next year."
April 24, 2018: Moos raises eyebrows during a public speaking engagement when he says (tongue in cheek) that Urban Meyer and Jim Harbaugh are "running a little bit scared right now" when talking up Nebraska football under Scott Frost.
May 3, 2018: Washington State releases an internal audit that found extensive mismanagement of the athletic department's budget during Moos' tenure, including the possible inflation of home football attendance figures and the improper distribution of free tickets to football games, though Moos said after it was unveiled that everything was handled "all aboveboard" while he was there.
May 2018: After publicly backing him the previous month, Moos continued to stand by Darin Erstad following a losing season in which Nebraska baseball failed to reach the Big Ten tournament. "I believe I have the right guy," Moos said.
May 16, 2018: Moos declines to renew the contracts of Nebraska men's golf coach Bill Spangler and men's tennis coach Kerry McDermott
May 21, 2018: Moos announces that the Black Friday game between Nebraska and Iowa will return. "That will be scheduled long after I'm gone," Moos said. "And I mean, on the face of the Earth."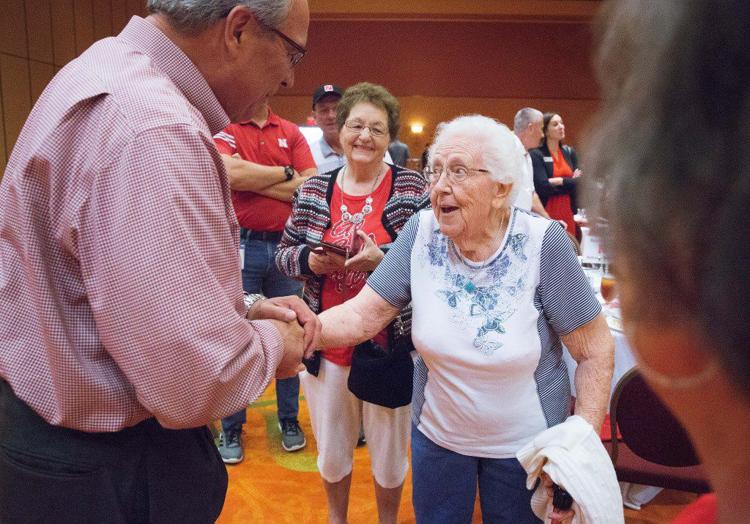 June 11-12, 2018: Moos, Scott Frost and other Nebraska assistants go on a 26-town tour throughout Nebraska to meet with fans. "What I love about Nebraska is, once you cross the border, it's all red, and we're the show," Moos said. "Our fans are just as great in Scottsbluff, Grand Island, Valentine or North Platte as they are in Lincoln and Omaha."
June 13, 2018: Moos announces the hiring of Mark Hankins as men's golf coach and Sean Maymi as men's tennis coach.
July 2018: Though Moos didn't take over until after the athletic year had begun, Nebraska records its worst finish in the Directors' Cup (44th), which tracks performance across all sports.
Aug. 30, 2018: Moos floats out the possibility that there could be some changes to the Tunnel Walk. "It kind of goes with our theme of 'honor the past, live the present, create the future.'" Nebraska did use several different versions of the Tunnel Walk during the season.
Sept. 1, 2018: The first game of the Scott Frost era is canceled because of thunderstorms. Though Moos didn't speak publicly that night, he said about a week later that Nebraska had offered to house Akron players in dorms so the game could be played Sunday, but Akron declined.
Oct. 16, 2018: Longtime women's gymnastics coach Dan Kendig announces his immediate retirement after he was presented with NCAA compliance concerns by NU officials. "This is not associated with (student-athlete) well-being," Moos said.
Nov. 23, 2018: Nebraska concludes its first season under Scott Frost with a 4-8 record, matching a program low, though the Huskers did win four of their last six games.
Dec. 17, 2018: Nebraska announces it will play Akron in 2025 to make up for the canceled game in 2018. NU will pay $1.45 million for that game, plus $650,000 of the $1.17 million owed to Akron from the 2018 game. "They came out pretty good," Moos said.
Jan. 29, 2019: Nebraska President Hank Bounds and Chancellor Ronnie Green release a joint statement saying, "In his first 15 months, Bill has done a great job guiding our athletic department. He has our full support, and we look forward to his continued strong leadership."
Photos: Nebraska Athletic Director Bill Moos