LINCOLN — Her husband, Lloyd, can't figure out why Amy Williams hasn't had it fixed.
But the screen on her cellphone has been cracked for more than a year. It doesn't bother her too much, and she just hasn't made it in to the phone provider yet.
Life gets busy when you're a full-time mom, wife and Nebraska women's basketball coach. There's no off switch on the first two and rarely one on the latter. Williams spent the first week after NU's 14-16 season recruiting for the 2020 class.
She would rather been playing in the postseason. NCAA preferably, but even the NIT would have been good for a young, talented team that could play with just about any opponent outside the nation's top 10.
Against the three Big Ten teams that made the NIT — Minnesota, Northwestern and Ohio State — NU went 3-1 record. The Huskers even finished in a tie for sixth in the Big Ten.
But 10 losses by six points or fewer — coupled with a nonconference schedule that featured five true road games at power conference teams — did Nebraska in. Williams admitted she was frustrated and through her cracked screen, her players told her the same thing.
"I don't know if they're quite as crabby about it as I am — being home right now — but I know they're hurting, not playing in the postseason," Williams said. "They didn't come to Nebraska to be sitting home."
Especially after an NCAA tournament bid last season. The conventional wisdom was Nebraska — bringing back a lot of key pieces and adding a top 20 recruiting class — would return to the tournament. I figured NU would be right on the bubble — as it was last year — with 17 to 18 wins. For certain, it was an NIT team.
For four dynamic freshmen — Haiby, Leigha Brown, Kayla Mershon and Ashtyn Veerbeek — it was a blunt introduction to big-time college basketball. All won big in high school. All had flashes of excellence during the season. All had off nights, too.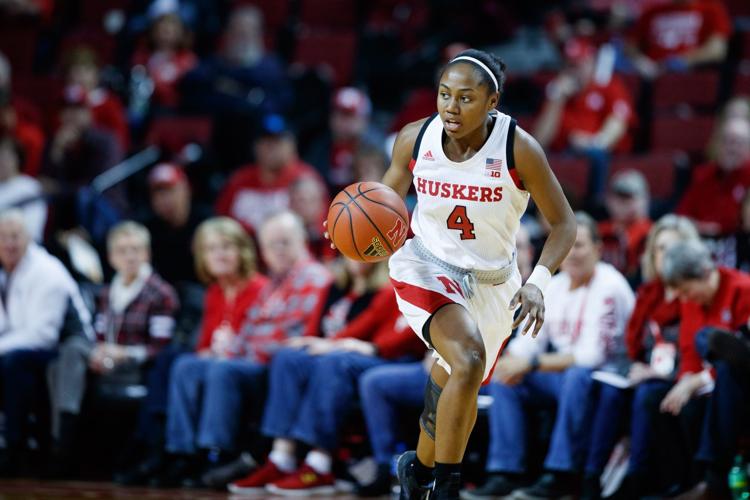 "To come out on the losing end of those tight ballgames as often as we did was frustrating," Williams said. "It took its toll on this whole team. What we're really trying to keep in perspective, for this team, is the good news.
"With a lot of young players contributing, we were very competitive with a lot of teams. We just need to get over the hump. What's it going to take to make that happen?"
Leaders. Clear go-to players. Williams is bullish on this, and it's good to hear.
Nine Huskers averaged at least 16 minutes per game. None averaged 30 minutes.
It might have been the deepest team in the Big Ten — it showed, too, when NU averaged 21 points per fourth quarter — but you never quite sensed a true rudder. The trio of seniors who led the 2017-18 team — Emily Wood, Jasmine Cincore and Janay Morton — weren't flashy, but they played defense, led well and accepted roles.
Nebraska's chemistry this season was good, but almost too deferential. When a key possession late in a Big Ten tournament loss to Purdue came down to Mershon, NU's least offensively minded player, trying to shoot over the Big Ten's two-time defensive player of the year, it crystallized. Mershon was being aggressive in the moment, but someone else needs to run that possession.
"We love having balance on our team, we love having the ability to come at you from all directions, we love having our opponents prepare for a lot of different players who can hurt them," Williams said. "But we also feel like we want to establish a couple players where everybody knows, 'I want the ball in my hands in this moment, and I can be that go-to player.' We have those players. We need to establish the confidence and willingness in those players to say, 'Yes, give it to me.'"
Williams rattled off five names. She mentioned one twice — Haiby, a gifted scorer and NU's best player driving to the basket — and seems especially insistent that center Kate Cain can dominate games more than she thinks. Brown has natural scoring talent, Taylor Kissinger is the team's best shooter and Hannah Whitish, whose game trended downward a bit this season, has been that player before.
And 91 percent of the Huskers' scoring returns. That number is 92 percent in rebounding. A three-player recruiting class includes Australian star Issie Bourne, who has international experience and is one of the nation's best young players. Coupled with the close losses — and what Williams says will be a "more balanced" nonconference schedule — it's not hard to envision NU making a run to the NCAA tournament. A run to the second weekend, in fact. The pieces are there.
Williams isn't ready to talk team ceiling. She conducts player meetings over the next week and wants to measure their resolve.
"I know they're hurting, but I want to be able to look each one of them in the eyes and see what their motivation is going to be, what their commitment is, where their mindset is at," Williams said.
Sign up for Big Red Today news alerts
Get a daily Husker news roundup, recruiting updates and breaking news in your inbox.
More notes from the Husker sports landscape:
» Make it five top-10 finishes in a row for Nebraska wrestling at the NCAA championships. Four Huskers were All-Americans for Mark Manning's program, which has reached a level of consistency and toughness in the Big Ten — which produced seven of the top 10 teams in Pittsburgh, including national champion Penn State. Husker 157-pounder Tyler Berger finished second to three-time national champion Jason Nolf, who beat Berger for a sixth time. Berger could have tried to win a title at another weight. It would have been easier. But he stayed in Nolf's path. One has to respect that.
» The team ERA of Nebraska's baseball team is down nearly a run from last season, when injuries sunk the Huskers and opponents batted .291 and hit 48 home runs.
» As fun as Nebraska basketball's run has been the past two weeks, some perspective: Wisconsin, Minnesota and Iowa were a combined 44-54 last season. Nebraska was 5-0 against them and returned all of its key pieces this season. Iowa, Minnesota and Wisconsin all got better this season — returning to the NCAA tournament. Nebraska regressed.