The most interesting man at Nebraska? It's still John Cook.
Cook enters his 20th season as Husker volleyball coach with a spring in his step. It comes from having hip replacement surgery last December.
Of course, Cook couldn't just have normal hip surgery. He had it scheduled for last Dec. 21 in Omaha with Dr. Kevin Garvin, but that was right after the NCAA Final Four. So Cook asked to switch to the 28th, and said, "(Garvin) actually switched some big shot, some movie star, from the 28th to the 21st." Cook's hip had degenerated from a bad car accident he had in Lake Tahoe, Nevada, in 1980.
"I can walk better," Cook said. "I can sit. I can tie my shoe. I couldn't tie my shoe, couldn't bend over far enough. I just got back from Jackson Hole (Wyoming) and I did monster hikes. I feel 20 years younger."
So Cook's ready to coach another 10 years?
"We'll see," he said, with a laugh.
Cook hung out with Scott Frost at Jackson Hole, but it was another football coach who made his vacation.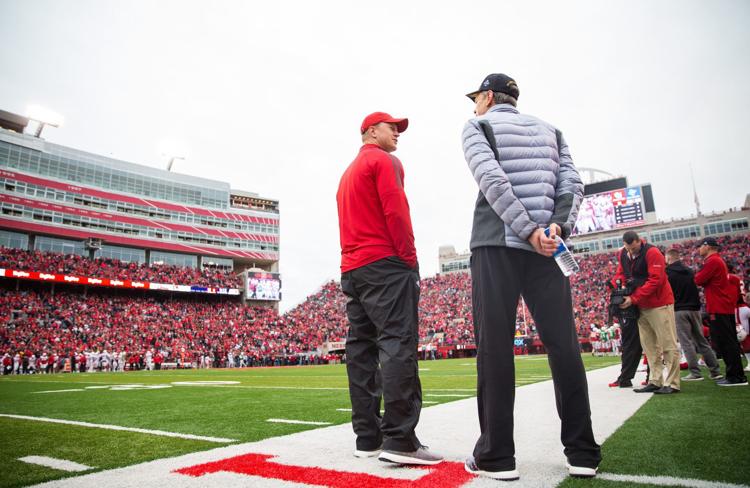 "I'm sitting in the Four Seasons and I've got two Irish wolfhounds," Cook said. "We took them for a hike and we're just sitting there hanging out.
"Here comes this lady and she wanted to pet our wolfhounds. There's two or three kids with her and a guy, and I'm paying attention to the dogs, so they don't jump on her. She says they used to have wolfhounds and we're just talking dogs for 10 minutes.
"So the guy stands up and says, 'Let's go.' I look up and it's Bob Stoops. We started talking football. It was awesome. I've always been a Stoops fan. We won a national championship in the same year (2000). We're talking Bo (Pelini), and he knows Scott. He got a dig in, said since they fired Bo, they haven't been doing so well."
My takeaway from that story was that Cook has two Irish wolfhounds. How many coaches you think have those as pets?
"They're our kids — we take them everywhere," Cook said. "Roman soldiers all had a wolfhound and they would take them into battle.
"I'll talk to the girls about this during two-a-days. The soldiers would get killed in battle and the wolfhounds wouldn't leave. That's how dedicated they are. Our (players) love dogs. Any dog story, they're listening. So I'll tell them, that's loyalty, commitment. Don't ever leave your teammate."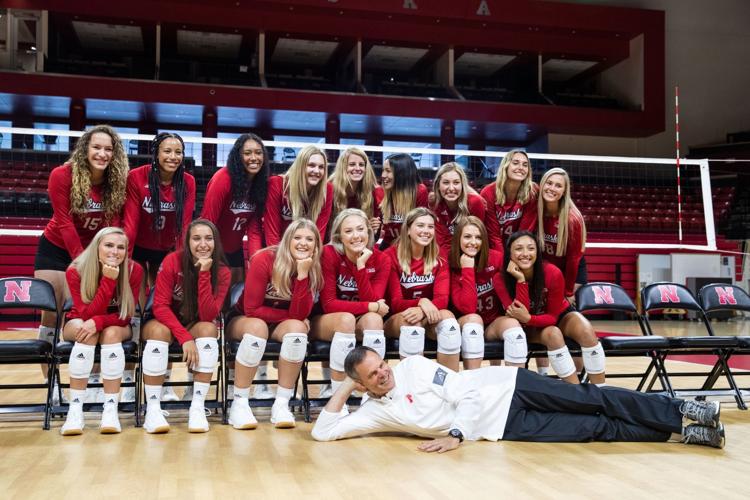 I could write about Cook all day, but here's one last bit. The San Diego native, who used to be a Chargers fan, now says he's with the Patriots, because he read Bill Belichick's book and he's a huge fan of the coach.

"They have their team, their culture and they bring guys in that fit them — and that's what we try to do," Cook said. "A while ago I told Rex Burkhead, 'You're going to be with the Patriots someday.' Last spring, he was in for the spring game and I saw him and reminded him that I told him that."
Sign up for Big Red Today news alerts
Get a daily Husker news roundup, recruiting updates and breaking news in your inbox.
The news that Baton Rouge, Louisiana, is in the running to host the College Baseball Hall of Fame shouldn't be a surprise. I thought Omaha would be the perfect spot, but the fact that it hasn't happened by now reminds me of a couple of things. One, Omaha is into college baseball one month out of the year. Two, halls of fame are not necessarily appealing to those who donate money. The word around town was that the CBHOF might go into the offices under the scoreboard at TD Ameritrade Park. That's a tight fit. Baton Rouge makes some sense, but who would see it other than LSU fans?
While I'm on halls of fame, one thing I'd like to see in a new Husker football facility is a place for the Nebraska Football Hall of Fame. This would be an area open to the public, where you walk around and read and watch (on video monitors) the story of Nebraska football.
The NFL can be a cold, cruel world. Ask Luke Gifford, the former Husker linebacker who was playing his way onto the Dallas Cowboys' roster when he suffered a high ankle sprain in the exhibition at San Francisco on Saturday. The injury will set Gifford back several weeks, but all is not lost. He should be a candidate for the practice squad, where teams keep players they want to develop.
One more and I'm outta here: The "Voice From the Grandstand" is tanned, rested and somewhat fit after summer vacation. But it's time to start it up for another season. Send your questions or comments to grandstand@owh.com and I'll answer them each week with just the right amount of wit and wisdom. Or I'll make it up. Remember, I'm a dad with teenage daughters.