LINCOLN — Madi Kubik knew she got the tip, so she asked Nebraska coach John Cook to challenge the out-of-bounds call.
With the Huskers leading 22-10 in the third set, the outcome of the match didn't hang in the balance, but Kubik's perfect night did.
The officials agreed with Kubik on the only challenge of the match and overturned the call. The freshman outside hitter celebrated by giving Cook a high five as she earned her 11th kill and her first errorless match of the season.
It was that kind of night for the fifth-seeded Huskers' offense as they easily swept Ball State 25-13, 25-18, 25-10 in the first round of the NCAA tournament Friday night before 8,204 at the Devaney Center.
"I was really happy that we got it," Kubik said following her first NCAA tournament match. "I knew I got her, but I didn't know if they were going to be able to see it on the (video). Yeah, that was cool."
The Huskers overpowered Ball State (20-12) at the net as they hit .425 for the match while limiting the Cardinals to 23 kills and 22 hitting errors.
Kubik's .688 hitting percentage was more than 200 points higher than her previous best of .462, which came against Rutgers on Nov. 1. Junior middle blocker Lauren Stivrins also finished with 11 kills and a .667 hitting percentage on 15 swings.
Ball State did not record a block, the first time an NU opponent failed to do so since Colgate on Sept. 13, 2014.
Kubik credited sophomore setter Nicklin Hames for setting up her hitters for success. With Ball State focusing on Stivrins' slide attack, it opened up shots for Kubik and junior Lexi Sun, who had nine kills at a .333 clip.
"Nicklin was seeing the block really well … and going against the flow so we were one-on-one every single time," Kubik said.
Hames finished with 34 assists and eight digs. She added four kills on 11 attacks as she was looking to attack against Ball State's 6-2 system.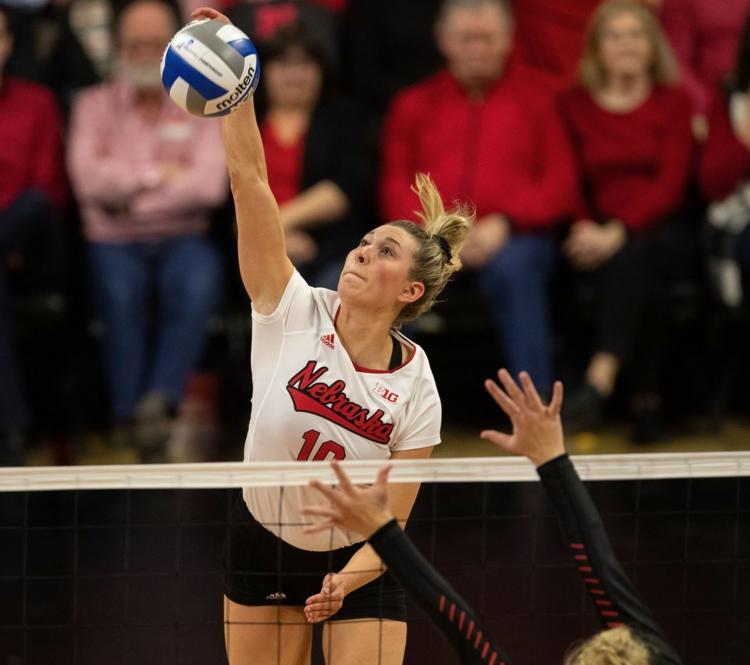 "It feels like we are in the zone," Hames said. "We have a lot of fun when we are having great offensive nights and we are just laughing and everyone is taking great swings."
Stivrins led the defense with five blocks as NU totaled eight as a team. Libero Kenzie Knuckles finished with a match-high 13 digs in her postseason debut.
Natalie Risi, Ball State's leading attacker and the MAC freshman of the year, failed to record a kill on 12 attacks and misfired four times. Sydnee VanBeek was the only Ball State player who had any success as she used the Nebraska block to her advantage on her way to eight kills and a .400 hitting percentage.
Ball State coach Kelli Miller Phillips said her team struggled to find ways to score against the Huskers' physicality at the net.
"Nebraska played well and they were blocking unbelievably," Phillips said. "We were really having trouble getting the ball to the floor. We were able to make some plays and fought with all our hearts, but ultimately couldn't beat a really, really good Husker team tonight."
Next up for the Huskers (26-4) is a second-round matchup against Missouri at 7 p.m. Saturday. Cook said they will need a strong defensive performance against the Tigers, who have a .301 attack percentage this season.
"We've worked on them all week," Cook said. "They've seen them on video and know what they've got and the players they have. They are third in the nation in attack efficiency. We know what we are up against."
Ball State (20-12)....13 18 10
Nebraska (26-4)......25 25 25
BSU (kills-aces-blocks): VanBeek 8-0-0, Mitchem 5-0-0, Holder 3-0-0, Plitt 2-0-0, Seaman 2-0-0, Ivy 2-0-0, Hamaker 1-0-0, Huber 0-1-0, Avila 0-1-0, Grussing 0-1-0. Totals: 23-3-0.
NU: Kubik 11-0-0, Stivrins 11-0-0, Sun 9-0-0, Sweet 6-0-0, Hames 4-0-0, Schwarzenbach 4-0-0, Miller 0-2-0. Densberger 0-1-0. Totals: 45-3-0.
Set Assists: Ball State 22 (Seaman 13, Grussing 5, Huber 2, Risi 1, Avila 1), NU 44 (Hames 34, Knuckles 6, Sun 2, Sweet 1, Schwarzenbach 1).
Photos: Nebraska volleyball rolls in first round NCAA match