MADISON, Wis. — It's time for Round 3.
The Nebraska volleyball team will face off against Wisconsin for the third time this season after the fifth-seeded Huskers swept Hawaii 29-27, 25-22, 25-19 Friday afternoon at the UW Field House.
During the regular season, the No. 4 Badgers swept both matches against NU. Now the Big Ten rivals will meet Saturday at 5 p.m. on ESPNU with a trip to the Final Four on the line.
"It's always fun to play Wisconsin, play big hitters like that, play in front of a crowd that is really going to cheer every point and they're into it," NU junior outside hitter Jazz Sweet said. "So that's definitely going to be fun. I've been in it before, so I'm excited to do it again, have a chance to rematch."
In Friday's semifinal, even though Nebraska (26-4) won in straight sets, Hawaii made the Huskers work.
In the first set, Hawaii led 16-13 before the Huskers went on a 4-0 run that featured a kill and two aces from sophomore setter Nicklin Hames. Hawaii responded by scoring five of the next seven points for a 21-19 lead, but Nebraska leveled it again on a kill from Sweet, who had six of her 12 kills in the set, and a hitting error by Hawaii.
The Rainbow Wahine (26-4) had two chances to win the set, but a service error and a Hames kill kept NU alive. Nebraska finally prevailed when Hawaii's attack went into the net.
NU coach John Cook said the set gave him flashbacks to last weekend's match against Missouri, in which the Huskers prevailed in the second set 32-30 before winning the match 3-1. Cook said they pulled out the set against Hawaii because they trusted in their training and fought through adversity.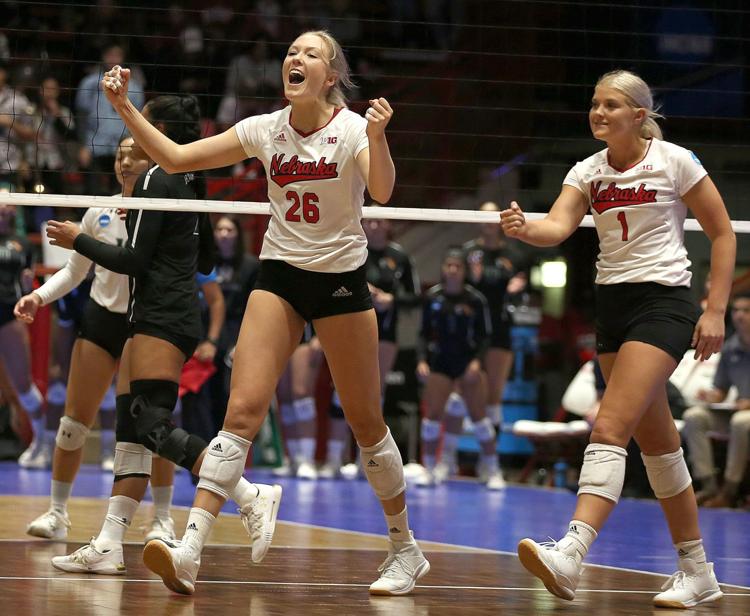 "Missouri was one of the dramatic (matches) we've had all year. The confidence of getting through that helped," Cook said. "They don't panic. They know to grind it out point by point. That's the sign of a team that is believing. They're making plays instead of worrying about screwing it up."
The Huskers' defense shut down the Rainbow Wahine attack in the second set, limiting Hawaii to nine kills with 10 hitting errors.
Nebraska notched four blocks in the set and made a few adjustments to prevent Hawaii from tooling off its block as much. The shorter Rainbow Wahine attack — which was led by 14 kills from 5-foot-9 Brooke Van Sickle and 10 from 5-10 McKenna Ross — gave Nebraska fits early until Cook altered the game plan.
"We don't see those players in the Big Ten. That's the small outside hitters," Cook said. "They were doing a great job going high off our hands, and we made some adjustments blocking and started blocking balls and getting better touches."
The Huskers also took away Hawaii's middle blockers. Amber Igiede, the Big West freshman of the year, and Skyler Williams combined for just five kills and seven errors on 23 swings.
Nebraska put together a nearly flawless third set as it amassed 16 kills with no errors for a .457 hitting percentage. The Huskers scored seven of the final nine points to secure the sweep. Kenzie Knuckles had seven of her match-high 14 digs in the final set.
Lexi Sun played one of her best matches of the season as she led NU with 14 kills at a .619 clip with just one error. The only other times she hit above .600 this season were against High Point (.650) and Rutgers (.800).
The 6-foot-2 outside hitter added an ace and nine digs. Even though she finished with just two blocks, Cook said Hawaii stopped setting her side of the net because she was blocking so well.
"At times, she's a shutdown blocker," Cook said. "She bounced them a couple of times and there were no more balls going back to her."
Now NU's focus can turn to a match many have anticipated since the brackets came out two weeks ago. Wisconsin took care of business Friday by sweeping No. 13 Texas A&M 25-20, 25-17, 25-23.
"Right now, it doesn't matter how good you play," Cook said. "It's just finding a way to win three games, and that's our mindset and has been our mindset for about the last month right now. Again, there's a lot of pressure in these matches, and as you know it's over and done with if you lose."
In both meetings this season, Nebraska struggled to slow Wisconsin's potent offense. The Badgers hit .376 and .331 in its two wins. The Huskers recorded just four blocks total in each match.
Lauren Stivrins said in the previous matches the Huskers were too passive at times, but they've grown up since their last match against the Badgers on Nov. 24.
"I'm excited to see what our team can do," Stivrins said. "Our serving has been causing fits for other teams. So I think if we come with that same aggression from the service line then that will give us the confidence to go out there and take big rips as a team."
Hawaii (26-4).............27  22  19
Nebraska (28-4).........29  25  25
UH: Van Sickle 14-1-1, Ross 10-1-1, Iosia 6-0-1, Hellvig 6-0-3, Rasmussen 4-0-0, Williams 3-0-4, Igiede 2-2-3, Choy 1-0-0, Westerberg 1-0-0. Totals: 47-4-13.
NU: Sun 14-1-2, Sweet 12-0-3, Kubik 7-1-2, Stivrins 7-0-3, Hames 3-2-1, Schwarzenbach 1-0-5. Totals: 44-4-16.
Set assists: UH 46 (Iosia 19, Choy 19, Okino 4, Van Sickle 1, Ross 1, Hellvig 1, Igiede 1), NU 43 (Hames 36, Knuckles 4, Kubik 3).
Photos: Meet the 2019 Nebraska volleyball team