MADISON, Wis. — There was no charm for Nebraska on Saturday evening.
The Huskers' third match this season against Wisconsin ended just like the first two — a loss in straight sets.
This time, Wisconsin's dominance ended the fifth-seeded Huskers' season in the NCAA tournament regional final with a 25-18, 25-22, 25-19 sweep at UW Field House.
Nebraska coach John Cook said Wisconsin proved its superiority by being better at staying in the moment and finishing during end-game situations.
"They beat us fair and square, 3-0, three times," Cook said. "At first, I thought we were a bad matchup for them, but tonight, we were not a bad matchup. We got the matchups we wanted and our team executed really well, but they are a little more relentless than we are."
Sign up for Big Red Today news alerts
Get a daily Husker news roundup, recruiting updates and breaking news in your inbox.
The final chapter of the trilogy was a stark contrast to the offensive fireworks in the first two. No. 4 Wisconsin hit for a season-low .192 hitting percentage as Big Ten player of the year Dana Rettke finished with just seven kills, her second-lowest total this season.
Nebraska's offense also struggled with 27 hitting errors, the third-highest total this year that was bested only by a pair of five-set matches, and a .062 hitting percentage — the lowest mark by NU under Cook.
The error-riddled performance wasn't the result of sloppy play but rather high-level defense. Cook said NU followed its game plan all match and freshman libero Kenzie Knuckles, who tallied a match-high 23 digs, played "ridiculous."
"There was some great volleyball out there tonight — the speed and the power and the amazing ups everybody was making," Cook said. "For a freshman in this environment, she made some unbelievable plays."
The Badgers relied upon up their experience late in the final two sets against a Nebraska team with no seniors. The Huskers (28-5) led 21-20 in the second set, but Wisconsin scored five of the final six points, all of which were Nebraska errors: four hitting and one serving.
The third set was up for grabs as well, tied at 18-all. Again, Wisconsin (26-6) took control and closed with a 7-1 run with four of its last five points coming on blocks.
Wisconsin senior libero Tiffany Clark said they love those tight finishes because they practice them all the time.
"I think when we get to those moments, that's where we thrive," she said. "It's just a fun time to be in and I think we just have this, like, killer mentality in that red zone."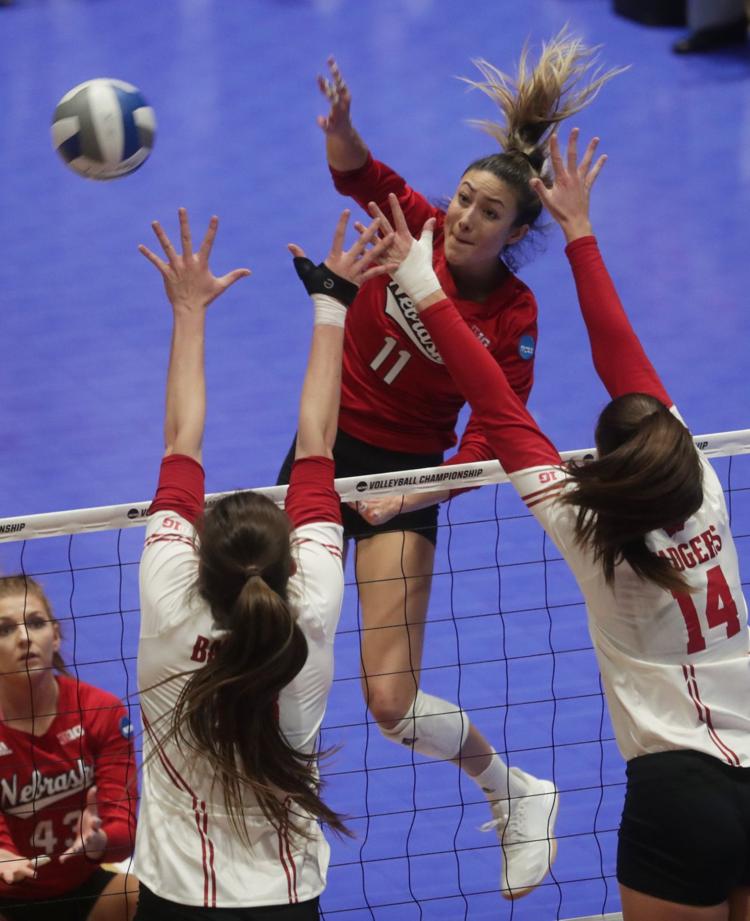 Jazz Sweet carried the Huskers early with five kills on 10 errorless swings in the first set, while the rest of the Huskers combined for five kills and seven errors on 30 attacks. The junior outside hitter added six kills in the second as Lexi Sun contributed five kills on nine attacks.
The offense fell apart in the third set as Sun committed eight errors and Sweet didn't record a kill. Only Madi Kubik had any success with four kills, but she finished the match with seven kills and six errors.
"Sometimes you try too hard, but again, Wisconsin deserves a lot of credit where they had their block," Cook said. "They are very good at digging and transitioning. It just makes you try harder to kill the ball when you're not killing it."
Kubik also recorded the Huskers' only ace against Wisconsin in the three matches in the second set.
The Nebraska middle blockers, Lauren Stivrins and Callie Schwarzenbach, combined for just five kills and four errors on 20 swings. Cook said Hames became tentative setting the middles after Schwarzenbach missed an attack on the first point of the match and then a few points later Stivirns was blocked by Rettke.
After proving the Badgers could beat Nebraska with their offense in the first two meetings, Wisconsin coach Kelly Sheffield said he was pleased to see defense carry the day. Wisconsin finished with 11 blocks and 60 digs.
"This game was just really gritty, in the dirt, which is how (libero) Tiffany (Clark) enjoys playing, a lot of defense," Sheffield said. "To hold that team under .100 is pretty cool. I thought that was a really, really gritty performance by us."
Wisconsin was led by the region's most valuable player, Molly Haggerty, who finished with 14 kills.
Now the Badgers head to Pittsburgh for their first trip to the Final Four since 2013. After beating NU three times, Cook said Wisconsin will have a chance against Baylor, Minnesota and Stanford.
"Wisconsin is good. We will see if they can win it all," Cook said. "They way they are playing, they have a great chance."
Nebraska (28-5)...........18 22 19
At Wisconsin (26-6)......25 25 25
NU (kills-aces-blocks): Sweet 11-0-2, Sun 11-0-0, Kubik 7-1-0, Stivrins 3-0-3, Schwarzenbach 2-0-1, Hames 1-0-1, Szabo 0-0-1. Totals 35-1-7.
UW: Haggerty 13-0-3, Loberg 9-0-1, Rettke 7-0-8, Hart 4-0-3, Hilley 2-3-2, Duello 2-0-3, Barnes 0-2-0. Totals 37-5-20.
Set assists: NU 34 (Hames 26, Kubik 3, Knuckles 3, Sun 1, Schwarzenbach 1), UW 34 (Hilley 30, Barnes 2, Loberg 1, Clark 1).