LINCOLN — Usually one of the most stoic players on the court, Jazz Sweet couldn't hold back the emotion.
Sweet teamed up with Callie Schwarzenbach to block an attack by Kylie Deberg on the Huskers' eighth set point to win the third set 32-30.
The junior outside hitter celebrated with a fist pump and yelled enthusiastically at her teammates, "Come on. Let's go."
The Huskers rode the emotion of the third set to a 20-25, 25-20, 32-30, 25-18 win Saturday night at the Devaney Center to advance to the Sweet 16 for the eighth straight year.
"This is the tournament. It only takes a couple of mistakes and you're out," Sweet said after a 17-kill, six-block performance. "This was a huge game, and Missouri was a great team, so that gave us a lot of momentum pushing into that (fourth) set."
The third set was a mini-match in itself.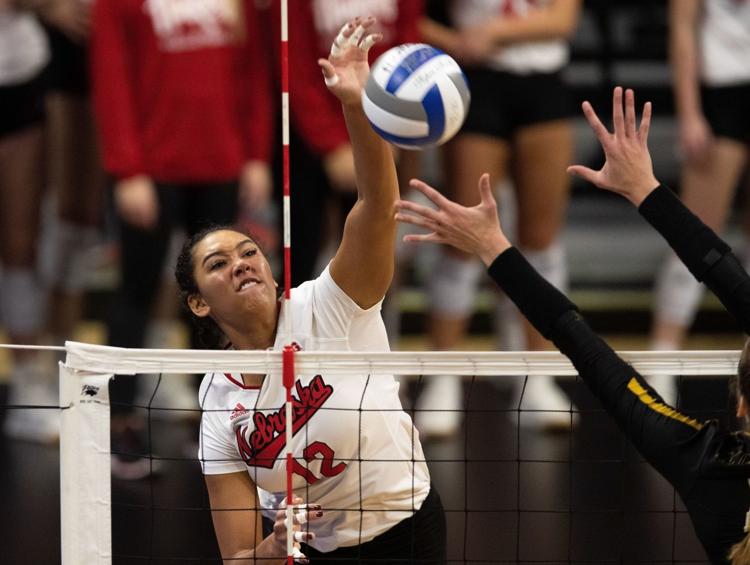 After the teams split the first two sets, Missouri started the third set strong and used a 7-1 run to jump out to a 10-4 lead. The Tigers' offense terminated eight times on their first 15 swings without an error.
After calling a timeout, NU (27-4) regrouped and used its block to turn the match around. Nicklin Hames started a run with a solo stuff before Lexi Sun and Schwarzenbach teamed up for another block.
Following a service error, Nebraska scored eight unanswered points to take a 14-11 advantage. During the 10-1 run, the Huskers recorded five blocks, including four from Schwarzenbach. The sophomore middle blocker finished with eight for the match.
"We've been preparing for Mizzou since Monday," Schwarzenbach said. "Going into it, we knew a lot about them, and I think we just executed really well."
The Huskers reached set point and led 24-20, but the Tigers came alive and flipped the set with a 5-0 to earn a set point of their own.
NU failed to convert its first seven set points, but also staved off three Missouri set points. Eventually, the Huskers prevailed in the set on the block from Sweet and Schwarzenbach, her fifth of the set.
NU coach John Cook said he thought whoever won that set would likely take the match, and Nebraska could have very easily lost that set.
"I think we made some big plays and continued to serve tough," Cook said. "We just found a way. We always talk about just trying to win three games by two points, and there was one example of winning by two points."
Missouri coach Joshua Taylor said he made a coaching error late in the set when he allowed Leketor Member-Meneh to serve with the score tied at 30-all even though she hurt her knee and couldn't jump. Member-Meneh, who led MU with 19 kills, sent her final serve long to set up the Huskers' final set point.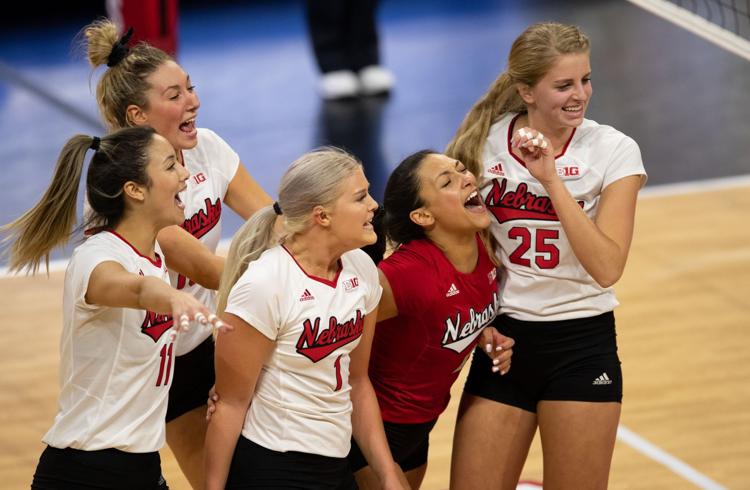 The Tigers (22-8) recorded more kills than NU in the set (24-16), but also had more errors (8-3) and committed six service errors.
For the match, Missouri committed 14 service errors, its second-highest total this season, trailing 15 against Northern Illinois on Sept. 7, compared to just seven aces, five of which were from Tyanna Omazic.
"Typically we have our aces and errors are equal," Taylor said. "When we were struggling with our serve we started to do a little too much rather than bring things back and do what we know."
In the fourth set, Nebraska used five unanswered points to take an 8-4 lead in the fourth. The Tigers climbed back into the set and trailed 13-12, but Sun hit two kills and NU won a challenge to give Sweet another kill and give NU a five-point cushion it rode the rest of the way.
Sun added 13 kills and four blocks for the Huskers. She also left the second set after she collided with libero Kenzie Knuckles while diving for a serve. She returned after two points.
"She shook it off and ran back in there," Cook said. "She didn't even ask. She just ran in. I talk to her all the time about being tough, and she showed it tonight."
Junior middle blocker Lauren Stivrins finished with 11 kills and three blocks, while freshman outside hitter Kubik had a double-double with 11 kills and 10 digs.
Hames tallied 42 assists and three aces while tying Knuckles with a team-best 12 digs. Megan Miller also hit three ace serves to go with 11 digs.
The Huskers will advance to play either San Diego or Hawaii in the regional semifinals next week. No. 4 seed Wisconsin will face No. 13 Texas A&M in the other semifinal in Madison, Wisconsin.
Cook said he was proud of the way his team played through adversity and dug deeper than it had before this season. He also credited the crowd for helping feed that emotion.
Earlier this week, Cook said the crowd owed him a good performance after being flat in a post-Thanksgiving match against Maryland.
"They paid it back," Cook said about the crowd. "If you were here tonight, how do you not fall in love with this competition and this event in this arena?"
Missouri (22-8)...........25 20 30 18
At Nebraska (27-4).....20 25 32 25
Missouri (kills-aces-blocks): Member-Meneh 19-0-0, Hollingsworth 15-1-1, Deberg 14-1-0, Omazic 9-5-1, Dillon 4-0-0, Fuentes 2-0-1, Sents 1-0-0. Totals: 64-7-3.
NU: Sweet 17-0-1, Sun 13-0-0, Kubik 11-1-0, Stivrins 11-0-0, Schwarzenbach 2-0-0, Hames 1-3-1, Miller 0-3-0. Totals: 55-7-2.
Set Assists: Missouri 55 (Funetes 51, Sents 2, Ozamic 1, Mangual-Dera 1), NU 51 (Hames 42, Knuckles 7, Kubik 2).
Nebraska volleyball tops Missouri in second round NCAA match