LINCOLN — Confidence and trust are wonderful things on the volleyball court.
After two quiet sets in which she had more errors than kills, Madi Kubik didn't hesitate or back down Friday night in the fifth set against No. 8 Minnesota. The Nebraska freshman played her best set of the season as she posted seven kills and two blocks to help the Huskers pull away 15-3 in the decisive set.
The Huskers stayed at No. 6 in the coaches poll Monday after beating the Gophers and losing at Wisconsin.
After the match Friday, junior Lauren Stivrins offered effusive praise for the 6-foot-3 outside hitter, calling her an all-star.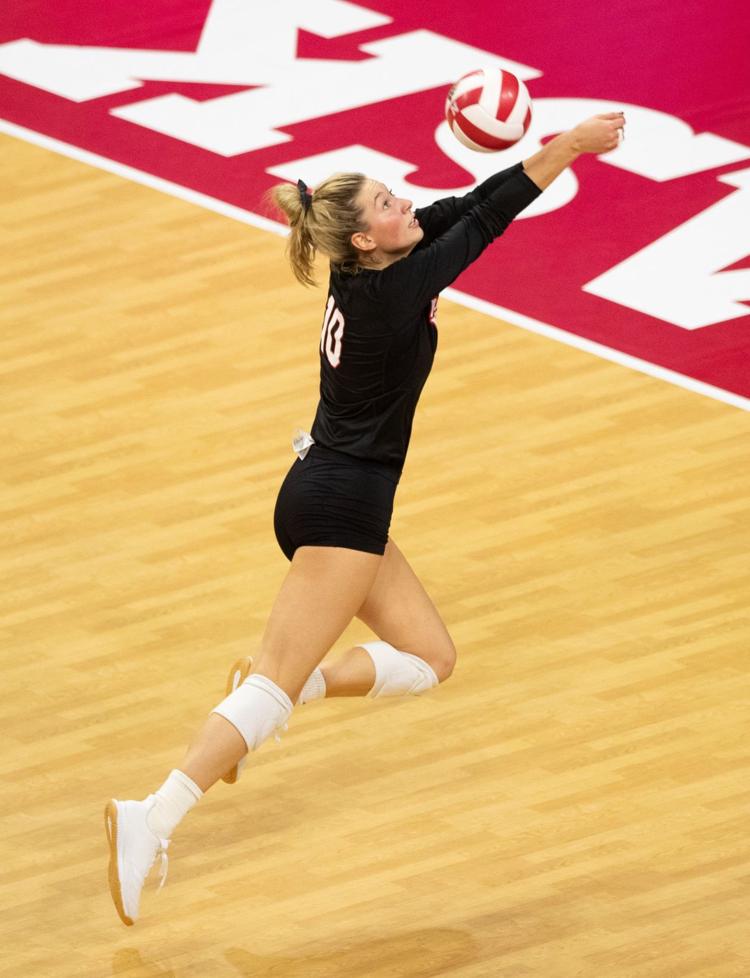 "She just gives me goose bumps just thinking about her," Stivrins told the Big Ten Network. "I don't have enough good words to say about her. She busts her butt every single day and it really showed today. She really took over that team."
Nebraska coach John Cook said the performance was a combination of the right rotation, a variety of shots and a whole lot of confidence.
On her seven kills, Kubik hit cross-court, tipped off the block, hit from off the net and tooled a shot off the net. She turned sets from three different players (Nicklin Hames, Lexi Sun and Stivrins) into kills.
Cook said she takes advantage of the entire court, which forces opponents to defend against all possibilities.
He said he saw similar performances from Kubik in the summer during the Huskers' trip to Asia. After a lull early in the season, Kubik has emerged as a clutch performer once again.
"It doesn't surprise me because I've seen it," Cook said. "She's earned the confidence to go on the road in an arena like that and an atmosphere like that in the fifth game and do that."
Kubik made an impact with more than her attack. She also recorded two key blocks. With the Huskers leading 6-3, she rejected Stephanie Samedy and later teamed up with Stivrins to reject 6-5 Regan Pittman to give NU an 11-3 lead.
"Once she blocked Steph (Samedy) in that last set, I turned to her and said 'Madi, you just won us the game,' " Stivrins said. "That was the game-changer. We needed that and she really stepped up big time today."
Badgers had Big Ten experience
Wisconsin's offense gets the headlines and highlights, but in both matchups against Nebraska this year, the Badgers' defense has made NU work for every point.
Nebraska did not record an ace in either match against the Badgers. While the Husker block got hands on a lot of attacks, Wisconsin's defense covered and allowed only four blocks on Sunday.
Cook said the difference is the Big Ten experience of the Badgers' back row. Libero Tiffany Clark and defensive specialist Lauren Barnes have a combined seven years of Big Ten play. On the flip side, Nebraska's top four back row players (Kubik, Sun, Megan Miller and Kenzie Knuckles) have played a combined six Big Ten seasons.
Cook compared Wisconsin's experience to when NU had a back row of Kenzie Maloney, Justine Wong-Orantes and Annika Albrecht, all of whom earned All-America honors, playing the back row together in 2015.
"It's the way to go, but it's hard to find elite level back-row players," Cook said. "Ours are developing. They are an experienced team."
Sign up for Big Red Today news alerts
Get a daily Husker news roundup, recruiting updates and breaking news in your inbox.
No Senior Night this season
With no seniors on the roster, the Huskers will not have any outgoing players to recognize during the last home match.
Cook said they may honor one of their graduating managers, but they don't have any formal ceremonies planned. With Director of Operations Lindsay Peterson out on maternity leave, Cook said he is glad they won't have any additional logistics to worry about since Peterson usually handles those details.
Instead, the Huskers will be hosting a multitude of high school recruits. Cook said all the current junior and senior commits are attending on either official or unofficial visits. The Huskers added three new recruits this month and have six commitments from the 2020 class.
"I was looking forward to it being nice and relaxing without dealing with (Senior Night), but we are going to have tons of recruits," Cook said. "It will be fun."
Photos: Meet the 2019 Nebraska volleyball team