LINCOLN — It was a familiar sight on Husker media day: Kelly Hunter sitting in the front row of the traditional team photo.
But this year, something was different.
"It's different from this side wearing my coaching clothes, but it's cool," the graduate manager said. "(Nebraska is) home for me, so it feels comfortable. It's what I know, and volleyball is what I know.
"I think if I were to go to a 9-to-5 job, that would almost feel more weird."
Sign up for Big Red Today news alerts
Get a daily Husker news roundup, recruiting updates and breaking news in your inbox.
After leading the Huskers to the 2017 national championship, Hunter played professionally in Turkey for a year. She started for Beylikduzu, which is just west of Istanbul, and helped the team to a fifth-place finish. Her team included two other Americans — Simone Lee from Penn State and Purdue's Annie Drews.
Hunter also played against former Huskers Jordan Larson and Kelsey Robinson.
"It was a cool experience trying to block Jordan and Kelsey," Hunter said. "I said trying. It was just trying."
Somewhere during the brief time off and seven-hour bus rides, Hunter began to think about her next step.
The 24-year-old started an accelerated MBA program during her final year of eligibility. The plan was always to come back to finish, but that time ended up being sooner rather than later.
When the Papillion-La Vista South grad returned to Nebraska after the pro season ended, she decided that she wasn't going to play abroad again. So Hunter reached out to coach John Cook about returning to finish her master's degree.
"I was doing jumping jacks when she called me and said she wanted to come back," Cook said.
Hunter said she kept tabs on the Huskers last season, including getting up at 4 a.m. to watch the national championship match. She paid particular attention to setter Nicklin Hames.
Hames said she felt some pressure early to live up to Hunter's standards, but once she developed her own identity, she became more confident and settled in. Now as a sophomore co-captain, Hames is looking forward to having a two-time national champ to learn from.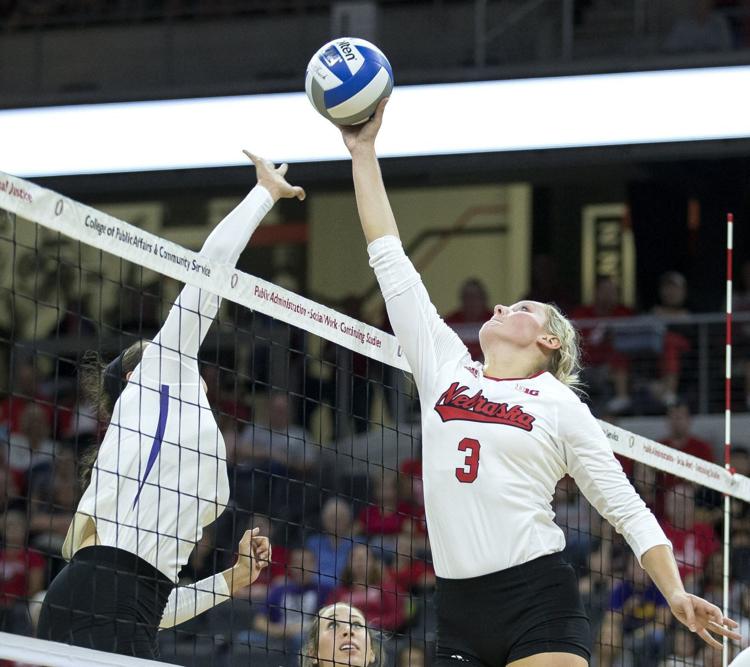 "Kelly is one of the greatest setters to ever play here," Hames said. "She's an awesome person and a great leader, as well.
"Having her in the gym, she's going to help tremendously with setting, the mental part of being a setter and helping us with our leadership and how she led the team when she was here."
As a graduate manager, Hunter can't provide any on-court instruction, break down film with the athletes or travel to road matches. Instead, she will help run drills in practice and be around the program to see how the coaching and administration operate.
Hunter isn't sure what will come next after she finishes her master's degree. She had an interest in coaching, but she hopes this upcoming year will expose her to more of the daily work required in the field.
Cook said he has told Hunter for years that she should consider a career on the sideline.
"We are going to use her in whatever way we can," Cook said. "Kelly has a presence about her that either you have it or you don't. Obviously, she has it.
"I really hope she wants to go into coaching, because I think she can be great."