LINCOLN — Nebraska is down one with 10:27 left in the second half.
"We're about to take the lead," Tim Miles says from his couch, Big Ten Network on screen, Twitter pulled up on his phone. "I guarantee it."
He remembers one of the final games he coached well. James Palmer scoots by the Wisconsin defense and scores to put the Huskers up 46-45, erasing a 13-point first half deficit. Nebraska — a heavy underdog with just seven scholarship players — is back in it.
Miles, like most basketball fans, has quite a bit of time on his hands with no March Madness. So he's been occupying himself by firing up the @CoachMiles Twitter account that made him famous at Colorado State and live-Tweeting old basketball games. He did it for the 1992 Duke-Kentucky game over the weekend. He saw a replay of Nebraska-Wisconsin in the 2019 Big Ten tournament was on the BTN docket Monday, so he made sure to make a spot on the couch to catch tipoff.
@CoachMiles: Down 11. Now we go
@CoachMiles: Down 13. It's our time.
"Just trying to be funny, just snarky stuff," Miles says over the phone between gulps of chocolate milk. "And if I say something I shouldn't, there will be plenty of time to recover. I don't think there's a job that's gonna open up anytime soon."
The coaching carousel, usually churning at top speed around this time, has shuddered to a halt in the wake of coronavirus. There are only seven college head coaching jobs open, none at a high major conference: Alcorn State, Georgia Southern, Illinois-Chicago, Samford, Western Illinois and Western Michigan.
A year ago at this time, there were 17 high major or mid-major jobs open.
Coaches of college basketball teams are low on the totem pole of victims of this pandemic. But even in this abnormal sports landscape, a few spring sports mainstays have remained untouched. NFL free agency rumbles on. College basketball players pass through the transfer portal and find new teams.
But coaches on the hot seat have stayed put. And coaches wanting back into the hoops arena are stuck on couches, wondering when the carousel will rev back up. 
Currently, athletic directors have lots of new concerns on their plates.
"You can figure you're looking at your entire student body, you're looking at your entire department, there's a lot bigger problems," said Miles, who spent the past year as an analyst on BTN. "So it doesn't surprise me that it dried up and it won't surprise me if it stays relatively the same for a while."
So be prepared to see the former Husker basketball coach on BTN, FOX and Fox Sports 1 again next year.
The plan, unless something drastic changes, is for Miles to stay at the conference network. That's a divergence from what Miles envisioned when he signed with the network last summer. He wanted exposure, then a coaching gig.
Before the well dried up, Miles says he was heavily involved in one coaching search, but it fell through. Miles didn't name the school, but it's widely believed it was the opening at Wyoming. The Cowboys hired Jeff Linder. After that, Miles put out feelers to his agent, even called a coaching search firm himself.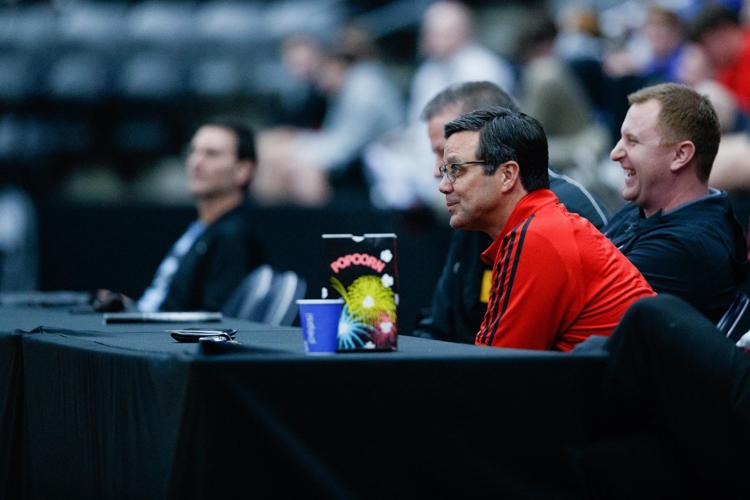 But things changed on March 11, the night Nebraska's season ended and the sports world felt the first shock wave of COVID-19. That day, the World Health Organization declared the coronavirus a pandemic, Utah Jazz center Rudy Gobert tested positive for coronavirus and Husker coach Fred Hoiberg was sent to the hospital during Nebraska's loss to Indiana at the Big Ten tournament. Hoiberg leaving the floor sent worries through the entire conference, Miles said. He knows because he was at the center of it, live in studio on BTN.
"We're all sitting there like, OK, Gobert got it, maybe Fred's got it, you're like 'Wow,' you start thinking about how easily it can spread," Miles said.
Hoiberg was diagnosed with Influenza A. That night, after wrap, Miles went to a late dinner with former Michigan coach John Beilein, who had recently left a head coaching job with the Cleveland Cavaliers.
"We were both like, 'There's no way they are having this basketball tournament.'"
Sure enough, the Big Ten canceled its tournament the next day, as did every other conference in America. Miles went on TV that night to break down the breaking news. His parents worked at newspapers in South Dakota, and his inner-newsman kicked in that night, trying to make sure they hit every angle from behind the desk. When the high of the news wore off and before he left for his hotel, it dawned on Miles the lasting effects of the spread. Coaching jobs in the coming weeks might be hard to find.
"So immediately I went to BTN and I said, 'Hey, so I might be back next year,' and they said, 'OK coach, yeah, anytime, we'd love to have you, it'd be great.'" Miles said. "Literally it kind of crossed my mind as an afterthought."
So the Miles family will stay in Lincoln for another year, at least. He's desperate to coach again, still locked at 399 wins with 400 taunting him. Miles jokingly tried to convince his son to allow him to coach his youth team. Didn't work. His son gave him a week-long cold shoulder.
"I'll coach again," Miles says, matter-of-factly. "I'm gonna coach."
He learned a thing or two this past year, he said, about forming connections inside the locker room. As an analyst, he was able to peek in on other programs' practices and walk-throughs. There's 1,000 different recipes, he said. He's ready to start cooking again.
Miles wants to do fewer games next year so he can travel more. He won't say no to doing a Creighton game, either. The Jays are often broadcast on FS1.
"It's all up to FOX and what's best for FOX," Miles said. "But I don't know how I could ever supersede Nick Bahe, who is king of kings on Creighton."
Even though he's an analyst, Miles didn't want to talk about Nebraska's 7-25 season or the potential of broadcasting a Husker game. But he then quickly points out his final Husker team is falling behind on his TV screen.
He laments how many turnovers they had that night. How Glynn Watson missed a few open jumpers, how Badger Nate Reuvers had the game of a lifetime.
Nebraska is down two with less than four minutes left. The wheels are about to come off for good and end in a 66-62 Husker loss. There's a few minutes left, though, and Miles will watch the rest to remember that feeling of being out there, a feeling that could linger for the second straight winter.
"There are bigger things than if a guy is coaching basketball somewhere, so I'm looking forward to just seeing what we can learn from all this," Miles said. "We'll all land on our feet eventually. And I'm excited for that."
Photos: Tim Miles' Nebraska coaching career
Look back through Tim Miles' career as Nebraska's men's basketball coach, the biggest wins, worst losses and most notable milestones.