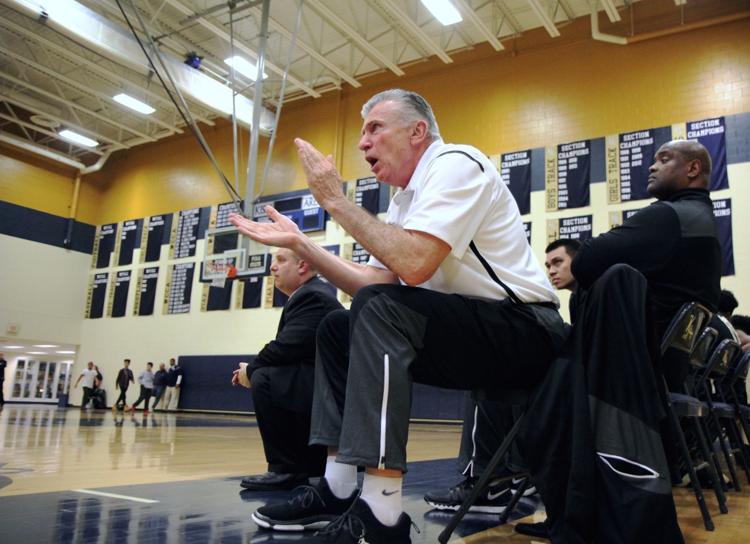 The backroads twist and curl like Air Jordan shoestrings laced tight. It's dark and drizzly in the wooded hills of western Pennsylvania, but the map says keep going east toward the mountains. The schedule says he'll be here.
Thirty miles from Pittsburgh, there's a clearing. Circle around a sprawling building, park next to a yellow bus, look for an entrance. There's no clicking turnstile. No blaring pep band. Nobody shouting "Programs!" Just a drumbeat Danny Nee has followed his whole life.
Leather bouncing on hardwood.
Basketball pulled him out of Brooklyn. Inspired him after Vietnam. Made him famous at Nebraska. Now it's brought him here, alone on the visitors bench, right leg over left, a cross hanging from his neck.
Teenagers warm up in Missouri-colored pullovers. Nee wears a black sweatsuit, black Nike shoes and his vintage scowl. But what stands out is his hair. Slicked back — just like you remember — but mostly gray.
The most successful coach in Nebraska basketball history has endured extreme pain and loss since leaving Lincoln. Professional and personal. Now he's here assisting a sub-.500 high school team, the Gateway Gators.
The game moves at a Moe Iba pace. Five minutes after tip-off, it's 3-2. Nee doesn't say much, but he's engaged. He spent two hours today scouting the opponent's tape. His piercing green eyes are Gateway's first line of defense.
"Coach, No. 5 will not shoot a jump shot," Nee tells the man standing in a suit and ordinary tie, almost half his age.
The Kiski Area gym is built for 2,000 fans but there's only 300 here tonight — lots of Steelers coats. In the second quarter, Gateway's 2-3 zone breaks down. The big man in the middle doesn't see an opponent sneaking down the baseline.
"John, behind you!" Nee yells at his 6-foot-8 center. "Behind you!"
It's an easy layup. Nee buries his head in his hands.
* * *
The voice is unmistakable. Still.
The frenetic pace of the sentences. The expletives wrapped in a Brooklyn accent. Sometimes Danny Nee drops a metaphor that makes my shoulders shake. There's no time for laughter. He's already two thoughts down the road.
I hadn't heard his voice in 16 years until he responded to my message two winters ago. I got the call at a UNO basketball game and hustled into a quiet Baxter Arena stairwell, where I pitched an idea about Nebraska basketball's four straight NCAA tournament seasons.
No, Nee said. He didn't want to dredge up the past. He didn't want more controversy.
Controversy? People should know this story, I said.
I coaxed him into an interview the next day, which produced stories of meeting Bob Devaney and recruiting Carl Hayes and upsetting Billy Tubbs. Nee's memory usually squared with the facts — not easy when you're talking about events of 25 years ago. But sometimes he mumbled and I asked him to repeat. Sometimes he veered off and I tried to pull him back. After 90 minutes, we wrapped it up.
Not even close, I said. I want to do all four seasons.
"What year are we at now?"
"We just finished '91? Holy s---."
Nee gave me a time to call back and we talked another 90 minutes about Chris Webber and Czech Days and Dick Vitale and Bill Byrne and Tyronn Lue and dozens of other moments that never made the record books.
Those conversations spawned dozens of interviews with other sources. Occasionally, I call Nee back to fill holes or dig deeper on a personal topic. Like how he got to Notre Dame, which produces a 10-minute tangent about the Russian national team coming to South Bend. The story is too good to interrupt.
I always have another question ready, though. I learn not to let silence linger. Because Nee — even after hours of interviews — still resists this idea. At any moment, he's liable to say, "OK, I gotta go. You got what you need," reminding me how much time we've talked.
At one point, he's describing Norm Stewart's cold handshake after Nebraska's '94 Big Eight tournament win — a story littered with f-bombs — when anxiety interrupts.
"Please don't use curse words, OK? Please don't. They'll just criticize me again. I don't need a controversy."
One day we're discussing Vietnam — never too in-depth — when his wife grabs the phone and reminds me that Danny was never appreciated in Nebraska. Still isn't, Janet says.
She follows the local newspapers, looking for little jabs at her husband's accomplishments. She says she finds them. Danny wishes she'd stop looking.
"That eats at him," said his son, Patrick. "It's always in his face. Never goes away."
* * *
The first crash came in Pittsburgh.
Nee spent one year at Robert Morris, then jumped to Duquesne University in 2001 to fix a basketball mess.
Five years later, he faced a 3-23 record and a mini-mutiny. According to a Pittsburgh Post-Gazette story in 2006, Nee's players "describe a team atmosphere devoid of discipline and crippled by their head coach's impatience."
Nee created rules. Players broke rules. Nee didn't follow through with punishment. Or worse, he created double standards. And his attention span was shorter than ever. He installed a new offensive system in preseason practice, then abandoned it before the first game.
Nee blamed society. Fewer kids grow up with fathers. Fewer kids show up on time.
"I'm gonna build a Noah's Ark here, and get two of everything, and I'm gonna hand-select kids who can take it," Nee told the Post-Gazette. "And trust me, I'm really asking them — I'm asking them tough questions, because I've got to find tougher kids. The problem isn't Danny Nee.
"I'll tell you what, these kids cannot take it. They're too soft. If you get heavy-handed with them, if you get in their face, it only has a negative effect. Here, I say the wrong thing to a player, how do I get him back? If things don't go their way, they can't handle it. This is 2006. You don't want to be in a foxhole with these guys."
The day those comments were published, Nee resigned.
He spent the next few years scouting and assisting. He was easing into retirement. Then his life savings disappeared.
Nee, along with several college basketball coaches, including Doc Sadler, had invested money with a Houston AAU bigwig named David Salinas. Why? That's a matter of speculation.
Salinas was coaching high-profile prospects and he often funneled them to the college coaches. Nebraska signed Louis Truscott from Salinas' program. Was there a quid pro quo? Nee says no.
"The really good players that he had would either go to Texas A&M or Texas, wherever," Nee said. "They were going to those places anyway. I know he wasn't selling players, I can tell you that."
The Securities and Exchange Commission had bigger worries than basketball. It began investigating Salinas and discovered a Ponzi scheme. In July 2011, Salinas committed suicide. Nee said he lost about $500,000.
"It was like basically my retirement. That's why I went back to Merchant Marine Academy."
In New York, the Merchant Marines seemed like a perfect fit for his old-school worldview. But in his fourth season, he lost his job after an incident. What happened?
"I threw a chair in the locker room," Nee said.
* * *
In February 2016, after our second long conversation, Nee was in such a good mood he asked me to call back "if you need more."
Instead, I made a proposal: What if I came to Pittsburgh to spend a day with you?
Nee agreed. But a follow-up text message produced an odd response. Meeting in person wasn't a good idea, he said. He had health issues and it wouldn't work out. Doctor's orders.
Almost a year passed and I tried again. Sorry, no visit, Nee texted. "Because of a personal medical situation."
Was he telling the truth? Or was it like his old friend Mert Oden says. You never feel like you're getting the whole story.
In January 2017, I decided I didn't need permission. During a trip to Cleveland to write about Lue and Kyle Korver, I drive two and a half hours through steel country — there's no straight path. I introduced myself and we chatted for 10 minutes, partly about the Huskers, whom he still follows.
"The arena they play in now, holy Christ, it looks like Madison Square Garden."
He could've been a contender with facilities like that, he said. He would've stayed forever if NU had let him.
"They would've wheeled me out like Devaney."
Nee wanted to coach five or six more years, then go into radio or TV. With a little censorship, he may have been just like Al McGuire, Digger Phelps or his old Ohio assistant, Fran Fraschilla.
This gym was never in Nee's plans.
After the Merchant Marines mess, he moved back to Pittsburgh, visited his kids, walked his dog and talked to people on the phone. "Things retired people do."
One day in 2015, Janet spotted an ad in the newspaper: Basketball Stars of America.
Nee emailed Daryn Freedman and expressed interest in the assistant director position. Freedman thought Nee was probably overqualified to coach AAU basketball, but they struck a deal. The money isn't great — "Janet and I call it gas money," Nee says — but they're downsizing anyway.
Then Nee took another step. Freedman needed an assistant coach for his high school team. Nee resisted. But he visited the gym and a few players came over to shake his hand.
"They kinda recruited me. And I'm a sucker for kids. All of a sudden, I'm going home and telling Janet this looks pretty good."
He had a few demands, most notably transportation. He wasn't riding a school bus. The kids still listen to him.
"And he doesn't have to be the bad guy," Freedman said. "He'll get on them a little bit, but it's a little bit different than when he's the head coach. He can just talk and tell stories. They love it."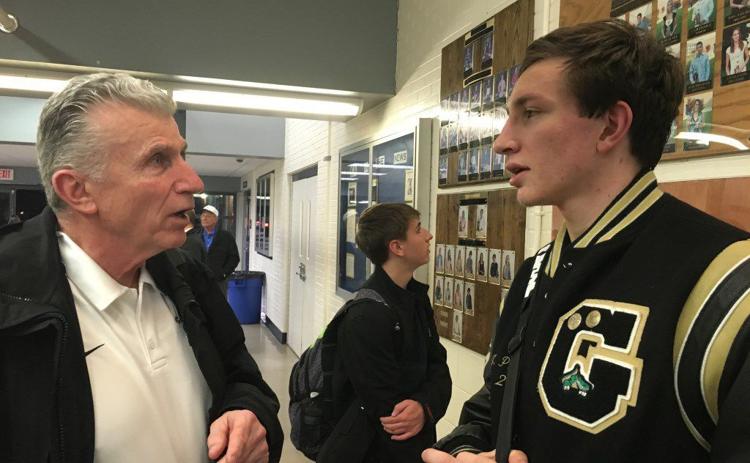 "I had no idea who he was," said John Paul Kromka, Gateway's center. "He comes with all this D-1 college experience. Like how did we get this guy here? I told my dad and he was like, 'Danny Nee!?!' He was all excited."
The first game, Nee was hopping out of his chair, hollering instructions, chirping at the refs. Freedman grabbed him. In Pennsylvania, assistant coaches must stay seated.
"You know how hard it is for Danny Nee not to stand up?" Nee said.
His body has endured a lot. First it was prostate cancer, then a kidney problem. Nee had two tumors removed in May 2016, three months before our first conversation. "Scares the s--- out of you," he said.
In 2017, Nee was back under the knife. Doctors found a kidney stone in his bladder. He shrugged that one off.
"I'm still pissing. I'm OK."
He keeps adding responsibilities. One night his BSA teams were practicing at Hillcrest Christian Academy and he found a box of money. "Like a cigar box with candy bar sales."
Nee called up the A.D., they started talking and she said she needed a coach for fifth- and sixth-grade boys.
How many kids try out, Nee said.
That's perfect, he said. I don't have to cut anybody.
* * *
On a different winter night, nine years ago, Nee returned to the place where Beau Reid beat Michigan State. Where Jamar Johnson beat Kansas. Where Husker fans rallied to greet the Big Eight champs.
Nee hadn't set foot on the Devaney Center floor since Bill Byrne fired him in 2000. After the Duquesne fallout, Nee expressed interest in a fundraising job, but Byrne's successor, Steve Pederson, wasn't having it.
"Nobody stepped up and pulled the trigger to find a position or make peace," Patrick Nee said. "It's made him standoffish."
On Jan. 17, 2009, Byrne and Pederson were gone when Nebraska extended an olive branch, inducting Nee into its basketball hall of fame. At halftime of a blowout win over Kansas State, Nee took the microphone and addressed the crowd of 11,091.
The fans, more than a decade removed from the glory years, were awash in nostalgia. They wanted vintage Danny. They wanted to go back to 1994. He couldn't quite deliver. Like a father visiting his old house after a divorce, good memories had been tainted by bad. He'd moved away, but hadn't moved on.
"It's just great to come home," Nee said, prompting a standing ovation.
He hasn't returned since.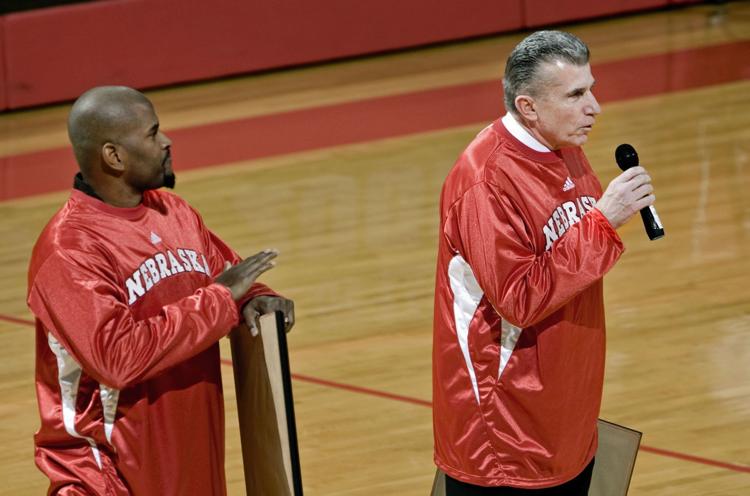 Nine years is too long. Everyone knows it. Old friends and players try to coax him back to Lincoln. Nee won't come. When the 1991 team held a 25-year reunion, Nee stayed in Pittsburgh. Same when the '87 team got together last winter. He doesn't attend the annual "legends weekend."
Patrick Nee hoped Tyronn Lue's jersey retirement in 2017 would inspire his dad to return; Danny recorded a short video for the Pinnacle Bank Arena crowd. But nothing happened.
"I don't look back to going to Vietnam," Nee said. "I don't look back to Nebraska. I don't look back to going to St. Mary's. You just move on to where life takes you."
Maybe Nee would change his mind if he understood what he left behind.
Maybe if he knew about the Grote brothers from Shickley, Nebraska. Jeff and Gary were 11 years apart, but Nee's teams made them feel like twins. Even after they graduated from UNL, they used fake student IDs so they could sit together in the student section. Jeff died of cancer in 2016.
"Those are some of my favorite memories with him," Gary Grote said.
Maybe if Nee knew about Grant Kauffman, who's written pages and pages of memories from those days. Kauffman worked at the campus radio station in 1992. He did play-by-play for the Kansas game. When Bruce Chubick chased down Alonzo Jamison, it was like seeing an explosion from a long distance away. Light travels faster than sound.
"There was the block, then stunned disbelief and then the eruption," Kauffman said.
Maybe if Nee knew that the hooligans from Harper 8 who still look back on those nights at the Devaney Center with wonder and awe. They still meet up for games. Still tell stories about Nee coming out before games and shooting the breeze with the students.
"On paper, that's such a bad fit, a Brooklyn guy coaching basketball in Lincoln," said Nathan Meisgeier, now an executive vice president at Werner Enterprises. "Maybe it was just the perfect confluence of events to get him there at that time with that group of guys."
For four years — in perhaps America's most devoted football city — coaches, players and fans gathered in the dead of winter, hard by the railroad tracks amid the decaying brick buildings of the state fairgrounds, inside an arena built with cigarette tax money and named for a gridiron legend. They made Nebraska feel like the damndest thing ... a basketball school. There's only one word for that.
* * *
It's a 60-degree morning in Pittsburgh and Nee has just come inside from doing yardwork — things retired people do. He answers the call and hears two voices from 1,000 miles away.
Chubick and Eric Piatkowski won more basketball games than any Husker in history. In February, the two old roommates from Harper 408 met at The World-Herald to record a video and a podcast.
As Chubick and I waited on the Polish Rifle, I stepped out of the lobby, called Nee and pitched a spur-of-the-moment idea.
An hour later, he's on speakerphone, beginning his first conversation with Pike and Chubick in almost a decade.
"I haven't heard your voice in a long time," Piatkowski says.
They talk about Patrick coaching in Garden City, Kansas. And Piatkowski's NBA pension. Then comes the fun stuff, like walloping Billy Tubbs.
"Was it your junior year or your senior year when you dropped 40 on them in the Big Eight tournament?" Nee says.
"It was my senior year and it was 42, Coach," Piatkowski says. "Get it right."
Nee mentions Chubick's block against Kansas and asks Bruce to set the scene. It's all coming back.
"It looked like slow motion," Nee says. "I see Bruce coming like a big racehorse with big strides. And I'm measuring where it is. And I'm thinking, he might get it. And you went up like a high jumper and just pinned it, right?"
I've spoken to Nee many times the past two years. There's a different energy in his voice today. You can hear it even on a speakerphone with his dog barking in the background.
"I wish I could be there more in Nebraska because I would enjoy being around you guys now and looking back at everything. ... The NCAA starts and I think of those teams that we had and holy mackerel.
"Those were the greatest times of my life."
Nee has no idea how many conversations like this happen when he's not around. How many laughs his players share.
Like the time Nee warned them they couldn't beat Kansas by shooting 65 percent. If you pull it off, Nee said, "I'll kiss your ass in Macy's window." Or when he said "excuses are like assholes. Everybody has one and they all stink."
Chubick still uses that one. He and Nee butted heads over and over in the early '90s. But 25 years have changed Chubick's perspective. If he could go back, he'd tell his college self to focus less on Nee's flawed presentation and more on Nee's message.
Sometimes drill sergeants yell and scream because it brings kids together. Because it motivates kids to perform and prepares them for life. Only Chubick's dad got more out of him than his college coach.
Nee was no father figure. No genius and definitely no saint. But he recruited hard, rolled the ball out on the floor and let players play.
Now he's coaching AAU, Nee tells Piatkowski and Chubick. Seventh-, eighth- and ninth-graders. He still uses his old plays, like "BC." Same conditioning drills, too. When kids leave practice, they're soaking wet and their parents think it's "the greatest thing since iced tea."
"I almost am tempted to put garbage cans at each end of the floor and see if I can get someone to throw up."
Chubick started assisting his dad seven or eight years ago.
"Ohhhhh," Nee says. "Your dad's still coaching, Bruce?"
"Yep, he's still going," Chubick says. "He thought he was going to hang it up, but I think he loves it too much."
"I'd tell him don't hang it up."
Nee is 72 years old. He's been fired three times, robbed of his retirement, wrecked by sickness, discarded by 21st-century culture and disconnected from the place he loves. But he's still following the sound of a bouncing ball.
His only coaching regret?
"That I didn't get a little better in my choice of vocabulary."
"Ahhh," Chubick says. "That's the spice of life."
"It is, but it's not right," Nee says. "I blame part of that on Brooklyn and I blame the other part on being in the Marine Corps and being in Vietnam. Because you can't talk in normal language in either place. ... I try really hard now, Bruce, never to use the big 'F' and stuff like that. And the referees, you wouldn't even think I'm the same coach. ...
"Sometimes I just say, today guys, you really sucked."
There's a couple seconds of laughter. A couple seconds of silence. And Nee recognizes this reunion has come to an end. But not before a pair of 47-year-olds extend an invitation.
Chubick coaches at Omaha South. Piatkowski has a son at Elkhorn South. Beau Reid lives in Pike's neighborhood. It'd be nice if you could come back and watch them play, Piatkowski says into the speakerphone. You'd enjoy seeing them run around.
Maybe watch Eric's son on a Friday, Chubick says, and my team on a Saturday.
"That's a great, great, great idea," Nee says. Next winter, he'll make it happen.
"We'll have a beer after," Chubick says.
"We'll have a bunch of beers after," Piatkowski says.
* * *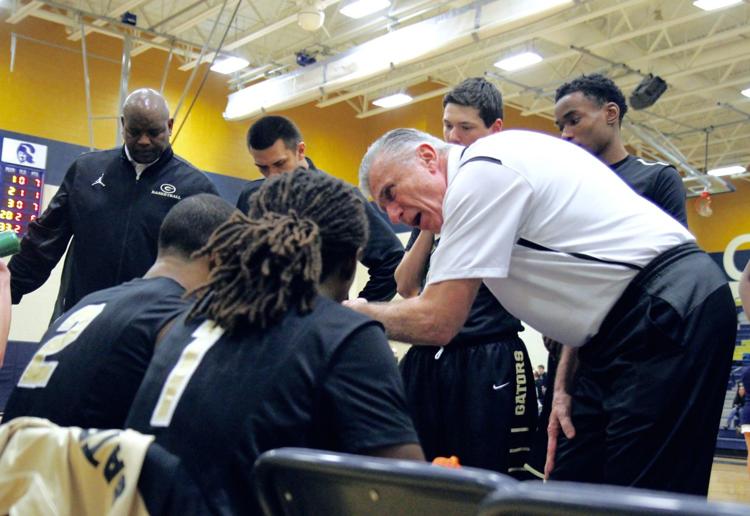 He walks out of the high school locker room, his back a bit hunched over. He takes off his black windbreaker, drapes it over his chair and sits for the second half.
Something is missing. Something red and black with geometric patterns and a price tag of $48.50. Danny, what happened to the signature ties? Long gone, he says. Haven't worn one in years.
"I almost forgot how to tie a knot."
Gateway starts missing layups and coughing up the lead. Nee plants his left hand against his cheek. His shirt is sweaty, his legs are crossed, his patience tested. He wants to yell at the officials, but he's biting his tongue.
The only thing saving the Gators is their big man, Kromka, whom Nee mentors at every break. The 6-8 junior will finish the night with a triple double — 14 points, 18 rebounds and 10 blocks. Nee will pull him aside in the lobby and praise his maturity — "You did everything but sell popcorn."
With 15 seconds left, it's 38-33 when Gateway commits another turnover, which leads to a layup. Nee shakes his head as the head coach calls timeout.
Nee grabs the marker and clipboard and draws up a play from the past. How many of these 300 fans know that he won 409 Division I games? How many care?
Gateway breaks the huddle, executes the plan and the clock expires. The horn is still blaring when the gray-haired assistant coach grabs the clipboard from the scorer's table. Before he walks out the door alone, Danny Nee cracks a smile.
"Just like beating Oklahoma."
Photos: Danny Nee through the years