LINCOLN — A week ago, Nebraska's director of operations, Luca Virgilio, woke up and decided something had to change.
The program had suffered two back-breaking losses to UC Riverside and Southern Utah. South Dakota State was no joke.
So Virgilio texted Pat Norris, the equipment manager. The team was going to wear its road red jerseys for its third home game of the season against South Dakota State.
"Needed to change something up," Virgilio said on the bench 90 minutes before tip on Friday night.
He pulled up the pant leg to his gray suit.
"Switched up lucky socks, too," he said.
The new look fit, and the reds got revenge, blasting through South Dakota State 90-73 for the first win of the Fred Hoiberg era.
"Tough loss we had last week. We took that hard and had to just go back to the drawing board," junior Dachon Burke said. "So just practiced, just grinding it out, putting extra shots in the gym, and it showed tonight."
After struggling to shoot in its first two games, NU shot 49% from the floor and wore down the soles of South Dakota State's highlighter yellow sneakers and its Summit League heart with a fusillade of transition buckets and 3s.
Cam Mack scored a team-high 24 points. Burke and Haanif Cheatham each added 17 points, with 10 more from freshman Kevin Cross. NU jumped to a 12-2 lead and never looked back, tossing passes up into the open court after steals or rebounds for easy scores. A 19-2 run in the first half all but ended the game with a 31-point lead, a cushion sturdy enough to stave off 46 second-half points from South Dakota State
"I thought we did a good job getting hands on balls, deflections thrown ahead," Hoiberg said.
For 40 minutes, Nebraska went fast enough that if you weren't paying much attention, you'd swear four men were playing defense and a fifth was standing on the other side of the court awaiting an outlet. The official score shows 20 fast-break points, but that doesn't tell the full story.
It leaves out the possession when Cross couldn't find an outlet, so he took it 94 feet himself, the big man sliding the ball behind his back at halfcourt to the "ooh's" of the crowd, then finishing a bucket for Nebraska's 51st point of the first half.
It leaves out the two possessions in a row when SDSU scored, but the Huskers then beat the Jackrabbits down the floor for two straight layups from Cheatham. Hoiberg said they were his favorite plays of the game.
The pace didn't slow, though shots started hitting the back of the iron in the second half. The score got as close as 78-61 after two free throws from SDSU's Brandon Key. He finished with 12.
But Nebraska, for the first time this season, was just too much. A Cheatham layup and a Yvan Ouedraogo dunk took away SDSU's remaining air.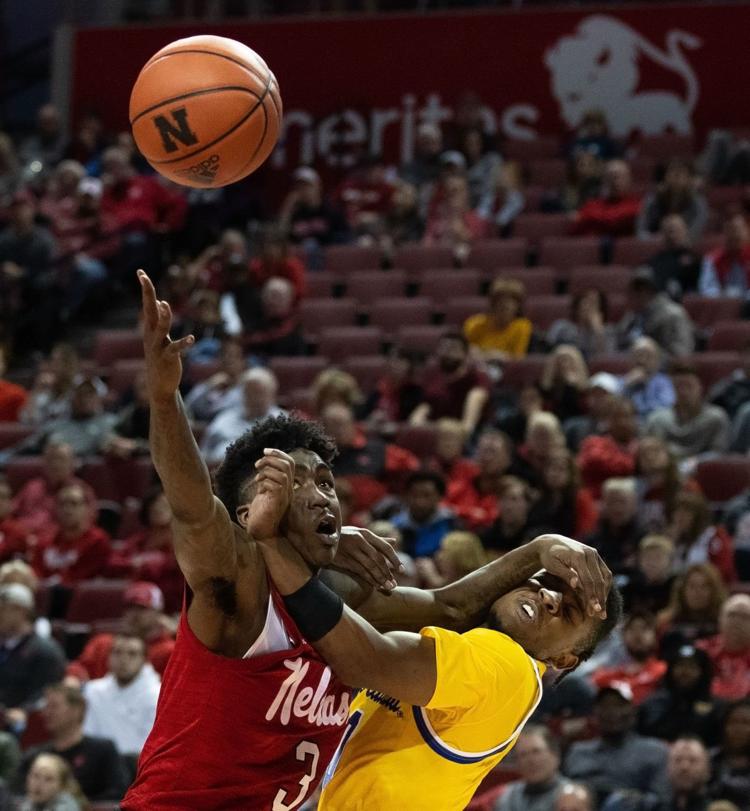 "We couldn't go 0-3," Mack said.
They didn't, etching the history of Hoiberg's first win into stone.
The last time Hoiberg had won a college basketball game, it was March of 2015, 1,707 days ago.
It was at the height of his power in Ames, the eyes of college basketball fixed on his program, wondering how far his Cyclones could go in the NCAA tournament.
That was a lifetime ago. "Hamilton" hadn't come out. "Star Wars" still had just six installments. Scott Frost had yet to pace a sideline as a head coach.
That night, 1,707 days ago, Hoiberg celebrated a 70-66 win over No. 9 Kansas by hoisting a Big 12 tournament trophy above his head, gold and cardinal confetti stuck to his suit jacket.
When asked how he'd celebrate Friday night, Hoiberg smirked.
"I'm not going to tell you," he said.
The sound of Hoiberg's black loafers clicked off the concrete walls of Pinnacle Bank Arena as he walked alone down the hall to the locker room.
Some change is easy to spot, like a new lucky sock or a different jersey color. But some change is harder to pin down.
Times have changed for Hoiberg since that last college win. But the change he's trying to instill here in Lincoln is much bigger than a win over a Summit League school. And if all goes according to his plan, he'll have more nights like this, these brief solitary walks from the podium to the locker room, win by win, shaping the program into what he once built in Ames.
The clicks subsided as Hoiberg entered the locker room.
Photos: Nebraska hosts South Dakota State
---
Meet the 2019-20 Nebraska men's basketball team