LINCOLN — At the last minute, Doc Sadler wanted to change the location of lunch.
He wasn't feeling a gourmet burger at Honest Abe's. So of all the lunch spots in Lincoln, a town he's lived in for almost a decade in total, he audibled to one of his favorites: the Wendy's connected to a gas station just off Interstate 80 on North 27th Street.
Sadler walked through the Phillips 66 past a slushie machine and a kiosk with $7.99 Husker T-shirts and into the fast-food joint a little past noon. The former head basketball coach ordered two large chilis and a water, then paid in cash, unfurling a wad of $20 and $50 bills as thick as a Dave's Double held together by a giant, black binder clip.
"Wallets are a pain in the ass," Sadler explained to the cashier.
Meet the Dr. Watson to Fred Hoiberg's Sherlock Holmes. The Bert to his Ernie, the Daffy to his Bugs.
The crackers to Hoiberg's chili.
Perfectly different. Perfectly complementary.
In a wide-ranging interview with Sadler over burgers and chili — a conversation that included thoughts on his firing from Nebraska and the origins of his defensive philosophy — what becomes most clear is that Sadler and Hoiberg come from different planets.
But they were made for each other. And the future of Nebraska basketball will depend on the cohabitation of opposites.
Hoiberg is the buttoned-up Midwesterner. Clean-cut offensive genius. Fiercely serious. Uber-competitive. Even toned and analytical. Sadler is a blue-collar Southerner who claims to have substituted Mountain Dew for water for an entire week, and in general couldn't care less who scores as long as his teams defend the lane as if the state of the union depended on it.
Hoiberg wants to prove he belongs among the top coaches in college basketball, trying to reclimb the ladder. After nearly four decades in the business, Sadler is spending this final ride as a nightcap to a wild party. He's here only to coach defense. Here to take the edge off, liven the mood.
"Dude, I was head coach for 16 years. It's been a grind," Sadler said, breaking apart six saltine crackers and mixing them into his chili. "I'm gonna enjoy this ride."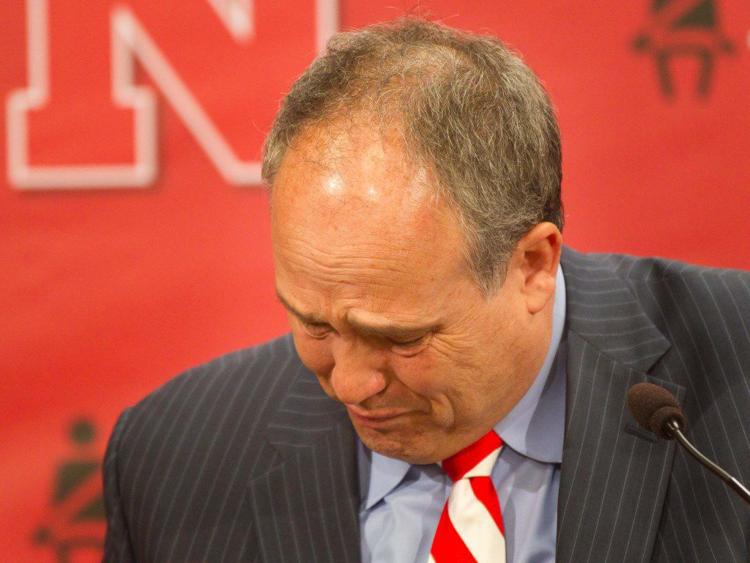 Sadler resigned as coach of Southern Mississippi in April after five seasons to join Hoiberg's staff, something Sadler says he would've only done for two coaches on Earth: Bill Self at Kansas, and Hoiberg. He sat on benches for both after his firing at Nebraska in 2012. Tom Osborne pulled the plug on the Sadler era after six seasons and a 101-89 record.
"He made a decision — I didn't agree with it — but I wouldn't let one guy's decision ruin my whole life," Sadler said. "I had chances to leave when I was here. But I was told I'd get a chance to coach at Pinnacle (Bank Arena). Didn't happen. I get it. I'm not bitter.
"If I was bitter, I wouldn't have come back."
And come back he has, as one of three assistants for Hoiberg, and by far the most recognizable. Since his return to Lincoln, Sadler has been welcomed back like the fun uncle at Thanksgiving. He's been stopped at stores and thanked for his time. He takes selfies with fans. He's the punching bag of Hoiberg and the staff and dang near a mascot for Husker basketball. At Opening Night, a video played before the scrimmage of Hoiberg and Larry the Cable Guy chipping golf balls directly at a distracted Sadler.
And he's OK filling those roles. Hoiberg is so serious and the team is so young, frustration at practice can flick on easily.
"I hope in some ways I can make the mood a little lighter," Sadler said.
But the biggest reason he's here is to frustrate and bother Hoiberg on the court. To build a defense that complements Hoiberg's offensive system but simultaneously messes it up during practice.
Say what you want about Sadler's time in Lincoln from 2006 to 2012, but the boys got down and defended. All but one of his defenses were ranked in the top 100 in efficiency. In 2009, Nebraska was the 15th-most efficient defense and turned teams over more often than anyone in college basketball.
"I thought our teams here were never going to be as talented as Kansas or Texas," Sadler said. "So we were gonna have to be really, really good — and our teams were — defensively."
Now in the Big Ten, the mantra is similar. The conference doesn't have as many one-and-dones, and the coaching might be a tad better. But for Sadler, the defensive philosophy doesn't change.
Which is what makes this marriage with Hoiberg so intriguing. Hoiberg breaks down barriers offensively, creates new positions (at Iowa State, Georges Niang was an H for hybrid, rather than a traditional 5) and tries to shake the foundations of normal basketball. Sadler, like a fast-food restaurant, gives you the same thing no matter the day, no matter the decade.
Defend the lane. Rebound the ball.
"All defense is, is competition," said Sadler, who also assisted Hoiberg at Iowa State. "If you're a competitor, and you want to win, when it comes time to defend you'll defend."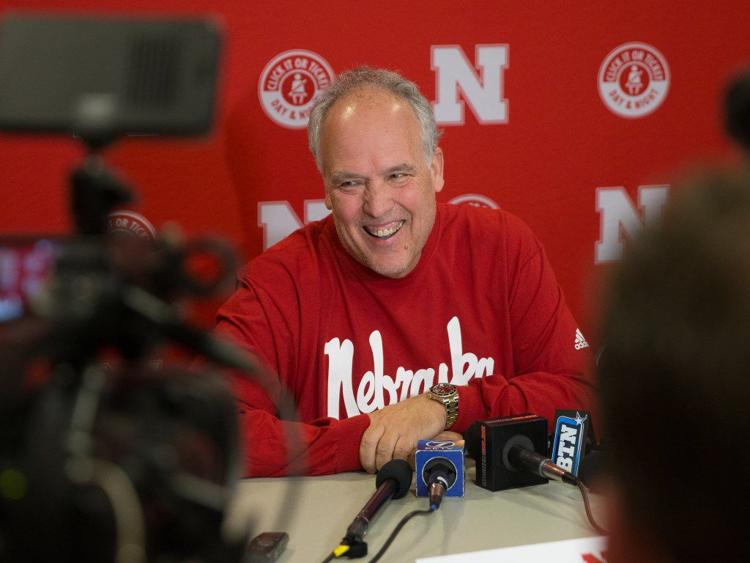 Paradoxically, the two coaches have fundamental differences in the way they view basketball in 2019. Hoiberg wants a waterfall of 3-pointers taken and made. He wants to live and thrive behind the 3-point line.
Sadler is not sold on that.
"The national average last year was 7.9 or 7.8 made 3s a game. So 22 were shot a game," Sadler said. "So, people think 3-pointers beat you, but that's not what beats you."
It's points in the paint, he said. Eight 3-pointers per game sounds nice, but it's 24 points. At Southern Mississippi last year, Sadler's team once gave up 17 3-pointers in a game.
"We won by 10 points," Sadler said. "We didn't give up any points in the paint."
The main idea is to force every single shot outside the lane. Force teams to build a brick house from 11 to 16 feet. And if a 3-pointer goes in, that's fine, they won't beat you from back there. The hardest adjustment for this young Nebraska team, Sadler said, is getting over the fact that someone made a 3-pointer on you.
The dueling philosophies of one coach wanting to shoot 3s and the other not minding if he gives them up is one reason this partnership works.
Hoiberg's offense is set up to take shots beyond 17 feet and closer than 5. His teams led the Big 12 in 3-pointers attempted all five seasons at Iowa State. Which makes the competition in practice — Sadler's D, Hoiberg's O — a perfect Petri dish to formulate the perfect offense.
"I think that's why he hired me," Sadler said. "No doubt."
Hoiberg also gets his wealth of experience. Sadler has coached at 12 schools since 1982, when he started at Arkansas. He has more stories to tell than he has time. A few years ago at Southern Miss, he finished a game with four players on the court and lost at the buzzer.
"I got a call from Bill Self after that," Sadler said. "He joked that I stayed in the 2-2 zone too long."
Hoiberg — who, despite his success, will only be coaching his sixth season in college basketball this year — will lean on Sadler's experience. And he will need to tap into Sadler's six years at Nebraska to figure out how to win here.
His experience tells him that it's possible. Especially now.
"There's no question that Bill Moos is going to give us everything that we need to be successful," Sadler said.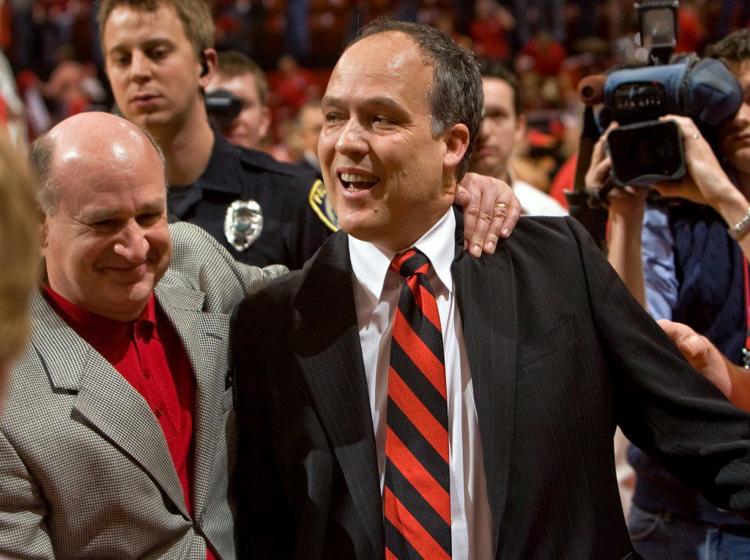 Showing great care for basketball at Nebraska has not always been the case.
Under Osborne, Sadler was among the lowest-paid coaches in the Big 12, playing in an old Devaney Center and flying commercial for recruiting trips. During his tenure, Nebraska built the Hendricks Complex and approved the move to Pinnacle Bank Arena, but 25 days before the Hendricks was supposed to open, two boosters toured the facility and pointed out things the athletic department needed to add to compete with top-level basketball schools. The athletic department said no, so Neal and Howard Hawks bankrolled the additions themselves.
That likely would not need to happen in 2019 under Moos, who is keen on facilities — witness the $155 million football complex announcement — and flush in Big Ten revenue. Sadler had a hard time keeping assistants because of salary disparities with other schools. Tim Miles and his staff complained that they were unable to practice inside Pinnacle Bank Arena whenever they wanted and weren't supported well enough financially.
Now, Hoiberg is the 11th highest-paid coach in college basketball and has the second highest assistant salary pool in the Big Ten.
"When they change coaches they give the new guy a lot more than the old guy had. It's just the way it is," Sadler said.
And with Hoiberg, Sadler says, the investment will be worth it.
He's one of the smartest coaches the 59-year-old Sadler has ever been around. His mind is always racing on how to get his guys mismatches. Being in practice is like taking a math class. Everything builds on top of previous lessons. Miss one step, and you're behind.
"He loses me Week 1," Sadler said.
Which is fine, because Sadler's not here to learn the offense. He's happy coaching defense and acting as Hoiberg's foil, to be the one with the witty Tweets and to dance after games in the locker room while Hoiberg watches from the side. To shield Hoiberg from a spotlight he doesn't crave and absorb the blows of jokes at practice to make everything a little more fun.
"Believe me, there's a lot of ammunition out there for them," Sadler said. "I'm an easy target, which, that's fine, too. Makes it easier for (Hoiberg) and makes everyone else have a good time."
Sadler knows how rare this opportunity is. To return to a school he loved and was previously fired from to try to accomplish the one thing he promised to that school — an NCAA tournament win.
He'll get a second shot at it now. This time without the stress of being a head coach. But without that big salary, too.
"Besides payday, it's the greatest job in the world," Sadler said with a smile.
Luckily, the chili is only $2.79.
Photos: Nebraska basketball hosts a star-studded "Opening Night"