LINCOLN — Charlie Easley was delirious.
He emerged from the locker room, blonde hair rustled, scratches on his arms after being mobbed, the face of a man trying to figure out if he's in a dream.
The freshman walk-on made his way across the practice court in the wrong direction.
"Charlie," the sports information director said. "This way."
The Lincoln Pius X graduate took his place in front of the cameras, shock turning into gratitude on his rosy cheeks.
"Coach just let me know," Easley said.
"It's a great feeling, a lot of hard work went into it," Easley said. "Thanks to the coaches and teammates and everybody that helped me. It's just the start."
Easley has played 49 minutes for Nebraska this season, averaging 1.4 points per game and shooting 36.4% from the floor. But his 16 minutes against Iowa and 10 minutes against Purdue jolted NU to two of the biggest wins of the year.
That was enough to convince Fred Hoiberg he deserved NU's open scholarship spot.
"I should have had cameras going in there," Hoiberg said. "He's just one of those guys who comes to work every day. He shows up an hour before practice, shooting in a dark gym before anybody else shows up. It's just easy to root for a guy like that."
Nebraska now has 13 players on scholarship, with 10 eligible to play Saturday at Northwestern. NU will have at least two spots open after this season with the graduation of Matej Kavas and Haanif Cheatham. Junior college players Teddy Allen and Lat Mayen are slated to take those spots in the 2020 recruiting class.
Easley scored a school-record 1,412 points at Lincoln Pius X, was named first-team All-Nebraska and led Pius to a Class B state title last March. He chose to walk on at Nebraska over Division II scholarship offers and late interest from Division I programs South Dakota State, Idaho and SIU-Edwardsville.
He wasn't sure if it was going to pay off. Easley was recovering from surgery and joined a roster of 11 new, handpicked scholarship players, including Mr. Basketball in Ohio Samari Curtis and junior college All-American Jervay Green. But Curtis transferred, opening up a scholarship. And Green has struggled to find consistent time on the court, particularly after his two-game suspension early in December.
Those two absences gave Easley a window.
"I didn't expect to really play that much at all or anything, I was just going to go out there and work hard and get better as much as I could," Easley said. "Looking back one year ago, I mean, I had no clue what I was going to do."
Hoiberg had Easley play in garbage time to begin the year, just 10 total minutes through the first 10 games. But after the overtime loss to Indiana, in which he played two minutes, Easley made his mark in 10 minutes against Purdue at home on Dec. 15. He made two free throws and recorded one rebound, but the little things stood out to Hoiberg, the coaching staff and fans, who sit up a bit when the hometown kid checks in.
On one play that night, the 6-foot-2 Easley was tasked with boxing out 7-foot-3 Matt Haarms. He frustrated Haarms so much he flailed in frustration after Nebraska got the rebound.
"He drove him all the way back to the free-throw line," Hoiberg said.
Easley also had an impact in Nebraska's upset of Iowa on Tuesday.
"He made play after play in that Iowa game," Hoiberg said. "(When) he dove on the floor — that was the loudest the crowd got all night — and called a timeout for a huge possession, it gave us momentum at a critical time of the game."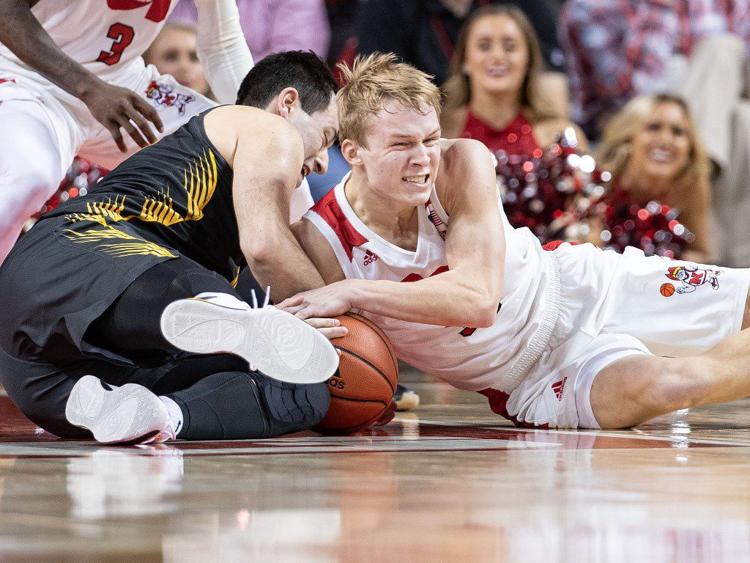 Hoiberg chose to play Easley over Green in the Iowa game, returning to the lineup that found success against Indiana and Purdue, the two games for which Green was suspended. That appears to be the plan moving forward, meaning Easley could see 15 to 20 minutes per game.
Those minutes used to belong to Green, a former starter who entered the season slated to be one of the main contributors. Green is averaging 9.2 points per game, but his impact has lessened since the suspension. He had three points in 16 minutes in a loss to North Dakota, and 14 combined points in 49 minutes against Texas A&M-Corpus Christi and Rutgers, shooting 5 of 16 from the floor in those two games.
After the benching against Iowa, Hoiberg said Green has handled practice well the last few days.
"He's been good. He had a good practice yesterday. He had good energy in practice today," Hoiberg said. "Believe me, I was a guy that was in and out of a lot of rotations. More out than in, and to be honest with you, it's just about always preparing yourself and being ready."
Which Easley was. He's a crowd favorite — which he notices — and also a popular man in the locker room. After Hoiberg shared the news of Easley's scholarship, the 6-foot-9 Yvan Ouedraogo jumped in the air to chest-bump Easley, who bounced back a little bit but landed on his feet.
"I grew up here. I grew up watching Nebraska. It's a local kid's dream to play for their hometown in front of everybody they know," Easley said. "I'm still taking it all in. It's a great feeling."
Photos: Nebraska basketball hosts Iowa