LINCOLN — Dachon Burke had the look. Had it right there, right in front of him, just him and rim and open space, not dissimilar to so many mornings and afternoons on the pavement in New Jersey or in cold gyms in Lincoln with the lights off.
This time it was him, the rim, an antsy crowd of 15,925 and a coach right behind him, begging him to shoot.
Burke declined — to the groans of the crowd — then realized, down six with less than a minute left, NU needed something quick. Burke stepped back and shot over the arms of an Indiana defender.
The ball bounced on the baseline, missing everything. Fred Hoiberg hunched over and grasped the air, reaching for the last bit of control Nebraska had taken hold of in the final minutes. But it was gone as the Hoosiers took the ball to the other end and scored, sealing a 82-74 loss.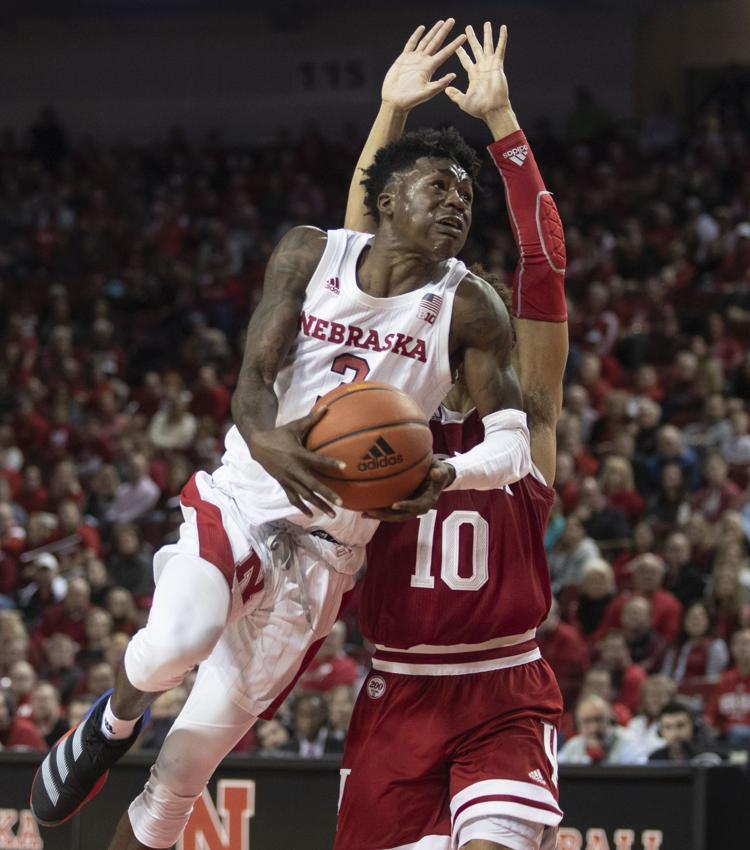 In a topsy-turvy game ripe with anger, replays, missed calls and frustrated coaches, Nebraska went from up nine to down 19, then back to a chance to make it close in the waning seconds. But Indiana's eight 3-pointers, 15 second-chance points on 12 offensive rebounds and 40 points in the paint proved too much.
Nebraska has now lost three straight.
"We tried to stick to the game plan," guard Charlie Easley said. "They were hitting shots, and there's really nothing you can do."
Cam Mack scored 20, 17 of those coming in the first half, with nine assists.
Indiana's Trayce Jackson-Davis had a team-high 18 points and 13 rebounds. Joey Brunk added 15 points.
"You can't put a price on a game in this league if you are able to win it away from home," Hoosier coach Archie Miller said. "We were able to make a few shots, gave us some confidence."
But it took a bit for Indiana (14-4, 4-3 Big Ten) to find its effective punch.
Nebraska (7-11, 2-5) took a 23-14 lead early after an 11-0 run in 81 seconds on 3-pointers from Thorir Thoarbjarnarson, Haanif Cheatham and Kevin Cross.
From there, the fighter with candy stripe warmups made a cut on NU's head by wailing on Nebraska's weakness: The paint.
Jackson-Davis missed one shot, Brunk too, as the two camped out in the lane and scored over the smaller Huskers. Armaan Franklin made a layup to give the Hoosiers its first lead 32-30.
Indiana continued to force the ball inside, and the cut began to bleed, then bleed bad. And Hoiberg didn't have a bandage big enough to stop it.
After that 32-32 tie with 5:41 left in the first half, Indiana outscored NU 36-17 over the next 15 minutes to take the 19-point lead. In that span, the Hoosiers made 16 of 23 shots.
Nebraska was 5 of 17 from the floor in that stretch.
"Those 13 or 14 minutes, the end of the first and beginning of the second, that did us in," Hoiberg said. "We're just not deep enough, talented enough, right now to fight through those stretches."
Nebraska did make nine 3-pointers, but was 14 of 27 at the rim, which continued a three-game trend of the Huskers' failure to score within 3 feet. The last three games, NU is 42 of 80 on layups, with 25 shots blocked.
But even after that 19-point deficit, Indiana didn't open the door for Nebraska to make a comeback. It took the door off its hinges and threw it in a wood chipper.
The Hoosiers didn't make a shot for more than eight minutes, missing eight straight. And after two Charlie Easley 3-pointers, a score from Haanif Cheatham at the rim, a bucket from Jervay Green in transition and a one-handed scoop from Thorbjarnarson, Nebraska found itself down 70-62.
Then, the the Huskers got stuck in first gear. Mack threw two balls out of bounds, Easley air balled a 3, Mack was called for a hook on a drive to the bucket.
The Huskers turned the ball over five times in three minutes and couldn't make a dent, all while the Hoosiers were inept on the offensive end.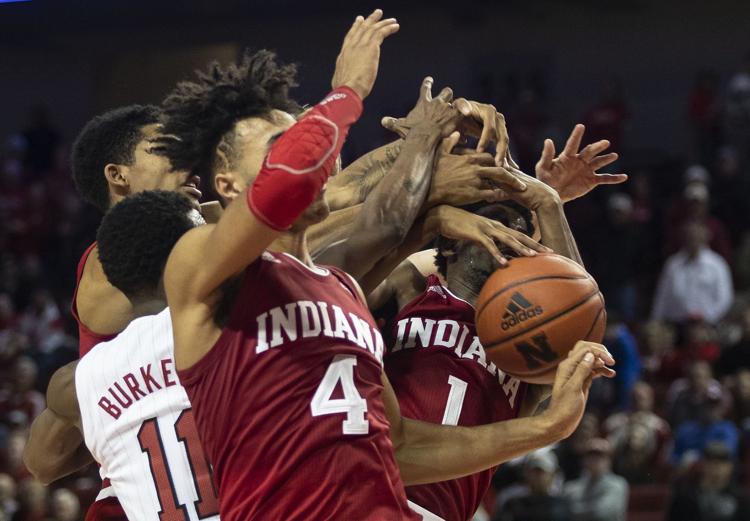 "We have five turnovers in a six-possession span, that's uncharacteristic for us we do," Hoiberg said. "Get that thing to six or four, you know, it's potentially a whole different ball game."
Frustration hit the crowd after Brunk got away with a travel, but was fouled by Easley. Brunk missed the front end of a 1-and-1, but Jackson-Davis got the board and scored to boos. 
The PA announcer asked fans not to throw things onto the court with NU down 76-67 with 1:44 left.
"The first time we played them, we had no answers," Miller said, referencing the teams' previous meeting that the Hoosiers won 96-90 in overtime.
Photos: Nebraska basketball falls to Indiana
---
Meet the 2019-20 Nebraska men's basketball team