Cliff Scales saw the license plate — PING — in the St. Joseph High School parking lot and figured this was the day to stop hiding. At 46 years old, it wasn't too late to change his life.
He parked his car and walked into his alma mater in suburban Chicago. He followed the hallway to the legend's office and asked the secretary if Coach was busy.
That's when Gene Pingatore saw a face straight out of 1987.
Pingatore is easy to find. Has been for 49 years, since he became St. Joseph's coach. He's won more than 1,000 games. His rolodex of former players includes Isiah Thomas.
Scales wanted to be an All-American, too. He wanted to play in the NBA. He chose Nebraska, where he started at point guard for the best team in school history in 1990-91, leading Danny Nee's team in minutes, steals and 3-point shooting.
Scales followed Thomas, but his hero was Michael Jordan. He shaved his head. Wore No. 23. Loaded his closet with Air Jordans. He had wrist bands, baggy shorts, even a Jordan-style knee brace. "And there was nothing wrong with my knee."
But Nebraska teammates only remember Scales on the court.
Off the floor, he was a hermit. The exception on a team of lively personalities. He lived in the same dorm room for four years, Harper 325, watching his favorite TV show, "Sanford and Son," over and over on VHS. He didn't party. He didn't even hang out.
Scales was an only child who saw the world through "rose-colored glasses," Nee said. Scales' freshman year, his mother called Nee to complain that the dorm cafeteria was closed.
"I'm getting ready to go to church and she's chewing my ass out that her baby's here and not getting fed," Nee said. "So I call one of my assistants, he goes to McDonald's and brings it to Clifford.
"I grabbed him the next day. I'm like, 'Clifford, you're telling your mother you're starving. Can't you walk down to McDonald's?'"
In March 1991, Scales walked away from Nebraska and never looked back. Teammates wondered what happened to him. Some relatives wondered if he'd died. How does a person so accomplished — so recognizable — just defy connection?
Was he angry? Sick? Did he have a family? A job? Few knew the answers.
Then a few years ago, inspired by his son, Scales had an epiphany. He found Coach Ping's office and took the first step toward reconciliation with the game he loved.
Basketball had given him too much. It was time to give something back.
Bitter memories
On March 14, 1991, Nebraska blew its best opportunity to win an NCAA tournament game. The Huskers took a No. 3 seed to the Metrodome in Minneapolis, where they faced a mid-major with high-major tournament experience.
The Musketeers hadn't played a single NCAA tournament team all season. They didn't have a player taller than 6-foot-9. But they'd been to the Sweet 16 in 1990.
"We took a vote," Xavier coach Pete Gillen said the day before the game. "We're going to show up. But it was close, 7-6. We've got one water gun. They've got mega missiles. We could win if we squirt them in the eye."
Nebraska, 26-7, had grand visions. Rich King. Tony Farmer. Freshman bomber Eric Piatkowski. The Huskers had just beaten Kansas, the eventual national runner-up, twice in seven days.
But coming off three emotional games in three days at the Big Eight tournament, they fell behind by 12 in the first half. They clawed their way back and grabbed the lead when Scales buried a 3 with seven minutes left. Then the offense broke down.
With NU trailing 84-81 with 1:05 remaining, Scales attempted a lob to King and the ball ricocheted high off the backboard. Thirty seconds later, miscommunication with Carl Hayes produced another Scales bad pass and certain defeat.
Scales always kept his emotions in check, but he remembers riding the bus back to the hotel.
"It was a feeling of, wow, it's over. This is it."
Following a postseason banquet, Scales never saw Husker coaches or teammates again. He played a few years professionally overseas, then returned to Chicago and started a family. For 20 years, he worked in the same advertising job, excelling at chitchat but never shedding his social cocoon.
Even his old high school and college teammate, Hayes, was in the dark.
Scales kept his distance from basketball. He didn't keep memorabilia. He didn't visit Nebraska or even St. Joseph. When co-workers or strangers mentioned his playing days, Scales changed the subject. He focused his bitterness on two men: Pingatore and Nee.
"There was an expectation, an entitlement," Scales said. "OK, I'm a good player. Could someone get me on the McDonald's team? Could someone get me more exposure for college? Can somebody help me get into one of the NBA camps? Could someone help me get somewhere? …
"For the longest time, I was always a guy that was pointing a finger, playing the victim."
Then, about five years ago, Scales got a lesson in maturity from a different Jordan.
Pointing the thumb
Different sport. Different high school. Most important: a different mentality. That's what prompted Scales' epiphany.
In 2012, his oldest son, Jordan, emerged as a standout wide receiver and defensive back at Chicago prep powerhouse Joliet Catholic. Cliff noticed a heightened level of accountability.
When Cliff analyzed Jordan's performance or position on the team, he focused on the coach's decisions or schemes. The kid never did. Jordan kept it simple and pointed the finger back on himself.
Conversations like this happened over and over. Cliff wondered who could do more to facilitate his son's success. Jordan said the coaches were doing their jobs; the players needed to do theirs.
"A light came on for me," Scales said. "I'm just like, 'You know what, why didn't I have that same attitude?' It's not Gene Pingatore's fault. It's not Coach Nee's fault. It's my fault. There were things that I could've done that would've at least gave me a greater opportunity."
Scales' comments would definitely raise eyebrows among his former teammates, not only because of his reclusive personality. They remember Nee's frequent tirades and lack of personal relationships with players. Scales wasn't the only one who left Nebraska with a sour taste.
But looking back now, Scales said, Nee did his job.
"I felt bitter. I felt betrayed," Scales said. "Why didn't he do this? Why didn't he do that? But I got a scholarship. I got playing time. That should've been enough."
Scales still thinks about his two turnovers in the Xavier game. He reflects on his role in Nebraska's NCAA tournament disappointment 27 years ago and wonders how events might have unfolded had he broken his routine — class, practice, Harper 325, "Sanford and Son" — and integrated himself into the team.
The '91 Huskers didn't have the necessary bond, Scales said. That's primarily his fault.
"I don't know if everybody trusted me," Scales said, "if everybody knew that I had their back."
Jordan graduated from high school in 2014 and walked on at Pittsburgh. One year later, Cliff made his own move. He visited Pingatore and told the coach he was considering relacing his Jordans. His vision wasn't clear, but he wanted to be around the gym.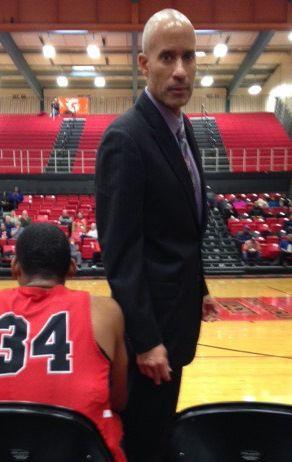 "I was elated," Pingatore said.
St. Joseph had just lost a volunteer assistant. Pingatore remembered Scales' intelligence and class and offered him the job.
"He found out real quick that we spend most of the time not dealing with X's and O's," Pingatore said. "It's all the off-the-court stuff. Kids with grade problems, parent problems, whatever."
But Scales became an important asset. He knew what it felt like to get a mouthful from Pingatore.
If I'm the bad guy, Pingatore told Scales, you need to be the good guy.
Scales delivers his own tough love. He tells players not to look for a coach "who just sprinkles magic dust." You're the one who has to wake up early and do the work. You're the one responsible for reaching your potential.
Pingatore's staff features three grizzled assistants who meet after games to rehash the night's events. In the past, the fifth wheel — the young guy — hadn't participated in the postgame routine. Scales is different, Pingatore said.
"Clifford came and met us after every game to have a bite to eat."
Going all-in
The old faces of Nee-brasketball have scattered across the country and found new passions.
King is a senior manager at Amazon in Seattle. Dapreis Owens is an assistant principal at a charter middle school in Ohio. Erick Strickland is working his way up the officiating ladder in Texas.
But nobody has abandoned, then embraced, his first love like Scales.
Last fall, he took his most dramatic step yet. With the blessing of his wife, Scales quit his advertising job and started his own training business. To help get the word out, he even signed up for — you ready for this? — Facebook!
Old advertising colleagues, acquaintances he'd known for 20 years, celebrated the decision. "Why did you wait so long?" they said.
Scales hopes he can carve out a niche. Kids spend too much time at high school practices developing skills they should already know, he said. If he can teach footwork, dribbling and shooting, then coaches like Pingatore can actually focus on game preparation.
At 48 years old, Scales knows it's a little late to start over. And never too late to learn something new.
Photos: Danny Nee through the years