LINCOLN — It didn't matter to Purdue players and coaches Saturday that Nebraska is in a down cycle and has yet to win a game this season.
Purdue's 42-28 victory over the Huskers was Nebraska's seventh loss in a row at Memorial Stadium, the most consecutive home games Nebraska has lost in school history.
To the Boilermakers, beating Nebraska on its home turf is still an accomplishment, never mind that the Huskers are 0-4 and going through one of the most difficult periods in program history.
"I think it's a huge win for us. I don't care what Nebraska's record is," Purdue coach Jeff Brohm said. "Coming into this venue, winning against a football team that's on the ropes a little bit, and for them to come out swinging.
Sign up for Big Red Today news alerts
Get a daily Husker news roundup, recruiting updates and breaking news in your inbox.
"We were able to answer that punch for punch, get a little bit of a lead, then hold on and strike. Every team in our conference is going to be a challenge. Any time you go on the road it's going to be a challenge."
Purdue proved itself to be up to that challenge despite the Huskers coming out and scoring on the opening drive of the game. Nebraska drove 75 yards in 10 plays, ending the march with an 18-yard touchdown run by Devine Ozigbo.
The Boilermakers weren't intimidated. Purdue scored 27 unanswered points, and the Huskers never got closer than 13 for the balance of the game.
Quarterback David Blough, who earned his first collegiate victory against the Huskers in 2015, said the quick start by the Huskers didn't throw the Boilermakers' game plan off kilter.
"Coach Brohm called the plays, and they came down and made some good plays and started up 7-0 on us," Blough said. "We knew that we would have to score some points. As an offense, we kind of found a good rhythm. It was cool to see our playmakers step up."
How Purdue got those points displayed the balance Brohm hoped the 2-3 Boilermakers' offense would show. There was a 42-yard TD run by D.J. Knox, a 12-yard pass from Blough to Brycen Hopkins, a pair of field goals and a 1-yard sneak by Blough.
"For us to be a successful team we have to have some balance," Brohm said. "As wide open as we want to be, it's important to not put a lot of pressure on certain guys, and the defense has to defend everything. It helps our defense when we can control the ball a little bit."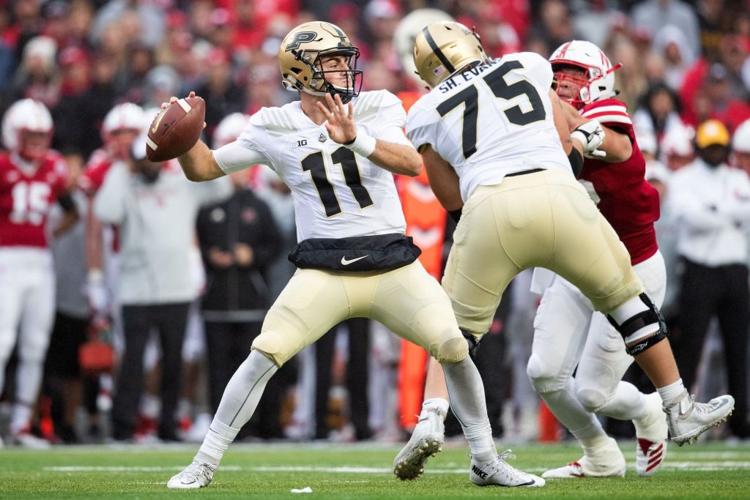 Another area in which Purdue made great strides Saturday was cutting down on penalties, especially the kind that the Huskers have struggled with all season.
"I think it's important for us (that) we cleaned up our stupid mistakes, our stupid penalties," Brohm said. "We did get a couple of holding calls that pushed us back, but I think for the most part we cleaned up the 15-yarders after the whistle.
"Those small things matter for us, because if we're not doing those we won't have a chance to win. I'm proud of the fact that we got better at not getting those calls."
Purdue was whistled for 10 infractions that totaled 75 yards. The Huskers had one more than the Boilermakers, but theirs were more costly — a total of 136 yards.
Hopkins finished with 103 yards on five catches, including his 12-yard TD from Blough in the third quarter. Freshman Rondale Moore led Purdue with eight catches for 85 yards, and the attention paid to Moore by the Nebraska defense opened opportunities for Hopkins and other receivers.
"He does take a lot of the attention away from us, and we like that," Hopkins said. "It's hard to cover him. He's a stud."
The way Nebraska fans treated Purdue players after the game was something Hopkins remembered from his first experience in Lincoln in 2016.
"We love the fans and we knew coming in that they were going to be nice," Hopkins said. "They're always nice and it is just fun to stay here. It always feels good to come in and win over a school that has such good tradition and such good history in the football program. It just makes it that much better."
Brohm said he understands what the Huskers' players, coaches and even fans are going through. He's been through it himself at other stops in his coaching career.
"Sometimes these runs happen," Brohm said. "I've been on programs where you start 6-0 and it doesn't finish well. I've been on programs where it starts 0-6 and it finishes well. I'm sure they'll find a way to continue to get better.
"We just happened to make a few more plays this game that helped us win. That's just a credit to the hard work our guys are putting in."
He also said better times are ahead for the Huskers.
"When you play here in an historic venue that sells out every game for 364 games in a row — I saw that sign — that's impressive," Brohm said. "Coach Frost will get this program going, I have no doubt about that."
Photos: Nebraska remains winless after loss to Purdue
Nebraska returns home to face Purdue on Saturday September 30, 2018.