LINCOLN — Keith Duncan said he was "just having some fun," but fans accused him of mocking Nebraska players and coaches after Friday's winning field goal.
After his 48-yarder sailed through the uprights, Duncan raced back while pointing to the Husker bench and wagging his finger. Then he blew a kiss in that direction.
Duncan was asked after the game if that kiss was aimed for Scott Frost, who had tried to ice him with a timeout just before his field goal try.
"I may or may not have," Duncan said. "It was more just to everyone, you know. It's the Heroes Game. We were just having some fun. It's a football game ... just putting it into perspective. We were playing football for fun. There were a lot of people out there fighting for their lives.
"There's a lot of people who were very happy to see the outcome of that game. We're here for entertainment, having some fun, so that's what it's all about."
Duncan's holder, Colten Rastetter, also wagged a finger at the Husker sideline before finishing his gesture like he was shooting a gun.
"Nebraska fans came for some entertainment, and that's what football is, entertainment," Duncan said.
Both players earned the opportunity to celebrate Iowa's fifth consecutive victory over the Huskers after Nebraska erased a 24-10 deficit with a pair of third-quarter touchdowns. The only points scored in the final 15 minutes came from Duncan's foot. The boot was eerily similar to the 41-yard field goal Miguel Recinos made for the Hawkeyes last year to beat Nebraska 31-28.
Both Recinos last year and Duncan on Friday said they were glad Frost called a timeout — in Duncan's case, two timeouts — because the extra time allowed them to settle in for what proved to be winning kicks.
"It allowed me to get my mind set, focused on what I needed to focus on, find my spot in the background," Duncan said. "In the second half we didn't have that many opportunities to kick. No extra points, no field goals.
"It was really not tough, but I just had to get back in the rhythm of things. Go through my routine again and execute."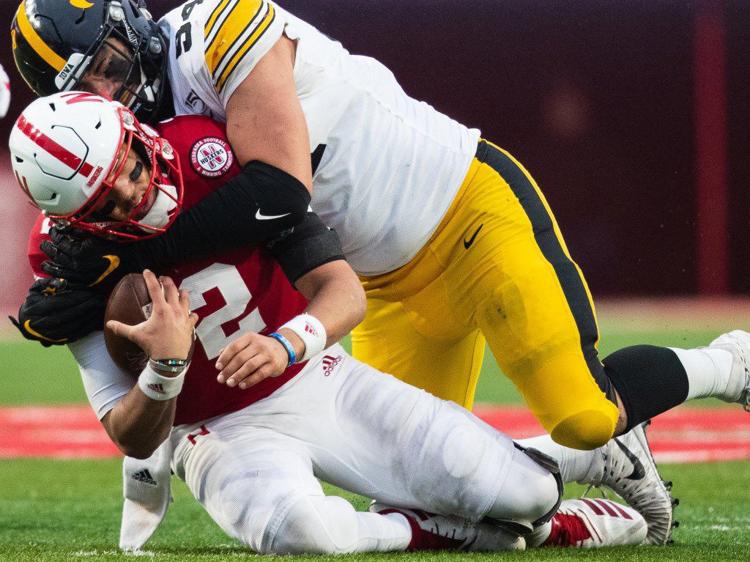 Then there was the defensive effort, led by A.J. Epenesa. The 6-foot-6, 280-pound defensive end has been on a tear the past three games, increasing speculation that the junior will turn pro early and become a high first-round choice in next spring's NFL draft.
Epenesa led all players with 14 tackles, including nine solo stops. He also had two sacks and five tackles for loss totaling 22 yards.
"I was having some success, and I was just around the ball all the time," Epenesa said. "That's just something I've been wanting to do all season long. I had an opportunity to do that tonight."
Epenesa was asked about the focus Iowa placed on stopping Nebraska quarterback Adrian Martinez. He said he was pleased with the defense's performance, though there was one less day than normal to prepare.
"You can probably see it in some of our rushes today," Epenesa said. "We were (really) nervous to make a definite move on either side of (the) offensive linemen, whether it's our D-tackle or defensive end.
"We didn't want to just stay outside or make an inside move. You can see it kind of held us back a little bit, but we were able to press the pocket."
Iowa's running game was especially stellar in the first quarter, when the Hawkeyes gained 152 yards on 10 carries. Even taking out the 45-yard TD run on a reverse by Ihmir Smith-Marsette and a 55-yard TD scamper by Tyler Goodson out of the equation, Iowa averaged 6.5 yards on the other eight carries.
Nebraska's defense tightened in the final three quarters, allowing 73 yards on 21 carries. Quarterback Nate Stanley said he was more concerned about Iowa's struggles with its passing game.
"I think our run game was really clicking the whole game," Stanley said. "It was really the pass game that we were struggling (with) a little bit. Our offensive line was doing a great job even in those dropback passes. They had the right coverages, the right calls."
Iowa players and coaches discussed the Hawkeyes' 27-24 win over the Huskers. Check out a transcript of their postgame comments, as provided by the Nebraska athletic department.
Photos: Nebraska hosts Iowa on Black Friday