LINCOLN — Erik Chinander saw the mistakes as they happened. His players, running off the field, knew what they had done wrong, too. Little techniques. Big busts. Strange things, like double-covering a receiver who still caught the ball.
Nebraska's third-down defense was a sinking ship in a 38-31 loss to Indiana, and Chinander, the man hired to coordinate the Blackshirts, didn't care whether it was more or less frustrating that players seemed to grasp what they couldn't execute in the game just seconds before.
Chinander just knows he has to fix it.
"That's why we're here," he said Tuesday, his voice rising. "We have to get it right. The players have to execute, 100 percent, but we have to find a way to get it done, period."
It begins with addressing weaknesses on third down — a bugaboo for Chinander's D since he arrived in Lincoln. NU's opponents are converting 40.2% of them this season — that's 13th in the Big Ten and 81st nationally. In league play only, the conversion rate is 45.6% — 13th in the Big Ten and 105th nationally.
NU installs its third-down and red-zone defenses on Wednesdays. Last Wednesday, Chinander said, Nebraska's defense had a bad practice. The Huskers' third-down and red-zone defenses on Saturday were as bad as they've been all season.
"It's hard to tell why it's really good on Monday and Tuesday and why it's not as good on Wednesday," said Chinander, who installs the run and early down defenses at the start of each week. "I'm sure there are a lot of factors. But everybody who walks out on that practice field — me included — we came here to Nebraska because Nebraska's about being tough, and if you're not tough enough to practice on Monday and Tuesday and Wednesday, we need to find somebody else, period."
Did he tell his players that?
Did Chinander expect half of the issues that have come up in the 2019 season?
Indeed, NU's coaches — publicly and internally — expected a big jump from the Blackshirts after last season, when chemistry issues and a new scheme led to some bad performances in the first half of the schedule. Nebraska's defense was stout in the season opener against South Alabama — scoring two defensive touchdowns — and played well in wins over Northern Illinois and Northwestern. Ohio State ran roughshod over the Huskers, but the Buckeyes have done that to every team they've played, including Wisconsin, the nation's No. 1 defense.
As Nebraska traveled to Minnesota, it was allowing a respectable 5.1 yards per play.
The Gophers averaged 7.3. The Hoosiers averaged 6.4. And they did so in opposite ways. UM ran the ball down NU's throat with the same stretch play. IU sliced up the Huskers with a diverse passing game.
Chinander doesn't hide from watching film again and again. Opposing offenses have a copycat quality. If they see a weakness, they'll try to exploit it. If Chinander hasn't fixed the weakness with scheme or adjustment, it'll stay a weakness. Indiana, for example, got some easy red-zone runs by using unbalanced formations against Nebraska's goal-line package. Chinander will patch that up in practice. Purdue also uses formations with its passing game to create mismatches and open receivers.
Some weaknesses endure. Nebraska's lack of pass rush is one. The standard rush is four men, and the best defenses — Ohio State — can harass a quarterback like that.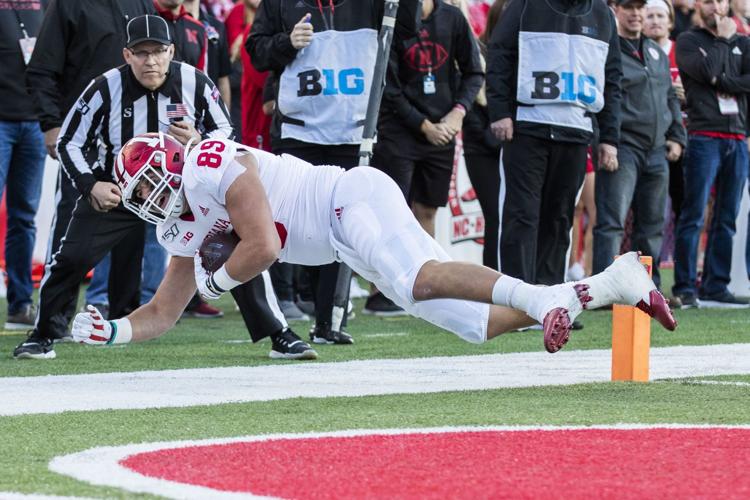 "When they have five blockers and you have four rushers, somebody has to be able to win a one-on-one battle," Chinander said. "Somebody's getting a one-on-one — more than one guy's getting a one-on-one, somebody has to win a one-on-one battle."
NU often does not and has to resort to pressure packages — five, six, sometimes even seven defenders pursuing the quarterback.
"We can't count all the time on having to blitz to generate pressure," NU coach Scott Frost said. "Because then, if they recognize it, identify it, pick it up, then you're even in a worse situation in the back end."
Recruiting is one fix to a poor pass rush, but finding the right player takes educated guesswork and, sometimes, proximity. For example, NU landed 2020 four-star pass rusher Blaise Gunnerson from Carroll, Iowa, and now has its eyes on 2021 four-star pass rusher TJ Bollers from Tiffin, Iowa.
Most of what ails any team is best addressed in practice with adjustments and development, coaches say, and Nebraska's defense — the weaker Husker side since NU joined the Big Ten — has lacked long-term continuity in coaches and scheme for years. NU has had five defensive coordinators since joining the league in 2011 and many position coaches. NU defensive linemen Carlos and Khalil Davis, for example, are on their fourth position coach.
Continuity, senior inside linebacker Mohamed Barry said, is the best medicine.
"I'm tired of people putting pressure on coordinators, new this, new that," Barry said. "That's not going to work. We need consistency. That's what's going to have this program where it needs to be, is consistency, is the same coordinator, is the same head coach, is the same stuff like that is what is going to get a culture built."
Frost said the players "adore" Chinander, a longtime friend who first worked with Frost at Northern Iowa. Frost calls Chinander one of the smartest coaches he knows. Though Frost knows defense — and played it in the NFL — he doesn't meddle with Chinander's work, taking the lead of his mentor, Tom Osborne, who rarely made suggestions to his longtime coordinator, Charlie McBride.
Chinander said he tries to block out what's written or tweeted about his work. His voice and straightforwardness Tuesday suggested he's at least a little aware that Nebraska's defense — and his coordination of it — is in the spotlight as NU prepares for Purdue.
"Here's what I'd tell you: I love football, I love Nebraska, and I love these kids," Chinander said. "And I'm going to coach them as hard as I freaking can for as long as I'm here, and I hope that's for a really, really long time. This program's going to be really good — we have to find a way to get it better. There's no such thing as a quick fix. I know everybody wants it. I want it. The players want it. That's not realistic.
"We have to build this program to where Coach Frost wants it. If that happens for the next four games, great. If that happens next year, that's probably not good enough for everybody, but we're going to keep pushing until we do it. There's not one person in this building who doesn't love Nebraska."
---
Nebraska vs. Purdue football history