Scott Frost: Husband. Father. Coach.
Nebraska's head football coach captivated an energetic and sold-out room at the Christ the King Sports Banquet on Friday night. There were jokes and football tales, and then Frost showed a side many in the room had never seen.
Frost used his speech to discuss one of his passions: the need for strong fathers and mentors in society.
He talked about how Tom Osborne and Tony Dungy were the two most influential coaches on his career, and both have invested in mentoring and strengthening the family structure.
Then, as if to show he walked the walk, Frost revealed that he was a foster parent when he was an assistant coach at the University of Oregon. And later adopted the young man.
"I was a foster parent in Oregon," Frost told the group. "I didn't want to do it. I didn't have any designs to do it.
"Because Coach Osborne was with TeamMates, I signed up for a group called Family for Every Child, a mentoring group for foster kids in Oregon. They asked me about a sophomore football player in Eugene.
"We hung out. I was there for him when he needed me. By the end of his junior year, they shut down his foster home. He was going to get shipped off to the state of Washington.
"They asked if I could help and I said, 'No, I can't do that. I'm too busy. I got football coaching to do. I'm never going to be there. I can't take him to school, I can't go get him. He bought some time for a while by going to live with a friend. They had him living on a mattress in a garage.
"Finally, the state of Oregon came in and said you can't do that, you need to move on. They were going to send him to the state of Washington. They came back and asked me and I said yes.
"I bought him a $1,500 car that later got stolen. Fed him as much as I could with macaroni and cheese and Fruit Loops. I didn't do a lot, but I was there for him. And that's all they need.
"If you think you don't have enough time, you have enough time, because they don't need all your time. They just need someone who's there for them; if they're in trouble, you're there. If they need advice, you're there. That's all these kids need. They need to know somebody cares.
"Later I adopted him, became his official father. It did more for me than it did him. That's probably the best thing I've done. I'm happy to say he graduated from the University of Oregon."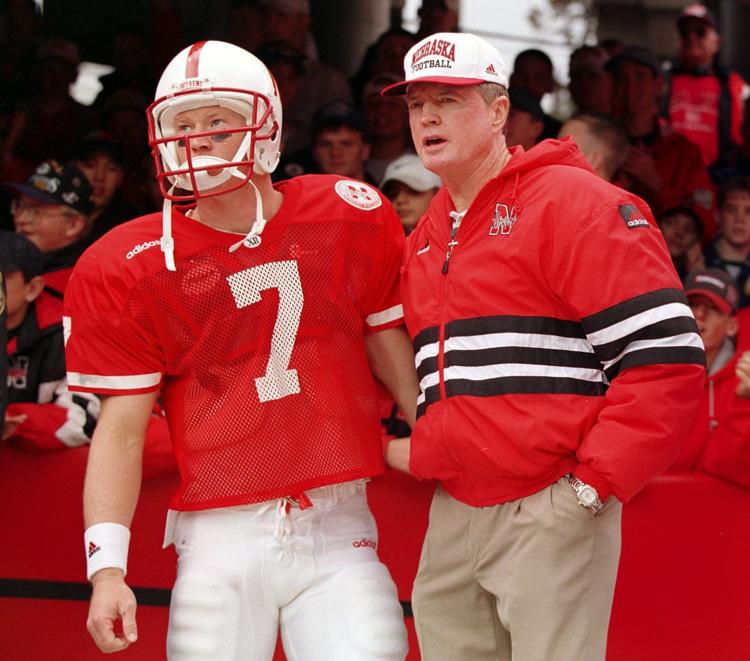 With that came another huge ovation from the room. Listeners had come for the gospel on Nebraska football, old Husker stories, maybe a breakdown of Frost's second season.
There was some of that, but the heart of the talk was this Frost passion. Bob Devaney, Osborne and Frank Solich have spoken at this annual winter event. So have Bill Walton, Archie Manning, Herb Brooks, Bobby Bowden.
One of the most memorable was Barry Switzer's speech, which ended with the coach breaking down in tears as he described his hard childhood.
The Frost speech was a similar experience for the crowd, a window into the coach's heart, his passion. It wasn't a coach just there to collect a check, shake some hands, give his "A" or "B" dinner material. Frost delivered a speech with a purpose and you could tell it resonated.
The evening opened and closed with a standing ovation, but you could tell there was a deeper appreciation for the speaker during the last ovation.
"Seventy-two percent of the population think fatherlessness is the most significant cause for social problems," Frost said. "I think they're right.
"The coaches I work with at the University of Nebraska, our strength and conditioning staff, our academic staff, we end up being dads to 150, 160 kids.
"Some of them don't need it. Some of them got it figured out. Some of them need it bad because they've never had it. Some of them need to be shown the right way to do things and the wrong way to do things. Some of them need to be held accountable. Some of them need to be disciplined.
"A bunch of the kids who show up never had that. That's why it's important to me to come and do things like this, because every single coach, every single teacher, every single neighbor who can take time for one of these kids can be that person in one of these kids' lives. Every single person who signs up for Coach Osborne's TeamMates can be that person in one of these kids' lives.
"Any program like this, in a church or any group, is so needed because we're living in an age of Twitter and Snapchat and MTV and radio and videos and movies and Hollywood, and that's the wrong place to learn your values. You people are the right place to learn them."
Frost then took a handful of questions from the audience. The last one was more of a statement from a fan who stood up and said, "Thank you for coming back. Thank you for being here."
There's a young man in Oregon who would second the motion.
Sign up for Big Red Today news alerts
Get a daily Husker news roundup, recruiting updates and breaking news in your inbox.
Photos: Top shots from 2018 Husker football season
Check out some of our favorite photos from the 2018 Nebraska football season.