It's that time of year again, so let's get right to the prediction.
Weather next Saturday at Memorial Stadium: Partly cloudy, 72 degrees with a 0% chance of South Alabama high-tailing to the airport early.
You'll get that other number later. But remember, it's just a number. And this Nebraska football season, the second of the Scott Frost Era, isn't about the number.
There are two records that work for this season. One is 9-3. The other is 8-4. You can go 10-2, but that Kool-Aid is spiked. Too ambitious.
You can say 7-5, but most Nebraskans expect more than that this year. Take away the fluky monsoon and the Colorado defender playing Twister with Adrian Martinez's leg and you can make the case that last season should have been at least 7-5.
But again, it's not about the number, even the number nine. Nebraska has fired two coaches who won at least nine games.
It's about good football, efficient football. It's about winning big games. It's about ending this season with the arrow pointing up, toward Ohio State, Pasadena, the College Football Playoff.
It's about seeing what I saw in the Peach Bowl two seasons ago.
The national media are on the Frost bandwagon. Several of them have picked NU to win the Big Ten West Division this year. They remember Frost's second year at UCF, a 13-0 masterpiece. But this is a different team and season.
A division title would be ahead of schedule. But whose schedule? Sometimes teams, particularly ones with young players, operate on their own timetable.
That's what makes this such an intriguing season to predict. Are we about to see one step forward? Or a giant leap?
Sometimes, a team does a vertical leap. It happens over a season. It can happen in one game, too. And if you look close, you can see it in the eyes of a losing coach filled with prideful satisfaction.
You can make the case that it's too much to ask a 4-8 team to win a division the next season. But you can make the case that strange circumstances caused that record, and NU was playing like a 7-5 or 8-4 team when the season ended with a three-point loss in the rain at Kinnick Stadium.
There's an offense with new faces at running back and receiver. And an offensive line that should be improved but is still growing. There's a talented redshirt freshman at center, the point position on the line, who has never played there.
But there's a transformational talent at quarterback, who's already taken his lumps, who is ready to blossom. He'll make everyone around him better — and give the new playmakers room to grow with him.
Also, Frost said during fall camp that the players have his system down. This year he'll expand the offense and his play-calling. How many wins might that be worth?
The status of playmaking running back Maurice Washington is undecided, but it's hard to believe Washington would have been as involved in fall camp as he has been unless he was going to be part of the season. Wan'Dale Robinson is a true freshman, but he's got the talent to make a lot of Frost's plays look good.
Yes, the West Division is balanced and improving in some places. Every week will be a tough out.
But do you remember those old Batman TV shows? The Penguin, Catwoman and Joker always had henchmen, who were there to throw chairs or punches at Batman and Robin until the heroes got to the villain. The West Division is a lot like those henchmen: obstacles, but nobody's going to pick them to go to the playoff.
Of course, Nebraska is in that group, too. But that's the construction zone in front of NU this season. The West is good, not great. Teams make you beat them. The Huskers haven't been very good at that part yet.
The Blackshirts should be better, but a long way from dominant. Then again, while there are great individual players at Wisconsin and Purdue, there's not a lot of dangerous offense being played in the West.
You've gotta stop the run to win the West. The size, strength and playmaking of the defense line is reason enough to be optimistic about a Blackshirt revival. Nebraska ranked 12th last year in run defense, ahead of only Rutgers and Illinois, at 195.8 yards per game. Iowa was at 109.5 and division champ Northwestern allowed 129.6. The Huskers need to be a lot closer to that.
At the very least, the days of the Blackshirts being pushed around — especially on crucial second-half drives — should be over.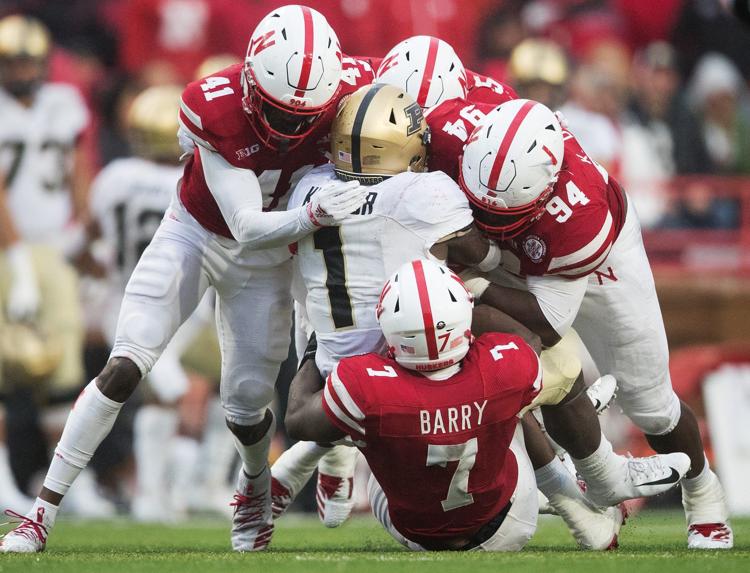 The Big Ten Henchmen play solidly, from the baseline, and wait for you to make errors. NU is always too eager to oblige. Last year, Nebraska ranked 10th in turnover margin at minus-two. League leaders Maryland and Iowa were plus-nine, Northwestern was plus-seven.
From Frost's first year to second year at UCF, the Knights jumped from plus-1 to plus-17 in turnovers. If Nebraska can improve by half of that, the Huskers' chances of winning in the West increase.
So what's the number? I'm going with 9-3, with a berth, finally, in the Outback Bowl.
Nebraska will get the defining win, the big win it's lacked, by beating Ohio State on Sept. 28. The Huskers will beat everyone except Minnesota, Purdue and, drumroll, Wisconsin.
The Badgers' dominance over Nebraska has been uncanny, but no mystery. They own the Huskers up front. Each year they mug them and take their lunch money. I think that ends this year with the Daniels and Davis brothers.
But until I see Nebraska beat Wisconsin, I can't pick that result. So I'll give the Badgers the win in a close one — and the West Division title on the tiebreaker.
However, that thing I saw in Atlanta two seasons ago could mean the Huskers accelerate the schedule this year.
That was a Central Florida team that was flying around Mercedes-Benz Stadium, bouncing on the sidelines, playing with speed and confidence and swagger. The Knights were a force of nature, physical and full of passion for the game and their coach.
That UCF team was coached by the same men who lead Nebraska's players now. Same system. Same culture. There's every reason to expect that kind of look in the Huskers come November.
And that leads me to my final forecast for the 2019 season.
Photos: Nebraska Football Fan Day 2019
Thousands of fans attend the Nebraska Football Fan Day at Memorial Stadium in Lincoln, Nebraska, Thursday, August 1, 2019.