LINCOLN — Mohamed Barry is going to be a football analyst one day, the way the inside linebacker delivered facts about his own defense in the wake of a 38-31 loss to Indiana.
Not the culture stuff. The third-down stuff that makes or breaks games and, by extension, seasons.
"That's one of those downs that you can't expect something lucky to happen," Barry said. "You have to be precise because those quarterbacks, those offensive coordinators — even defensive coordinators — that's what they live on. That's where they make their money, is in third down. That's where they want to be in their best plays. They want to put their best plays. We want to put our best coverages and our blitzes on third down."
When you include fourth down — an even riskier down than third — this is indisputably true. And NU's defense — specifically its pass rush and corresponding coverage — just hasn't been good enough this year, or last year, and these high-leverage situations have cost the Huskers games.
It cost Nebraska at Northwestern last season, when the Wildcats went 10 for 20 on third and fourth downs. It cost the Huskers at Iowa, when a massive blitz on the penultimate play — a fourth down — failed to reach quarterback Nate Stanley, who hit tight end TJ Hockenson to set up a winning field goal.
And Saturday, it burned Nebraska again against the Hoosiers, who converted 9 of 16 third and fourth downs to pull out a win.
Barry's right when he says coaches make their money on that down. They make their money in the red zone, too, and NU hasn't been much better there.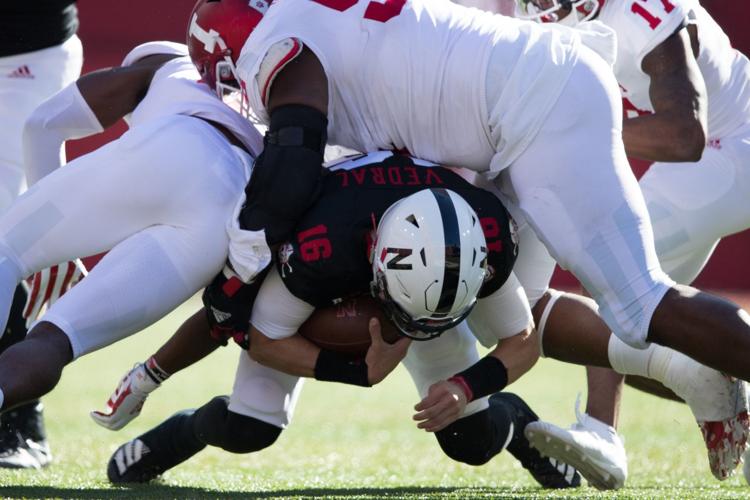 Northwestern, Iowa and Indiana comprise three of NU's 12 losses under coach Scott Frost. But think about it: That's a bowl game last year. It's a crucial win this year. And we're not even including the late-game collapses against Colorado in 2018 and 2019 in this scenario.
If we did, chew on this: Nebraska scored either 31 or 28 points in all five of those games. It lost them all. The Huskers scored at least 28 points in seven of the 12 losses under Frost.
If 28 isn't enough, NU must live through its growing pains on offense until it can score 35 or 42 points every week, slow down the pace of its offense to better protect the defense — probably not happening — or get much sharper on the high-leverage downs.
If it's Door No. 3, that's on the defensive personnel and their coaches — specifically coordinator Erik Chinander, a salt-of-the-earth guy who never ducks a thing — to deliver in scheme, adjustment, development and recruiting.
NU needs more time on the last two fronts. It has been years since Nebraska had an elite pass rusher, and he does not appear to be on the roster. On the first two fronts, some tweaks may be in order.
The creative pressure packages Chinander dialed up for IU quarterback Peyton Ramsey didn't make much of a dent. The Husker coordinator brought five on a third-and-8 early in the third quarter. Cam Taylor-Britt's edge blitz didn't make it. Ramsey hit Whop Philyor over the middle working against safety Eric Lee, who didn't close in coverage.
Next up: Third-and-12. Inside linebacker Collin Miller got crunched in the middle of the offensive line and outside linebacker Caleb Tannor got run out of the play. Ramsey stepped up and threw to Philyor on a corner route. First down.
Those conversions didn't result in points. Neither did a 23-yard third-down pass from Ramsey to Stevie Scott — Chinander brought five guys on that play, too — nor an 11-yard third-down scramble by Ramsey around NU's six-man blitz. But they helped IU possess the ball, reset field position and, in the case of the scramble, ice the game.
The scramble on third-and-7 was perhaps the biggest bust. Ramsey barely reached the top of his drop before seeing the blitz, darting right and getting out the front side. He then outran NU linebackers down the sideline to the sticks, looking like Robert Griffin III.
Sign up for Big Red Today news alerts
Get a daily Husker news roundup, recruiting updates and breaking news in your inbox.
"We can't count all the time on having to blitz to generate pressure," Nebraska coach Scott Frost said. "Because then, if they recognize it, identify it, pick it up, then you're even in a worse situation in the back end."
Yep, though the four-man pressure on a key Indiana fourth-down conversion, which led to a touchdown, doesn't work when three guys can't manage to cover the one receiver, Philyor, who has already caught 13 passes.
Would a better morning hotel warmup change these results? Within the locker room, the answer is yes.
At Nebraska under Frost, culture has become the bedrock of instinct, the foundation of all good to come and bad that was and currently is. There is some small risk in pinning so much on culture — reporters habitually ask about it, players thus have to offer the week's temperature on it — but the NU rebuild is so significant, more remedial study in the 1995 Theses is required.
A defense that ranked 105th last year and 81st this year in opponent third-down conversions? That's the Huskers not doing the little things right.
Blitzes and coverages indeed have to be precise. Nebraska's bringing five or six — and giving up 23 or 17. The math doesn't add up, and NU's defense is asked to hold the line often in the wake of an offense that operates at a speedy pace and commits too many turnovers.
What the Husker offense tries to do to other defenses, it can sometimes inflict on its own defense. Sometimes the measure you use will be measured against you.
I see you
Offensive weapon Wan'Dale Robinson: People are sometimes surprised a shorter guy is that tough. They shouldn't be. It's often that way. See Ameer Abdullah. See JD Spielman. See Cory Ross, who once carried the ball 30 thankless times in a 31-3 loss to Oklahoma. Shoot, see Danny Woodhead. When you're not the biggest guy in the room, you often find size in your heart.
Quarterback Luke McCaffrey: As a runner, he's a cross of Eric Crouch and Taylor Martinez. He may not be as fast as either, but he didn't play behind their offensive lines, either. He can run. It's in his family's blood to do so, after all.
Quarterback Noah Vedral: A smart, slippery quarterback who can run the offense at a great tempo and juices the offense early in games. Even when Martinez comes back and McCaffrey grows, there may be a role for Vedral that doesn't include running the ball into the line and getting hurt.
Spielman: He needs the ball more. Five catches for 97 yards at the beginning and end of the game.
Defensive tackle Khalil Davis: To the extent NU provides a pass rush, it's usually Davis, who had a sack, doing the best job, and it's too bad he got berated by Frost for a roughing-the-passer penalty his twin, Carlos, committed. Khalil was yanked off the field, yelled at, then benched. He later returned for the sack.
Ramsey: Big game on a big stage for the backup who might as well be the team's full-time starter. Ramsey lacks a strong arm, but he's smart and picked Nebraska's defense apart.
Indiana receivers Philyor and Ty Fryfogle: Philyor got most of the action — 14 catches, 178 yards — but Fryfogle had crucial catches, including a touchdown. Indiana has better receivers than most Big Ten teams, and even if guys didn't have catches, they weren't easy covers.
Indiana coach Tom Allen: Less than a decade ago, he was the defensive coordinator at Drake. He got a key break from Hugh Freeze — Allen's boss at Lambuth University — when Freeze went to Arkansas State in 2011 and later Mississippi. Today, Allen has a bowl team.
Five stats
11: Fumbles lost for the Huskers. No Power Five team has more this season. Only Central Michigan has fumbled as many times — 21 — as Nebraska. Eight games, 21 fumbles. That's 2.625 crowd gasps and coaching heart attacks per game.
15: Plays of 40 yards or more for Nebraska's offense, tied for 10th nationally. NU is top 35 for plays of 20, 30 and 50 yards or more, too. To say the Husker offense struggles with big plays? Not really. I mean, not relative to the weekly uncertainty that injuries and inexperience have brought to the offense.
It struggles with consistency and efficiency, not explosiveness. Nebraska coaches scheme up big plays. That seems to be the identity, too — hitting big plays.
7.0: Yards per pass attempt allowed by Nebraska. Any time you hit 7 yards, you're in the danger zone; 6.0 is very good and 6.5 is average. NU was at 6.7 last year and expected better this season. As it stands, Nebraska's pass defense, without much of a pass rush, is in for a regression.
24: Red-zone touchdowns allowed by Nebraska. That's the most in the Big Ten and tied for seventh most in the nation. That's a lot, in other words, and it was a major issue in 2018 (33) and 2017 (my goodness, 41). It's also the three years NU has used a 3-4 defense.
Further, the red-zone defense is inefficient despite, to this point, facing more red-zone trips than any other Big Ten defense. Opponents have scored touchdowns 70.59% of the time and scored some points 88.24% of the time. Illinois' defense, as a contrast, has faced 33 red-zone trips and allowed 18 touchdowns.
2: Teams left in the Big Ten that haven't beaten the Huskers since they joined the league. And those teams joined the conference after NU did: Rutgers and Maryland.
The Huskers beat Rutgers in 2014, 2015 and 2017, and beat Maryland in 2016. Indiana is the 11th of 13 Big Ten teams to beat NU in league play. In order of beating the Huskers in the last eight seasons, those teams are: Wisconsin, Northwestern, Michigan, Ohio State, Minnesota, Michigan State, Iowa, Illinois, Purdue, Penn State and Indiana.
Facebook feedback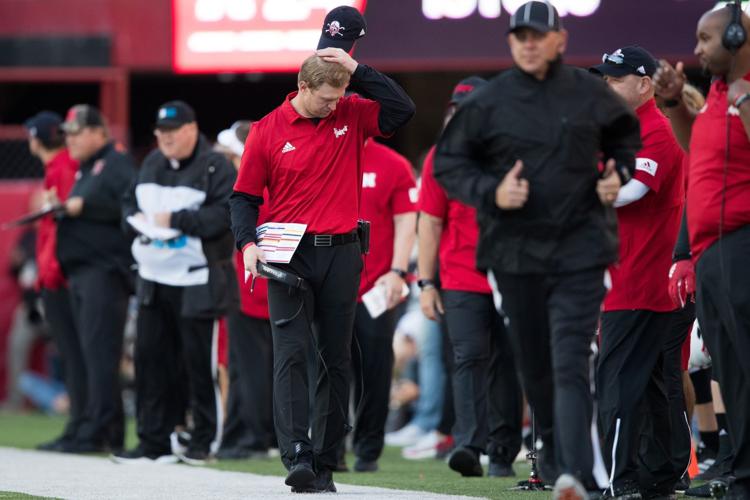 After each game, I ask fans on my Facebook page to post their takes on the game. Here are selected and edited responses:
"I sure got tired of Indiana players getting hurt every time we got in a rhythm. On purpose? Hmmmm." — Steve Green
"I'm not sure the defense scheme fits the athletes. At least 2 more years for the machine to get moving." — David Porath
"I will start by saying nobody needs to be fired. My question is does the coaching staff shoulder any responsibility for this result or is is entirely on the players and Mike Riley? At what point will the Husker media even consider questioning the coaching staff even in the slightest?" — Tim Engle
"Need some athletes like Wan'Dale on defense. Our offense played well enough to win. Our defense was out of position way too many times. They play well the first two downs and gave up way to many third-down conversions." — Marie Dunning
"Vedral and McCaffrey both looked more decisive than Martinez has this season. Defensively, wow, so deficient in so many areas." — Merlyn Klaus
"It would be nice if (Frost) would own more of the problems in this season. He has gone all in on blaming the players' execution and the need for more talent. We know. We understand the talent level isn't where it should be. But, the coaching has been mediocre as well, and I think we'd like to hear him say it." — Aaron Britton
Opponent watch
» Purdue is a mess after an ugly 24-6 loss to Illinois at home. Coach Jeff Brohm benched quarterback Jack Plummer after a pick-six, but the real issue was the Boilermaker defense allowing 242 rushing yards in bad weather. Illinois only had to throw seven passes.
"I'll take the blame, but it was a bad performance," Brohm said afterward. "It's something where we have to do a lot of soul-searching and figure out how hard we want to fix it. We got exposed in many areas. It was a bad day."
» Wisconsin gets a bye week after losing 38-7 at Ohio State. It'll need one. The Badgers ran into the same Buckeye buzzsaw Nebraska saw, but now that the shine — the intimidation — is off Wisconsin, let's see how Iowa attacks in two weeks. The Hawkeyes get a bye week, too.
Forecast
Cold, man. Getting frosty around Husker Nation. Needs to be Frosty. Only a win at Purdue can deliver that vibe.
Photos: Nebraska hosts Indiana