LINCOLN — Nineteen games into his tenure — after a jarring 34-7 loss at Minnesota, too — coach Scott Frost hit a bit of a rhetorical reset button during the Huskers' bye week.
In an interview with reporters, and later on his monthly radio program, Frost talked of chemistry, culture, leadership, experience and, yes, talent. Frost has the latitude — the runway, as his bosses and the media have called it — to do so.
Latitude is not a bad thing; it allows for honesty.
Bill Callahan was asked 20 games into his tenure if he'd fire himself.
"What kind of question is that?" Callahan shot back in November 2005. "Honestly, what kind of question is that?"
The kind that gets asked when you're an outsider, Bill.
But Frost, native son, native Nebraskan, is family. He's back on the farm, so to speak, after running his own successful operations elsewhere. He does know what it's supposed to look like when a program is operating at full throttle. So his most notable comment from last week — given on his radio show — can be read through that lens.
"When things aren't going as well as you want them to, you start to question everything," Frost said. "But doubting and changing what you do is the worst thing you can do. We know our schemes on both sides work, they've worked for a long time. We gotta get better at them, we gotta recruit better players to run them."
The offense does work. That was proven at Oregon and Central Florida.
The defense? Paired with a really good offense, yes, it works. Though at some point, Nebraska has to stop the run better with its better-than-average front seven.
Does NU need to get better at its schemes? On offense, absolutely. Nebraska needs some bread-and-butter plays. Defensively, defending the stretch play used by Minnesota, Northwestern, Illinois, Ohio State, you name it — is crucial, too. The Huskers can improve those things now, in season, with coaching.
Do the Huskers need better players?
A look across college football — conveniently sampled all Saturday from my couch — says yes. That's easier for a scribe to write than a coach to say, and Frost has a fine line to walk there, especially when there is a top 20 recruiting class full of skill players in the program.
But Indiana, which visits Nebraska on Saturday, has more good receivers than NU does right now. So does Illinois, which upset Wisconsin. Iowa has two bigger-bodied guys — Ihmir Smith-Marsette and Brandon Smith — Nebraska appears to lack. You already know what Minnesota can do.
Indiana, Illinois, Iowa and Minnesota aren't historically known as Wideout U.
At least three of those teams — Indiana excluded — have better pure pass rushers than Nebraska, too. And Wisconsin annually has its share of three-star signees turned into five-star darts at the quarterback.
NU's top two pass rushers are Carlos and Khalil Davis, who sometimes face guards. The Huskers don't have that guy screaming off the edge.
One starting outside linebacker, Alex Davis, doesn't have a sack. The entire outside linebacker position has four sacks through seven games.
A great, big-bodied outside receiver can thwart a pass rush. A great edge rusher can wreck a passing game. Nebraska lacks both, and there are few options — other than recruiting — to finding either one.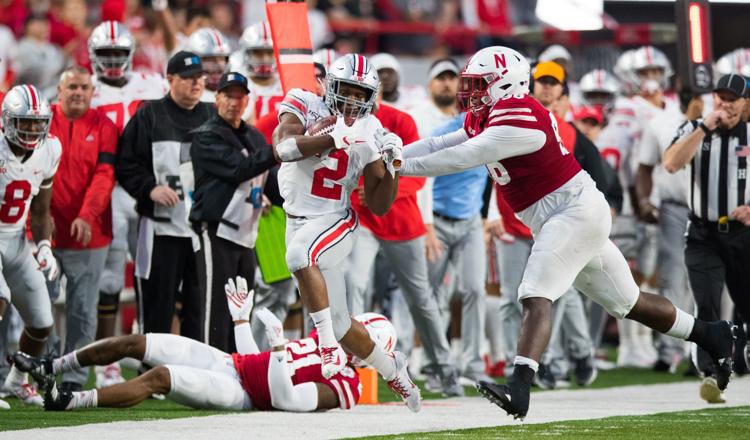 The Huskers have some other pieces. Good corners. Athletic safeties who don't give up a bunch of deep passes. Solid defensive linemen. Tight ends who can run, block and catch; they may need more love in the offense. Hard-to-tackle jitterbugs — when healthy — in JD Spielman and Wan'Dale Robinson. And, when healthy, a big-armed, strong-running quarterback in Adrian Martinez, who still has all the elite tools you'd want.
It was enough to win eight games before the season. Nobody disputed that. Nebraska is a tough loss at Colorado behind schedule.
NU's talent is still good enough to win seven. Still good enough to make a bowl. Still good enough to make Frost's schemes look better than they have, provided the chemistry and leadership — especially on offense — is right.
When you lack elite talent, the sum has to be greater than the parts. The best of the Big Ten West has excelled at that. Frost may have had the most work to do there after the loss to Minnesota. Toughness and togetherness can trump talent.
On with the truncated Rewind.
Five stats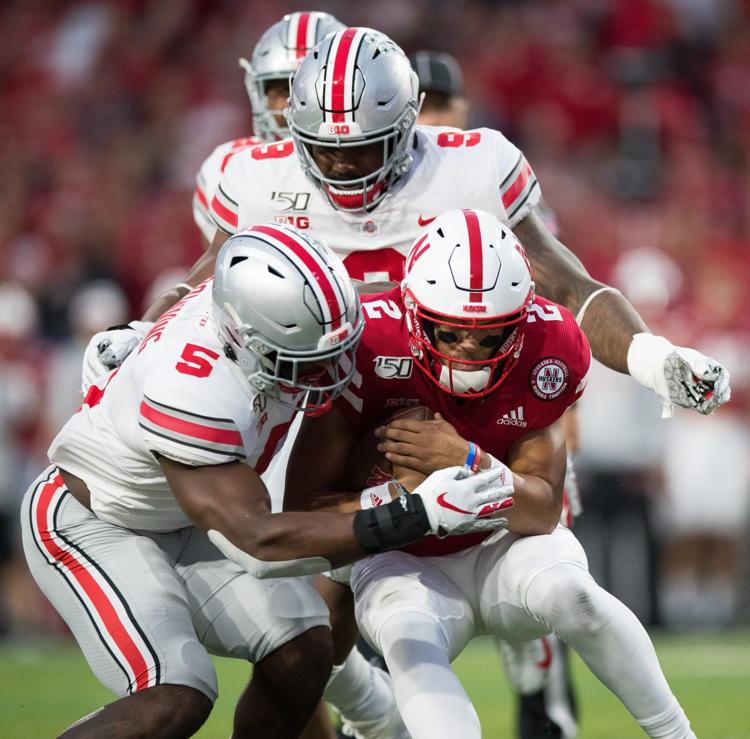 9-0: Minnesota's nonconference record since the arrival of P.J. Fleck. This includes eight games against non-Power Five opponents.
The lone P5 foe? 1-11 Oregon State in 2017. Minnesota doesn't play another Power Five foe until 2021, when it starts a two-game series with Colorado.
This isn't to diminish Minnesota's achievement of 7-0 this season. But it underlines the lack of incentive to schedule tough. Fleck took advantage of soft onramps to each season. Well done.
Five: Wisconsin losses to Big Ten West foes since the inception of the division in 2014. Oddly: Four of the five losses are to teams from the state of Illinois. Three to Northwestern and one to Illinois on Saturday 24-23.
Now, I'm going to blow you away: In those five losses, Wisconsin had 19 giveaways. Nineteen!
414: Rushing yards on the season for Purdue after seven games. Only Akron has fewer. Purdue has allowed fewer sacks than Nebraska, too, so that's not the problem. The Boilermakers just can't run the ball.
15.1%: Nebraska's sack rate allowed on passing downs, according to Football Outsiders. That's pretty bad — among the worst 20 programs in college football. When Frost says Nebraska quarterbacks need more help around them, he's right.
7.3%: Nebraska's sack rate — by the defense — on passing downs. That's middle of the pack nationally — in the 70s — but not nearly where an aggressive defense like Nebraska wants to be.
Opponent watch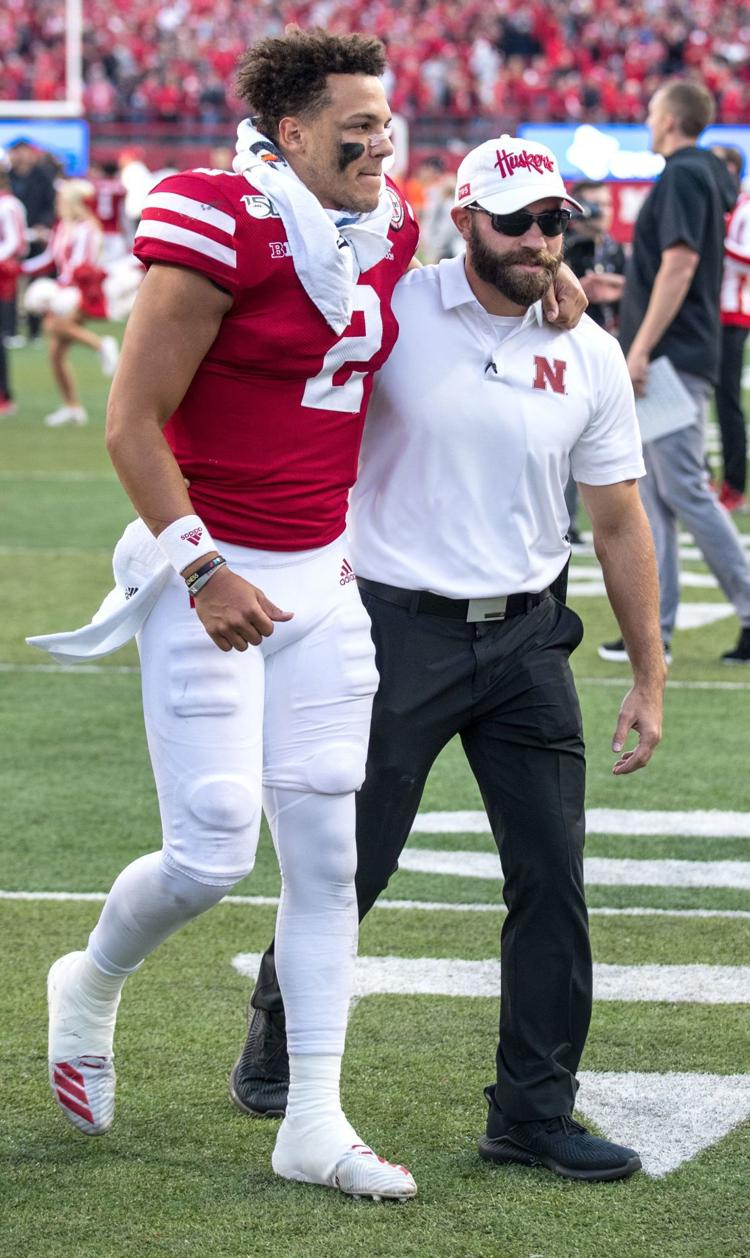 » For a team with a defensive coach, Indiana sure is good on offense, and was again in a 34-28 win over Maryland. The Hoosiers' backup quarterback, two-year starter Peyton Ramsey, relieved starter Michael Penix and played well. Two late takeaways on Maryland's final drives helped, too.
I like Indiana's offensive skill — the quarterback, the receivers, running back Stevie Scott — and its general balance on defense, led by linebackers Raekwon Jones and Micah McFadden. Indiana opened as a two-point favorite at Nebraska, and that seems about fair.
» Wisconsin probably could have lost to Illinois only in the way it did, by controlling the game from the start until the final five minutes, when back-to-back turnovers opened the door for a massive upset. Bigger than Iowa State's 19-10 win over Nebraska all those years ago, when NU was a 29-point favorite. Wisconsin was north of 30.
Forecast
Something to talk about with Husker football this week. There's always something, right?
Sign up for Big Red Today news alerts
Get a daily Husker news roundup, recruiting updates and breaking news in your inbox.