LINCOLN — Catch it. That's what Todd Peterson thought as the ball left his quarterback's hands. It was a seemingly impossible throw — fourth down, on the move, under pressure, needing to fit between a defender 7 yards in front and 4 yards behind Peterson, who was 27 yards away.
But Peterson was sure the ball would reach him. Zac Taylor was the one throwing it.
The pass cleared the reach of a Texas A&M defender with a few inches to spare, and Peterson caught it for a 22-yard gain on the drive that cemented Taylor's legacy at Nebraska.
Sign up for Big Red Today news alerts
Get a daily Husker news roundup, recruiting updates and breaking news in your inbox.
Taylor won Big 12 offensive player of the year. He led NU to two bowls and won a division crown. He has risen so quickly through the coaching ranks that after he's done coaching Rams quarterbacks in the Super Bowl on Sunday, he'll be an NFL coach for the Bengals.
The Drive, as it's known on YouTube, still may be Taylor's crowning achievement. An 11-play, 75-yard touchdown march to clinch the Big 12 North amid a frenzied Aggie crowd at Kyle Field. The towels waving. The stadium swaying. Taylor, taking hit after hit, getting up each time.
"Nobody flinched," said Greg Austin, now NU's offense line coach and in the huddle with Taylor on that 2006 team. "There was a confidence in him. Everybody saw it, everybody knew it."
The stakes were high. NU trailed 27-21 with two minutes left and no timeouts. Barry Turner had just blocked an A&M field goal try to give the Huskers life. Taylor trotted out and got down to business.
Peterson and Austin agree that Taylor was the kind of player who grabbed everyone's attention and respect. He knew the playbook, and NU had practiced two-minute drills. Moreover, Taylor could own up — then turn the page — on a mistake, and expected teammates to do the same.
"Even when there were little missteps along the way, he was always back to focusing on what we had to do next," Peterson said. "And that's the kind of mindset you have to have as a leader and a quarterback."
On the touchdown drive, for example, Peterson dropped a short pass that would have given NU its initial first down. Without the drop, the famous fourth-down pass never happens, but Peterson couldn't and didn't dwell on the error. On to the next play.
Which was Taylor's magnificent throw. A&M brought five-man pressure — running back Brandon Jackson picked up the extra rusher — and Taylor, sensing it, scrambled hard to his right, away from the initial traffic. It bought him some time, but it also cut down his options to two.
Peterson initially finished his route at NU's 45, but drifted to an open spot at the 50.
Taylor's pass was so perfect it hit Peterson in the numbers.
He then hit Dan Erickson for 16 yards down to the A&M 30. Running a crossing route, Peterson caught a pass down to the 17. After a clocked down and an incomplete pass, Taylor aimed for Maurice Purify in the end zone on third down.
The ball was long, but Taylor was hit long after he'd thrown it. Roughing the passer. New life at the Aggie 9.
"He would take a hit and get right back up," Peterson said.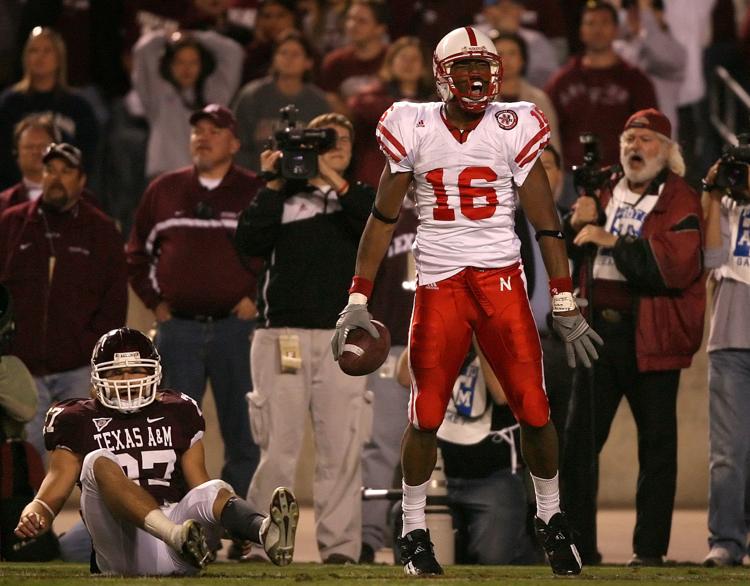 On the winning touchdown, the 6-foot-4 Purify, working against a much smaller corner, would be the target again in the corner of the end zone.
"Even Maurice Purify knew, if the ball was thrown up, Zac was going to give it up to him and Maurice was going to go get it," Austin said. "The biggest thing in that moment was just confidence. That's the thing with Zac. You won't see an uptight guy looking like he's stressed. That's not who he is."
Purify posted up, leapt, caught the ball with two hands, landed and immediately bumped chests with Peterson. After NU made the extra point, "The Drive" had its cherry on top and Taylor had his signature moment.
"That's what you dream about right there," Taylor said after the game. "You dream about being in the shotgun and letting your receivers go to work, and making plays with no time left. That's definitely been a dream of mine my whole life."
Former Husker quarterback Zac Taylor through the years
Check out photos of Zac Taylor through the years, from his time at Nebraska to becoming coach in the NFL.