LINCOLN — Carlos Davis wanted his mom to understand — to hear him. There was school and winter conditioning and spring football and track meets and just one class that didn't go right.
With the load Nebraska's senior defensive end carried, a few extra months to graduate might as well be a footnote of life. Ah, well. Right?
Not if you're Tracy Davis.
Sign up for World-Herald news alerts
Be the first to know when news happens. Get the latest breaking headlines sent straight to your inbox.
She and her husband, Carl, put four children through college, including two giant twin football players. She doesn't bend an ear for excuses, and she wasn't about to hear it when her son said he wouldn't graduate until August. Twin brother Khalil was ready to roll in May. Carlos was one class short.
"I was in the midst of sending out invitations," Tracy said. "And I said, 'You broke my heart!' "
When it came to academics, she'd been on her sons since, well, forever. The few months she'd taken off from the tough love role — when the twins began their careers at Nebraska in 2015 — went awry so quickly she was back on the job. And Tracy is good at the job.
"She never let up on us," Carlos said.
"She wanted it more than we did," Khalil said. "That's funny to say — but I know she did."
What Mom wants, Mom gets. In this case, it was two sons who played two sports at Nebraska both receiving degrees in child, youth and family studies before their senior seasons of football.
"The boys are so happy," Tracy said. "They're happy with their coaches, they're happy with the style of football they get to play now, they're just happy."
And so is Tracy. She's still Mom — parenting never stops — but her sons' biggest achievement is in the book that holds their diploma.
Carlos and Khalil agreed — without Tracy, it doesn't happen.
In blueberry purple uniforms, Nos. 95 and 96 wreak havoc on the shins of their foes. Take a glance back at the highlight tapes of Carlos and Khalil Davis from their days at Blue Springs (Missouri) High School, and they tackle more like safeties than tackles, so quick they are to bust through the line and pursue backs and receivers they have no business catching.
Nebraska defensive line coach Tony Tuioti watched those highlights in training camp. It was part of a bonding exercise among Husker players to turn on the high school tape and rank which players were most impressive.
Carlos' and Khalil's tapes, Tuioti said, were near the top.
"Oh my goodness," Tuioti said. "Talk about physical guys. They called themselves 'ankle-biters' because they'd take guys' legs out.'"
Those highlights feature players who had already committed to Nebraska, presuming they'd play for Bo Pelini and position coach Rick Kaczenski. Pelini's staff was fired after the 2014 season, but they signed with Nebraska.
They signed up for constant change.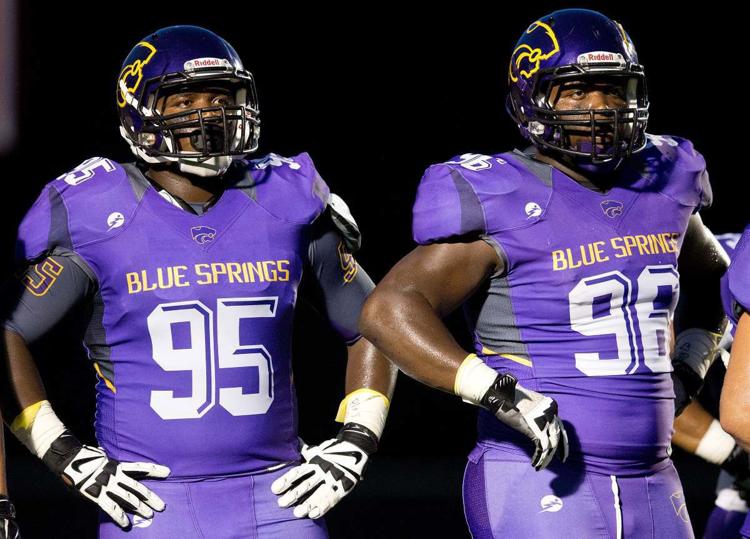 They've played for four position coaches, three defensive coordinators and two head coaches. They've played in an aggressive 4-3, a passive 3-4 and an aggressive 3-4.
They played for coaches who baffled them. Bob Diaco? "They didn't really care for him too much," Carl Davis said. Hank Hughes couldn't reach them, either. The twins' favorites have been John Parrella and, now, Tuioti. Each time there was a change, they had to learn a new approach from a new boss with his own ideas.
"They were always having to prove themselves — with the position coach, the DC, whatever," Carl said. "We all have to go through changes in life. We have to endure. We have to face those challenges and deal with it and try to make a positive outcome out of it."
At times, Tracy said, the twins mentioned transferring. Their parents wouldn't hear it.
"I'd tell the boys, 'You're there because of the school,'" Tracy said. "Every program goes through coaching changes. You need to stay focused, stay the course and stay there because of the school. To me it's not about sports. It's about the education. They'd ponder it. And we'd tell them, 'Go out there and prove yourself.' There are a lot of people on losing teams, but the NFL still noticed them because they were good."
It helped that the twins made strong friends on the team — Deontre Thomas and Damion Daniels among them. The defensive line travels in a pack, often interviewing as a group, with Carlos and Khalil somewhere in the middle of the bunch, cracking jokes and holding court. They've got a hangout spot, too — north of Omaha, at the Surfside Club, where they devour platters of fried catfish and fritters. Once, they even signed autographs for an hour.
"We're trying to get the whole D-line up there to clean 'em out," Carlos said.
The twins have played a lot of football at Nebraska, too, even if the team hasn't consistently won. Their success throwing the discus on NU's track and field team also kept them busy.
Tuioti said the duo have been a "pleasure" to coach.
"They're great kids, they're humble, they work really hard," Tuioti said. "It was an easy transition for me because they were open to whatever technique I was coaching them."
But athletics don't fall into place without success in class. Tracy stayed on the twins in high school. She thought, perhaps, she could back away in 2015 once they enrolled in college. Carlos and Khalil told her they were doing well during their redshirt year.
"But they would never show us the grades, and I was like, 'OK, they must be confused about who their mother is,'" Tracy said.
So she reached out to Dennis Leblanc, NU's executive associate athletic director for academics, and Kim Schellpeper, Nebraska's associate director of academic programs.
"They were on the verge of not playing football until they brought their grades up," Tracy said.
So for the next two months, she met weekly, over the phone, with her sons and NU's academic support team. The twins improved their grades — but Mom didn't back off.
"The boys would say, 'We're making this grade, we're making that grade,' I was like, 'No, huh-uh.' I'm talking to Kim and I would text Dennis," Tracy said. "'What are the boys doing, what are their grades like?' If Dennis felt like we needed to be involved, Dennis would always include us on the text messages. And sometimes I'd reach out to their sisters, and their uncle, and tell them, 'Just give the boys a word of encouragement.' Because I'm always on them hard. So the boys are like, 'Oh, my God.'"
The twins' uncle, Lorenzo Hicks, played at Nebraska. Now a businessman in Dallas, he gets back for two or three games per year.
"We see so many stories of kids doing things off the field that gets them in trouble or causes them not to be their best selves," Hicks said. "There's so many things that are going to be in the way of you being successful — don't let one reason be you. Do everything you can do to create your success and let the chips fall where they may."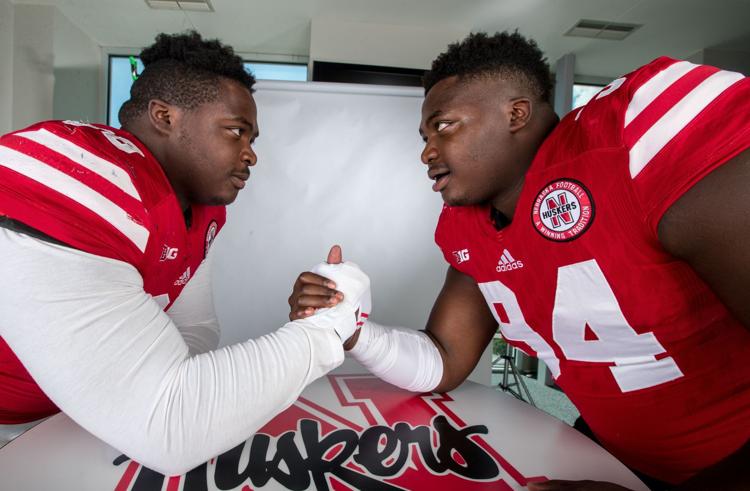 The twins couldn't escape Tracy's oversight.
"Even when we didn't want to do homework at 8 o'clock at night, she was calling," Carlos said. "'You'd better get that homework done!' When she says something, you'd better listen."
And they did, mostly. Khalil wrapped up his degree in May. Carlos, the older of the twins by a few minutes, fell a class short. So he got an earful from Tracy. And he didn't get his graduation money. Khalil did, so Tracy figured Carlos would be motivated.
He took a different class in the summer session and passed. He called his mom with the good news.
"I told Carlos I didn't believe him," Tracy said. "Dennis had to call me."
Two days later, Leblanc called. Done deal. Carlos had his degree. Tracy could send out invitations. Carlos could get his graduation money, too.
"From that moment," Tracy said, "I was happy."
Graduation, Carlos said, was "surreal." The magnitude of it still hasn't hit him. Plenty of family attended, some got to meet Tuioti, and, for a celebration, it was a trip to Surfside.
But the best moment was on the stage. Normally, Carlos — "always first in roll call," Khalil said — would have received his diploma a few seconds before Khalil. But when the twins walked, they were split into different lines that converged on stage. There, together, Carlos and Khalil received the degrees for which their mother had fought so hard.
"Isn't that cool? The same moment, they're up on the stage together," Tracy said.
She and Carl adopted the boys when they were still very young, realizing, as they grew, they'd be talented enough to play sports in college. But a scholarship doesn't guarantee a degree; only the work produces that. And the twins worked. Their parents made sure of it. Tracy insisted on it.
"I did what I was supposed to do for my parents," Khalil said. "I'd never want to let them down. It was a really good feeling knowing I made them happy and got my degree."
And when the twins earned their degrees, they got all of Tracy's hugs and kisses. Her respect, too.
"I kept telling them I was proud of them," Tracy said. "It's not often I'd tell them that — because they were always doing dumb stuff — so for them to hear I was so proud of them, that made them feel good. It's not often I would give them accolades like that. I was just happy, happy, happy."
Photos: Nebraska's Blackshirts for the 2019 season