The kid is often the smallest player on the field. At 5-foot-10 and 190 pounds, Wan'Dale Robinson walks off a bus and blends in with the rest of the team.
But when the Nebraska receiver/running back makes a hard plant on one foot, the move that comes after might as well be a big wave beam that pushes back the rest of the defense. That plant, and that move, is a truth of football: A defender can't tackle what he can't touch.
Nebraska's offense hasn't been "all that" in 2019 for a variety of reasons. Health. Youth. Bad snaps. A leaky offensive line. A starting quarterback who doesn't always seem to trust his receivers will be where they're supposed to be.
Robinson has been all that, though. He's almost directly responsible for Nebraska's best win of the season over Northwestern, producing the three biggest offensive plays of the game. He played a key role in a 42-38 comeback at Illinois, NU's only road win in nearly two seasons. Robinson had 186 all-purpose yards in both games. It's a coincidence, of course, but also a reminder: No Wan'Dale, no wins against the Big Ten West teams from the Land of Lincoln.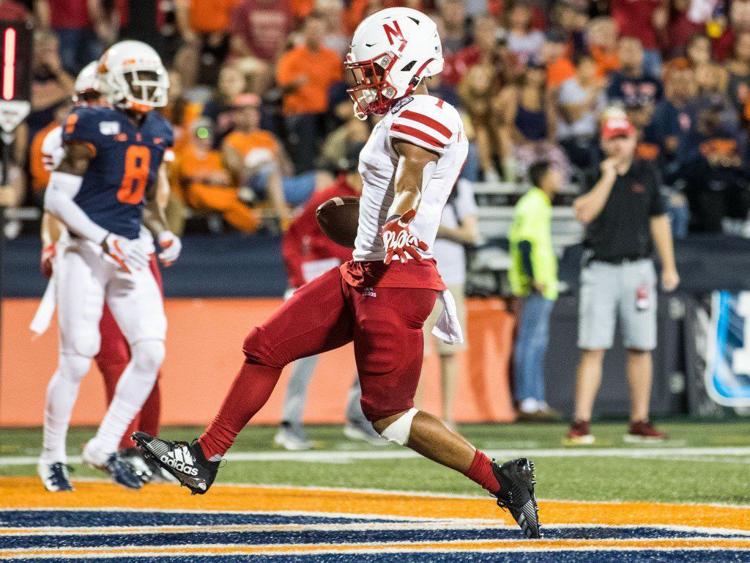 "We got one there," Scott Frost said of Robinson after the Illinois game. "We got a real guy there. Not just from a talent perspective, but from a heart perspective. He wanted that ball, he wanted to take over that game. In a lot of ways, he did. I'm glad he's wearing scarlet and cream."
"It felt really good," Robinson said. "I had to maximize the opportunities I had today."
Robinson, with a ready smile, takes the accolades and performances in stride. After a record-breaking high school career in Frankfort, Kentucky, Robinson enrolled early at Nebraska and fully expected to have this impact. He didn't blink at playing running back — his high school position — and receiver, the position of his future. If an ankle injury at Minnesota keeps him out for an extended period of time, the Husker offense will suffer. Nevertheless, he won them two games.
QUARTERBACK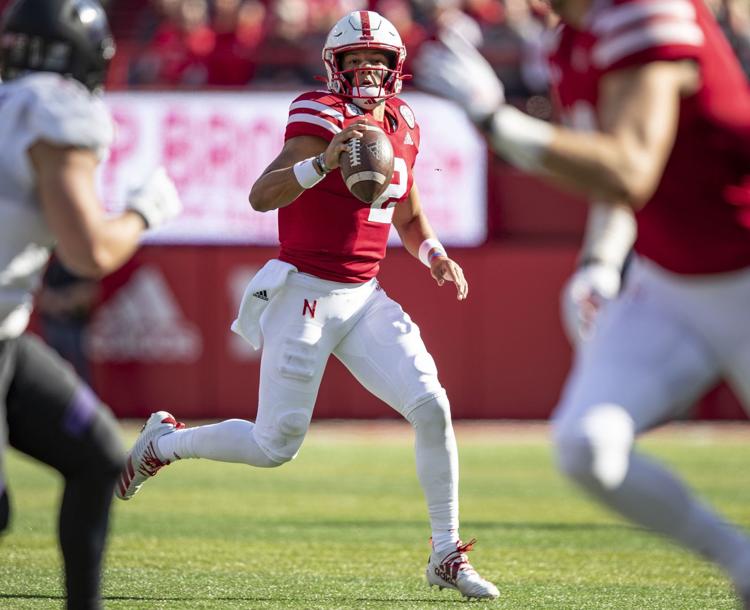 Standout player: Adrian Martinez. The sophomore has had an up-and-down year, but before his injury, he was third in the Big Ten in total yards per game.
Highlight: Martinez threw for 328 yards and three touchdowns against Illinois and ran for 118 yards in a 42-38 comeback win.
Lowlight: Martinez finished the first half against Ohio State with two completions and three interceptions.
Key questions: How healthy is he? Martinez was out for the Minnesota game, and his status remained up in the air headed into the bye week.
Biggest second-half test: Wisconsin allowed 4.8 points per game going into Saturday. Iowa allowed 10.2. Both loom at the end of the season.
RUNNING BACK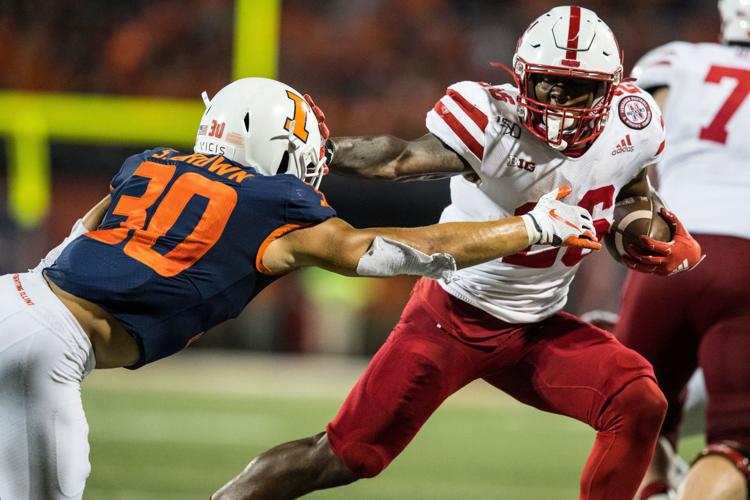 Standout player: Dedrick Mills. While he's battled some fumbling issues, the bulky, physical Mills has been a reliable option in the red zone and easily leads the team in rushing touchdowns with seven. He's only getting 11 attempts per game, averaging 4.61 yards on them. The volume on his carries may get turned up in the back half of the season.
Highlight: The 346 yards at Illinois, when Mills, Maurice Washington and Wan'Dale Robinson all had their moments in the run game. (So did Martinez, who led the Huskers with 118 yards.) Nebraska's depth and explosiveness were on display.
Lowlight: NU had fewer rushing yards against South Alabama, but the Minnesota game wasn't pretty. Mills, Washington and Robinson couldn't find much room. Mills only got nine carries on a wet, snowy night made for him, and Washington was a non-factor. Brody Belt's 22-yard fourth-quarter run was the only good moment of the evening.
Key questions: Will Mills get more carries? Will Washington impress his coaches enough in practice to settle into a role? Is it time to call up Rahmir Johnson and burn his redshirt? Can the Huskers rely on a few bread-and-butter runs? Was Devine Ozigbo really that big of a loss?
Biggest second-half test: Wisconsin surely is — the Badgers have a spectacular defense, especially in rushing the passer, so NU's backs will be called on to block Badger outside linebackers — but focus instead on Indiana, a tough, well-coached bunch that has cracked rarely against the run.
WIDE RECEIVER/TIGHT END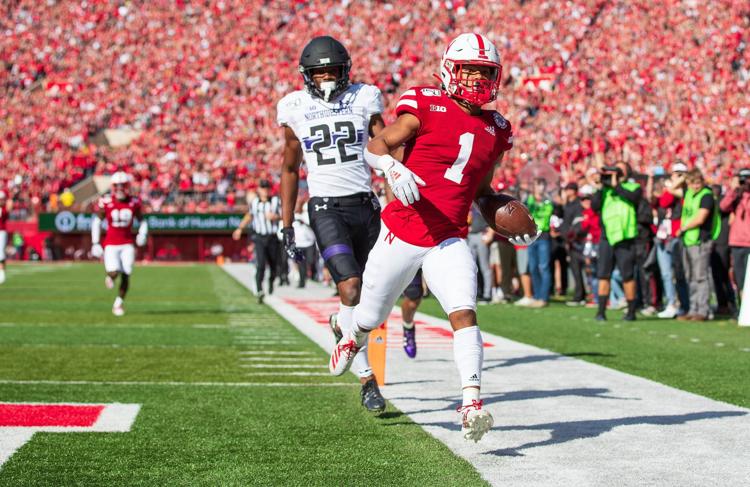 Standout player: Robinson. The freshman from Kentucky has fewer receiving yards than junior JD Spielman, but in Nebraska's two "toss-up" wins — Illinois and Northwestern — Robinson stood tall. The Huskers don't win without him. With 27 catches for 336 yards, Robinson leads all Big Ten freshmen.
Highlight: The 44-8 win over Northern Illinois represented the most balanced effort of the season. Spielman had four grabs for 76 yards, Kanawai Noa had three for 51 yards and a touchdown, Robinson had three for 48 and Mike Williams had a nice grab for 26 yards. It looked like progress.
Lowlight: The 48-7 loss to Ohio State was ugly for a variety of reasons, but Nebraska's receivers often just weren't open, either. The Huskers completed just eight passes. Ohio State figured its coverage would lock up NU's receivers, and OSU was right.
Key questions: Who is the true No. 3 receiver in this offense? Is it Noa? Tight end Jack Stoll? Should Washington play more wideout? And, if Robinson's hurt, what then? Nebraska seems a long way from its 2013, 2014 and 2015 receiving corps, where NU could beat teams with four or five guys.
Biggest second-half test: Iowa. Wisconsin's pass defense has better numbers, but that'll change as the Badgers play better offenses. Iowa is an elite pass defense each year, allowing opponents a 57.2 completion rate in 2019, and will give Nebraska's receivers fits if Washington can't win some battles.
OFFENSIVE LINE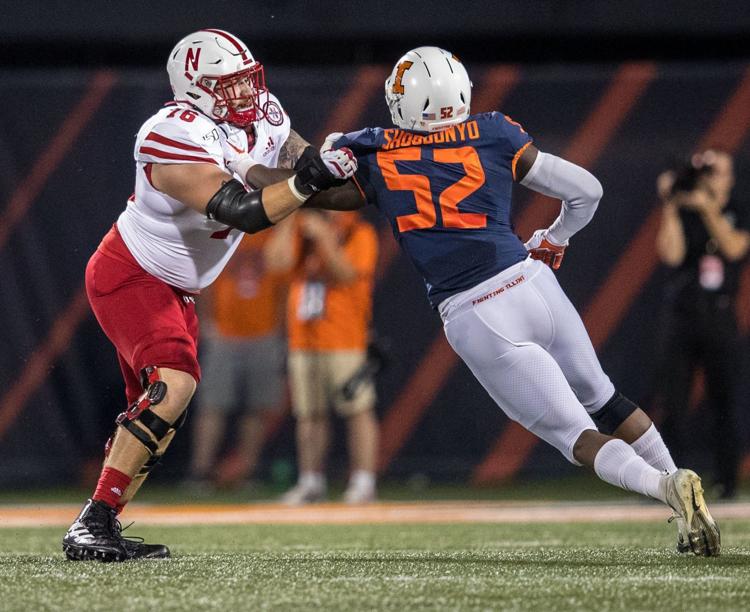 Standout player: Left tackle Brenden Jaimes has been the most consistent guy, which makes sense, since he's the longest-tenured starter. Jaimes has played through an ankle injury, too. He's a tough guy who has allowed fewer busts than some of his teammates.
Highlight: Nebraska's offensive line was at its best against Illinois in the second half, plowing open big holes, keeping Martinez relatively protected and racking up points and yards by the mile. The snaps weren't awful, either.
Lowlight: Nebraska's offensive line really struggled against South Alabama, Ohio State and Minnesota. One step forward, two steps back kinds of games. NU has allowed 19 sacks this season — zooming toward 30 or so — and the line hasn't stayed on blocks consistently enough. The Huskers are not weak on the line; they're strong and big enough. They just have to execute better.
Key questions: Other than Broc Bando, who entered the Minnesota game in the second half, will any other backups get a shot at playing? Does Nebraska have much to lose by allowing it? Can center Cameron Jurgens' snaps stabilize for the rest of the season, like they did against Minnesota?
Biggest second-half test: Wisconsin is coming to shake Nebraska's foundation. Don't kid yourself there. Paul Chryst appears benign, but he'll try to put 60 on the Huskers in Lincoln, and Wisconsin's defense will try to punctuate the effort with lots and lots of sacks.
Sign up for Big Red Today news alerts
Get a daily Husker news roundup, recruiting updates and breaking news in your inbox.