Nebraska received an early Christmas present last December when Darrion Daniels, a former standout at Oklahoma State, decided to join the Huskers and his younger brother, Damion, as a graduate transfer. What has happened since has exceeded everyone's expectations.
The gregarious 21-year-old became a leading voice of the defense almost immediately. On the field, the 6-foot-4, 325-pound nose tackle quickly gained respect for his smarts, size, strength and stamina. His teammates voted him one of two defensive captains after just nine months on campus.
"Coach (Scott) Frost doesn't have many rules, but one of them is do the right thing, and that's something I strive to do every minute of every day," Daniels said in August. "I try to do the right thing, work hard. I try to lead by example and just do what I'm supposed to do and bring as many people along as possible."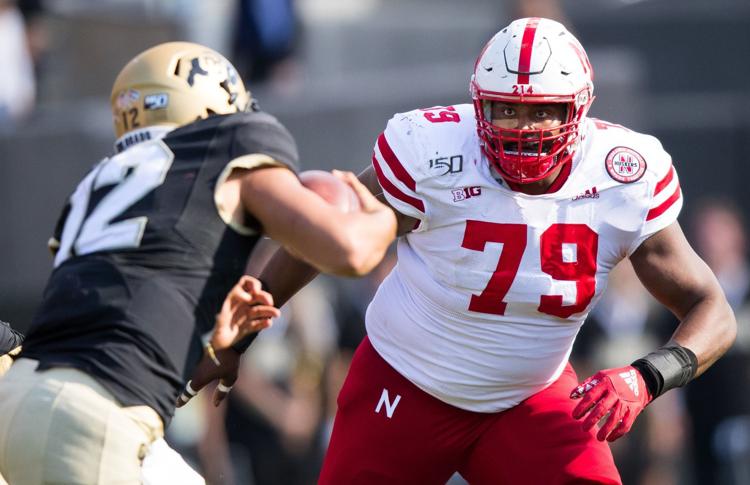 Daniels already has a career high for tackles in a season (27), including 2.5 for loss. He has lined up for 322 of Nebraska's 510 defensive snaps (63.1%), second most among NU defensive linemen behind Carlos Davis (345). The middle man has graded out first or second at his position each week, according to Pro Football Focus.
The Huskers' run defense has improved from allowing 5.0 yards per carry last year (107th nationally) to 4.47 (83rd). His presence allows Khalil and Carlos Davis to play more natural roles at end, where they have combined for 48 tackles (nine for loss) and a forced fumble. His impact will also be felt in the future, since he may have afforded redshirt seasons for talented defensive linemen like junior college transfer Jahkeem Green and freshman Ty Robinson.
"(Darrion) did a great job of coming in and not just doing things right himself but holding others to a standard he expected," Frost said in August. "It was great to see our team recognize that."
DEFENSIVE LINE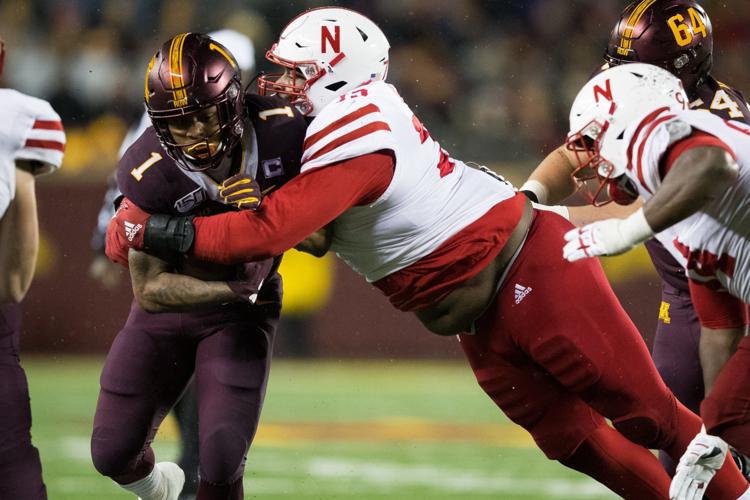 Standout player: Darrion Daniels. Nebraska didn't have a true nose tackle who could play extended snaps until the big man arrived as a grad transfer in the winter. The Huskers also got an eventual captain and vocal leader.
Highlight: The first-half shutout against Colorado. Depth served the Huskers well at altitude, with six linemen rotating to limit the Buffs to zero rushing yards on 14 carries. Carlos Davis added a sack and NU led 17-0 at the break.
Lowlight: Ohio State. The Buckeyes ran for three touchdowns and 368 yards (6.94 per carry). Nebraska rarely generated a pass rush either, falling behind 48-0. Four days later, Khalil Davis was suspended a game for throwing a punch.
Key questions: Can the line stay healthy? None of the six members Nebraska rotates through has had a significant injury, and it's all hands on deck with the likes of Wisconsin and Iowa still to come. With three senior starters, can it build depth for 2020?
Biggest second-half test: Maryland is actually ninth nationally in yards per carry (5.63) but Wisconsin (5.33, 21st) and its 23 rushing scores looms like a tsunami. NU has flunked exams against power-run teams in recent years.
LINEBACKERS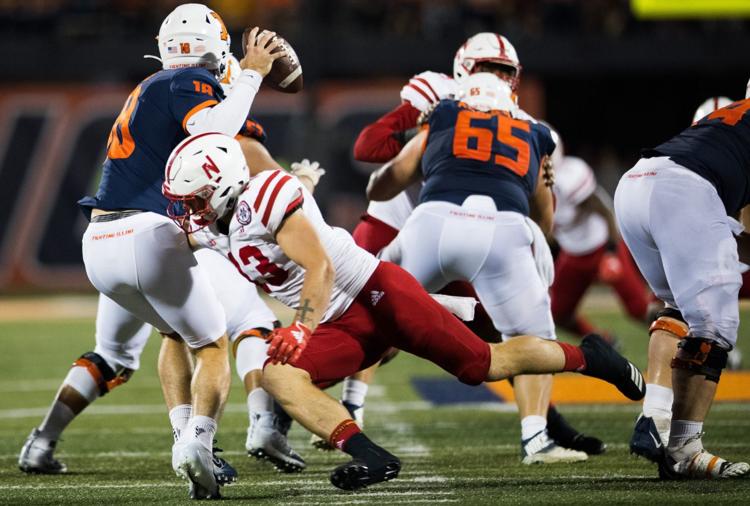 Standout player: JoJo Domann. Uniquely talented to have his own "nickelback" designation, the junior has essentially been NU's best outside linebacker in coverage. And he makes plays — his team-high 6.5 tackles for loss go well with three breakups and a forced fumble.
Highlight: Colorado. Five linebackers accounted for six of Nebraska's 10 stops for loss. The first half was nearly flawless for inside 'backers Will Honas, Mohamed Barry and Collin Miller, who finished with 21 combined tackles.
Lowlight: Minnesota. Coach P.J. Fleck planned zone runs for the Gophers around the premise that Nebraska linebackers wouldn't consistently find their fits, and he was right. Overpursuits and confusion allowed Minnesota to run at a clip of 6.57 yards per carry.
Key questions: Where is the depth? Nebraska continues its long-standing quest to find impact players on the outside through recruiting. The inside Barry/Honas/Miller triumvirate has been solid, but the 2020 Huskers need others to emerge.
Biggest second-half test: It might be Maryland, which has good run-pass blend and the kind of funky offense that requires consistent assignment football. The Minnesota blueprint — call zone-run until Nebraska stacks the box — is out for all to see.
DEFENSIVE BACKS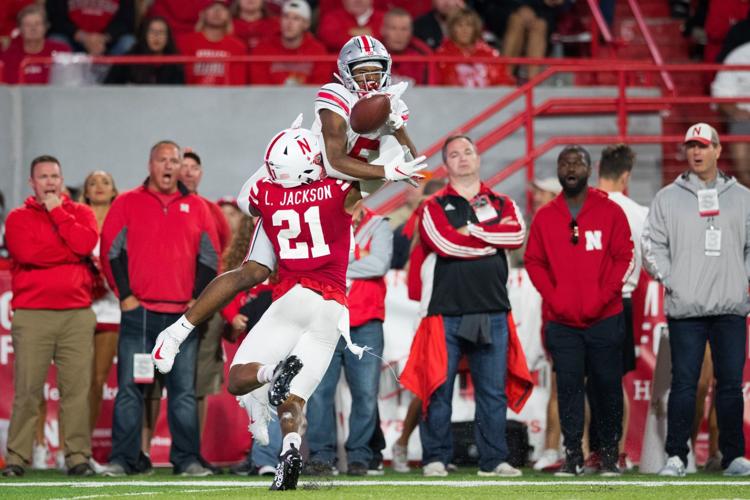 Standout player: Lamar Jackson. His previous struggles seem like ancient history during a season in which his 13 passes defended tied for most in the nation entering the bye weekend. Six-foot-3 lockdown corners don't grow on trees.
Highlight: The opener. Nebraska grabbed three interceptions — its most in a 35-game stretch — against South Alabama. Eric Lee had two of those, including a pick six, while Cam Taylor-Britt added another. Taylor-Britt and Jackson each forced a fumble, too.
Lowlight: Second half at Colorado. The Buffs threw for 291 of their 375 passing yards in the final two quarters and overtime, including a pair of touchdowns. None was bigger than the 96-yard flea flicker on a blown coverage that turned the tide of the game.
Key questions: How good can this group be? Jackson and reserve safety Eric Lee are seniors, but everyone else figures to return in 2020. Can some of the touted freshmen see some snaps down the stretch?
Biggest second-half test: Purdue. Only four other FBS teams who have played six games have attempted more passes than the Boilermakers. A late-season road game against creative coach and playcaller Jeff Brohm won't be easy.
SPECIAL TEAMS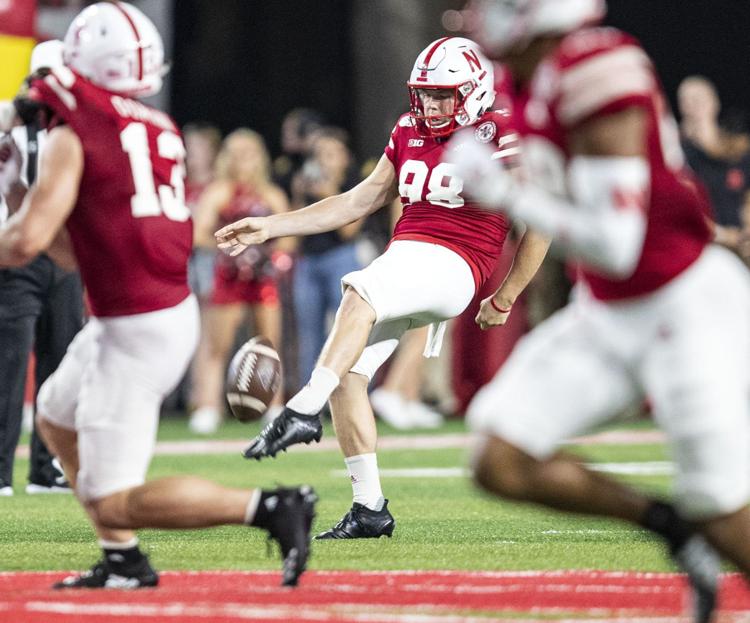 Standout player: Isaac Armstrong is seventh in the conference in yards per punt, with 42.4. He's punted 39 times, second only to Rutgers' punter at 41.
Highlight: JD Spielman returned a punt 76 yards against South Alabama to give Nebraska a 28-7 lead.
Lowlight: Nebraska still does not have a consistent kicker and has made 4 of 10 field goal attempts.
Key questions: When will Barret Pickering be healthy enough to kick? And can NU cut down on the special teams flags?
Biggest second-half test: Is it a cop-out to say every single game, considering the kicking game is a total guessing game?
Sign up for Big Red Today news alerts
Get a daily Husker news roundup, recruiting updates and breaking news in your inbox.