Now that Nebraska has won its 900th game in program history, let's take a look at the nine that are the best and most thrilling.
**Note: Games are listed in chronological order. Each game is linked to its entry in our Husker History database, which is home to every Nebraska football game ever played.
Of the many incredible wins in NU's first era of dominance — before World War II — the second victory over Knute Rockne and his Four Horsemen stands out. It was the Fighting Irish's only loss that season and the only game in which they gave up more than a touchdown. The ND ground game was stuffed, so they threw the ball 37 times. Nebraska racked up 208 rushing yards behind lineman Ed Weir. In a florid account of the game in The World-Herald, the fight of the NU team, playing just its third game in Memorial Stadium, was clear. "From end to end the Nebraska linemen outfought the army of gridiron warriors Coach Rockne rushed in to stem the tide," wrote Gregg McBride.
You never forget your first. Nebraska won a share of the 1970 national title thanks to a loss by Texas in the Cotton Bowl and a spirited effort by the Huskers' defense, which allowed 51 rushing yards. It's not one of NU's cleaner performances — six punts and five turnovers — but, when it counted, NU quarterback Jerry Tagge scored from 1 yard out in the fourth quarter for the winning touchdown. Bob Devaney, the architect of Nebraska football's return to its pre-World War II dominance, had his national title.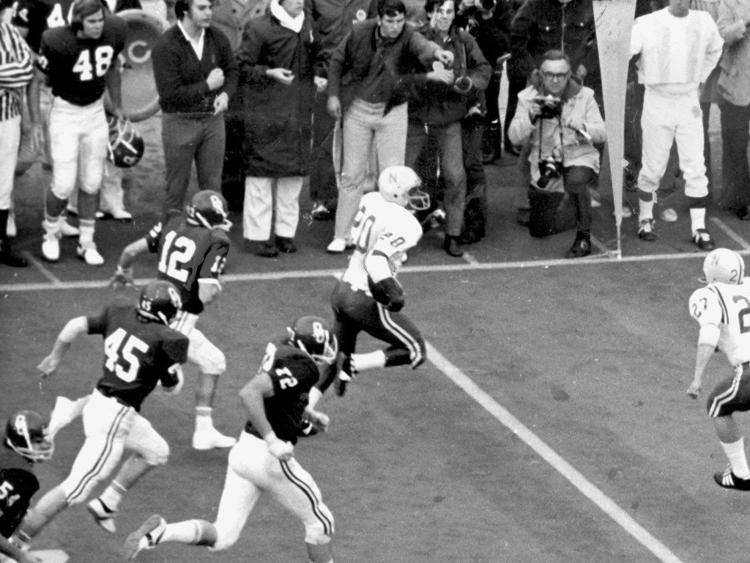 The Game of the Century. Accept no substitutes, either. This battle, between the super-charged Sooner offense and the tough-as-nails Husker defense, lived up to its billing and has never been forgotten. The Thanksgiving showdown is remembered for Johnny Rodgers' punt return for a touchdown, but that play merely kicked off the scoring. By game's end, a back-and-forth affair got its final answer from running back Jeff Kinney, who barreled into the end zone for the winning touchdown. An Orange Bowl win over Alabama was a foregone conclusion. Nebraska really won the national title in Norman while America ate turkey and stuffing. Any college football fan worth his or her salt knows the Game of the Century and the heroes who played in it.
The Sooners dominated the mid-1970s, even while on probation. As a result, Husker coach Tom Osborne, tabbed by Devaney in 1973 to succeed him, lost his first five games to OU. The '78 game — featuring a squad Sooner coach Barry Switzer thought might be his best — was supposed to be more of the same. But Oklahoma fumbled, fumbled and fumbled some more, the last of them by Heisman Trophy winner Billy Sims as OU was going in for the winning score. Nebraska upset the nation's No. 1 team. It was a breakthrough game for Osborne, even if he'd lose to that same Oklahoma team in the Orange Bowl a month and a half later.
Before the unforgettable five-year, three-national title run that culminated Osborne's run, there was the ferocious, hair-raising pummeling of the Buffaloes in the rain. It announced the decade to come for Husker football — and Colorado football, for that matter. Both teams entered as No. 8 in the nation, a symbolic ranking if there ever was one. CU hadn't lost to Nebraska since 1988. That changed quickly after kickoff, when on the game's first play a Travis Hill interception of Colorado quarterback Koy Detmer started a Halloween rout so long and loud that Memorial Stadium has never rocked harder. It wasn't joy the faithful felt, but bottled-up rage, and the game was catharsis for a million little slights in the NU-CU series. It was the first of nine straight Husker wins over the Buffaloes.
A Husker team on a mission — led by a quarterback whose heart bled red — beat the best team Colorado has ever fielded. Nebraska controlled from start to finish a game on national TV that many figured the Buffaloes would control with their considerable offensive talent — quarterback Kordell Stewart, Heisman Trophy winner Rashaan Salaam among them. That never happened. Nebraska's Brook Berringer, rising to the moment in relief of Tommie Frazier, who was sidelined with blood clots, completed 12 of 17 passes for 142 yards, many of them to his tight ends. Nebraska's defense, anchored by a dominant, harassing pass rush, made Stewart look bad for a third straight game against the Huskers. After the win, Nebraska ascended to No. 1 and stayed there, ahead of also-undefeated Penn State. Without the Colorado win, Osborne's first national title doesn't happen.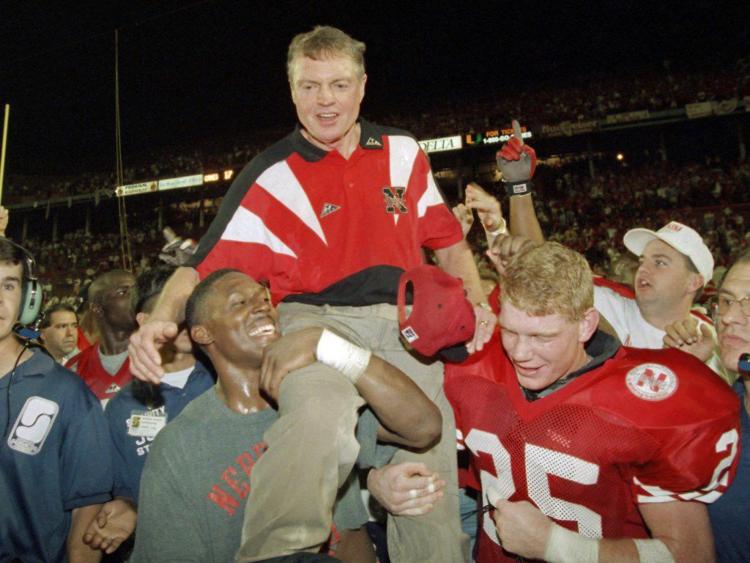 A game that summed up everything Osborne believed and practiced, executed against the team that had been his foil in so many Orange Bowls. The Hurricanes took a 17-7 lead in the second half before NU's superior strength, size, conditioning and offense took over. Frazier, who sat out much of the second and third quarters while Berringer played, returned to deliver two rousing fourth-quarter drives, both of which were capped off by fullback Cory Schlesinger's bull runs into the end zone. Nebraska carved up a vintage Miami defense featuring two Pro Football Hall of Famers in Warren Sapp and Ray Lewis. NU's 1994 season was a storybook in every way. It had a proper ending, too.
The Huskers' 1995 season was more of a tabloid off the field, and the drama of arrests and national media coverage might have sunk some teams. But NU has never fielded a team quite like it did in 1995, a squad punishing and overwhelming in its excellence in every phase. Frazier wasn't sacked all season. Neither was any other NU quarterback. The closest win was 14 points. The Fiesta Bowl, against Steve Spurrier's Gators, was supposed to be a nail-biter. It wasn't. Lawrence Phillips — easily Nebraska's most controversial player — had one of his best games, as did Frazier with 199 rushing yards. NU's defense beat and battered Florida quarterback Danny Wuerffel so much he had to leave by game's end. If there's ever been a better football team than Nebraska was in that Fiesta Bowl, they didn't play the college game.
The Flea Kicker. Though NU fans fondly remember the 1998 Orange Bowl that delivered Osborne his third national title in his final game, the close win over the Tigers was one of the most thrilling games in Husker history. Facing a motivated Missouri team with a good option offense and an even better offensive plan, Nebraska's defense was on its heels much of the afternoon until a late fourth-quarter stop set up the dramatic, tying touchdown drive led by quarterback Scott Frost. His final pass of regulation, intended for Shevin Wiggins, was kicked into the air by Wiggins. Deeper into the end zone it went, tumbling toward Nebraska's defeat, until receiver Matt Davison caught it just before it hit the grass. Missouri's students were denied the chance to rush the field, and thanks to Frost's overtime TD, NU escaped with the win. The throw-kick-catch was better than a Hail Mary. It was unique — one of the great plays in Husker, and college football, history.
Sign up for Big Red Today news alerts
Get a daily Husker news roundup, recruiting updates and breaking news in your inbox.
Nebraska football's milestone wins