LINCOLN — You're almost certain to do it. Almost everybody does. You're going to overlook Northwestern football and, here's the thing, you'll do it for the right reasons.
You'll look up the Wildcats' recruiting rankings and see mediocrity. You'll recall that opposing teams' fans flood Northwestern's Ryan Field so it becomes a neutral site. You'll cock your head at the Wildcats' offense, ranked in the Big Ten's bottom five in yards per play for four of the last five years. You'll note Northwestern just lost four-year starting quarterback Clayton Thorson, who led the team to three nine-win seasons. You'll think it's time for Northwestern to take a step back.
And maybe coach Pat Fitzgerald's team will stagger a bit. Its quarterback competition remains wide open coming out of spring practice. The skill players rank in the league's bottom half. The schedule includes the usual Big Ten West slate, plus Stanford, Ohio State and Michigan State. Northwestern's run game last season ranked last in the Big Ten — 125th nationally — in yards per carry.
But the Wildcats had Michigan, Notre Dame and Michigan State last year and still won the Big Ten West. After losing to Duke and Akron.
Northwestern defies conventional logic by remaining its stingy self on defense and letting its more-talented opponents — Nebraska, Wisconsin and Iowa last season — make critical mistakes at the wrong times.
This is how, since 2014, the Wildcats have a 25-11 record in games decided by fewer than 10 points. The 69.4% win rate alone is remarkable. In Big Ten games, it's 79.1%. Nebraska is 12-19 overall in games decided by 10 or fewer points since 2014. The Huskers are 6-11 in the Big Ten. That includes three losses to the Wildcats.
I've covered all three. The second one, an overtime game in Lincoln, the "no reasonable reason" game, made Bob Diaco blow a fuse. The third one, at Northwestern, took the cake. It was Thorson's finest hour as he rallied his team from a 10-point deficit to force overtime in a 34-31 win. Northwestern doesn't necessarily win most games because of its quarterback, but Thorson owns that W, and it's reasonable to think the Wildcats have their hands full replacing him.
Then you look at Thorson's career numbers — 58.4% completion rate, 61 touchdowns, 45 interceptions — and appreciate that Northwestern wins without big quarterback numbers.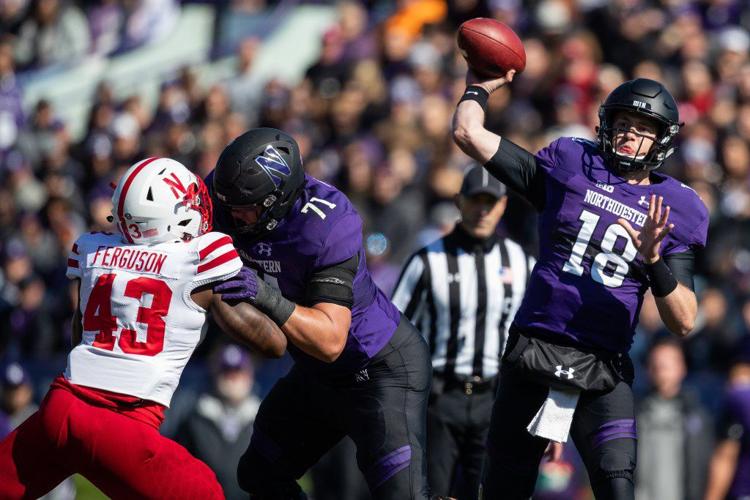 This spring, longtime offensive coordinator Mick McCall has opened up the offense in anticipation that Northwestern will tailor its system around a quarterback's skills.
"We wanted to install a bunch of stuff, get a lot of concepts installed, so they have an understanding, and so we knew what they could do and what they can't do," McCall said in a Northwestern in-house interview. "And we've always got to keep evolving offensively to stay ahead of the really good defenses we play all the time."
McCall once relied on more of a spread passing system under Dan Persa. Northwestern embraced the zone read with Kain Colter at quarterback, but kept a pro-style flavor when Trevor Siemian, who made the NFL, alternated with Colter. Siemian's final season in 2014 was so unremarkable — seven touchdowns, 11 interceptions — that, after Northwestern finished 5-7, it seemed likely to me that Fitzgerald, always a coaching hot commodity, might take one of those better jobs.
Who knows? If Jim Harbaugh hadn't taken the job, perhaps Michigan makes Fitzgerald an offer he couldn't refuse. In 2015, Fitzgerald rebounded with a remarkable season under Thorson, then a redshirt freshman.
Thorson's arrival dovetailed with Fitzgerald's innovative coaching approach. According to Northwestern, Fitzgerald shared an article featuring a video with Simon Sinek, who gives a lecture on how to manage millennials. Sinek's 15-minute explanation has been viewed 11 million times on YouTube, and it especially digs into millennials' addiction to smartphones.
In the interview with Northwestern's in-house staff, Fitzgerald explained that team meetings feature breaks every seven to 10 minutes to "give the guys a break to recharge mentally." He may not get the "Instagram fix" of his players, but he's not going to fight it out of spite, either.
"There's a reason dinosaurs aren't roaming around anymore," Fitzgerald said. "They didn't evolve."
It's a good line from an old-school coach. Does he have a team to go with it?
Sign up for Big Red Today news alerts
Get a daily Husker news roundup, recruiting updates and breaking news in your inbox.
The quarterback discussion will field a lot of attention — five-star Clemson transfer Hunter Johnson is in the mix, as is TJ Green, the son of former NFL star Trent Green — but question marks abound on offense.
Top pass-catcher Flynn Nagel — Husker fans won't soon forget him — has completed his eligibility, and superback Cam Green has retired over concern about concussions. Receiver Ben Skowronek (45 for 562) returns, but he's no burner. Running back Isaiah Bowser had a decent, but not spectacular, freshman season. Northwestern returns some offensive linemen, but you'd be hard-pressed to call it a good bunch last season, and it could be young at spots. Northwestern hasn't had an offensive lineman drafted since 2006.
Northwestern leads with defense, and its two-star linebackers, Paddy Fisher and Blake Gallagher, are back. So is defensive end Joe Gaziano. The secondary loses Montre Hartage, who had nine career interceptions.
On paper, it looks like Northwestern's weakest team in several years. But paper lies so often with the Wildcats. How many teams go 3-4 at home and 6-1 on the road? Northwestern does.
How many teams go 62-41 since 2011 with recruiting classes in the 50s and 60s and the academic standards Northwestern applies to its scholarship signees? Northwestern does. Yes, Stanford has had a better football program over that span, but it's also located in Palo Alto, California. Northwestern's campus is lovely, but it hugs Lake Michigan. Winters can be wet and in-your-bones cold.
The Wildcats persevere. A new lakefront practice facility helps. Fitzgerald is paid well — $4.5 million according to the Chicago Tribune. That's big money for the league's only private school.