LINCOLN — The kid didn't talk Monday, but he was still the talk of the team.
"He's a special character, so to speak," tight end Austin Allen said. "He brings a different kind of energy, and it's a good energy."
Then Allen, a third-year sophomore, paid true freshman Luke McCaffrey quite the compliment.
"We need a guy like Luke," Allen said. "He's always going to be there for you, good or bad, to tell you what's wrong. He's going to be a good leader for us."
High praise for the No. 3 quarterback, who, if absolutely everything had gone according to Nebraska's plan this season, would have had a few carries in mop-up duty during blowouts. Not 12 carries for 76 yards and five completions for 71 yards in a game the Huskers absolutely wanted to win for their journey to a bowl berth.
NU didn't, of course. An injury robbed McCaffrey of a chance to make magic on a game-tying drive. It may keep him out this week. A plan to redshirt him means he'll play in just two more games, which is a little like deciding which two quadrants of your meatloaf get gravy.
The most exciting running Husker quarterback since Taylor Martinez gets just two more laps around the track in 2019.
It's quite the tease for 2020, when NU's QB battle will be on. And it's going to be so on.
Who'd have guessed that? Don't let us media tell you we saw it coming. The good dudes over at Husker 247 do a Super Six recruiting list each signing class, and McCaffrey got a single vote — fourth — on all of the ballots.
Here's why: When Adrian Martinez converted a 2-pointer for his last pass of 2018, there was zero doubt about QB1 for Husker football in 2019 and 2020. If we're talking next-level potential, Martinez's arm strength, stature and older-than-his-years poise still make him the better NFL prospect by some margin. You put Oregon's skill and line around Martinez, and he may dazzle the way Justin Herbert does in Eugene.
But, in case you hadn't heard, NU's rebuild may take a while. Wins are at a premium. Husker quarterbacks are averaging, as a three-headed thing, 16 carries per game. Nebraska can't win without them running draws and sweeps.
"Eventually, we will be good enough that we won't have to rely as much on that," Frost said Monday.
Eventually isn't here yet. Martinez has missed three games in two seasons. Noah Vedral, the No. 2 QB, may be the headiest of the trio, but he, too, gets banged up.
That cracked the door open for McCaffrey, who has eagerly been waiting at the threshold since he arrived on campus. No young quarterback had ever learned the playbook so quickly, Frost and quarterbacks coach Mario Verduzco suggested. He won sprints in winter and spring conditioning, freshman Wan'Dale Robinson said, against a whole host of fast dudes.
"Luke is a burner just like everybody else," Robinson said. "If you watch him run, you wouldn't think he was a quarterback."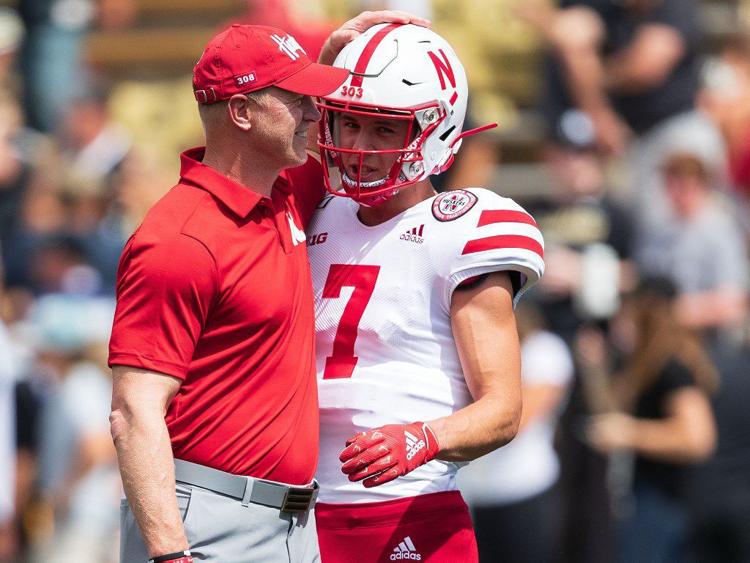 McCaffrey could be a productive receiver on the team right now. Just check out his high school tape.
But he wanted to play quarterback. Nebraska coaches — Verduzco deserves credit — stayed true to those wishes. McCaffrey throws a nice ball, especially on screens. He's a rocket runner. His burst off a zone read is rare.
His strongest attribute, according to teammates, is his personality and leadership. Upbeat. Funny. Loyal.
"He's always working hard, he's a loving person and he cares for everybody," Robinson said. "Luke is just what you would want in a football player and what you want in a quarterback."
Pound-for-pound, play-for-play, Robinson may be the best player Nebraska has. He's firmly in the corner of his buddy McCaffrey. More high praise.
But the best proof of McCaffrey's value is the desire to keep him redshirted. Nebraska knows he has made inroads with the team, and when the rebuild is complete — which may happen after Martinez graduates — NU doesn't want to have burned through a season now.
The present is important. The future's even brighter.
"I don't know if I've ever had three on a team that have the talent of the three we have right now," Frost said.
The competition can only go so far in November.
Don't put any limits on it next spring.
Adrian Martinez may have led the Huskers in drill prior to the Indiana game, but it was Noah Vedral and Luke McCaffrey that played. Now what was once a position of strength for Nebraska has become a question mark.
Photos: Every season-opening starting Husker quarterback since 2000
With Nebraska in the midst of another quarterback competition, take a look back at photos and statistics from all the passers that started the opening game of the season since 2000.