LINCOLN — The hits. That's what I recall from the Saturday night in Champaign. Well, that and the tight deadline.
The way Illinois' defensive backs laid the wood to Nebraska's backs and receivers — that was memorable.
Now, those hits didn't exactly slow down the Huskers. NU racked up 674 yards and 42 points in an exciting, come-from-behind victory that, as it turned out, was the team's best win in 2019. But they were good hits nonetheless, and as the season progressed, it became clear: You couldn't just kick around Lovie Smith's team.
Juggernaut Wisconsin sure didn't. Illinois scored an upset for the ages, 24-23, that stands as one of the whoppers in Big Ten history. The win helped propel the Illini to a surprising bowl berth and likely helped save Smith's job.
It also set up an intriguing 2020, when Smith will not only have his most seasoned team, but a breathtakingly soft opening four games — Illinois State, Connecticut, Bowling Green and Rutgers — before a trip to Nebraska. After that, Illinois hosts Purdue and Minnesota. Winning five of the first seven isn't out of the question.
The coronavirus has thrown all that into the air. It stopped the Illini's spring camp before it even started. Whereas teams like Purdue and Northwestern got in roughly half of their practices, Illinois and several others didn't have a single workout. The Illini finished winter conditioning March 12. That's the same day all hell broke loose in the sports world.
So Smith and his staff work remotely. Their offices at Memorial Stadium are empty. They have five recruiting meetings per week. Per Big Ten rules, they're allowed to talk to their players eight hours a week in two-hour-per-day increments. And when football comes back, the goal hasn't changed, Smith told reporters in a teleconference last week.
"Before this virus hit we were preparing to have the best season we had in our time at the University of Illinois," Smith said.
That could happen. Since the freshman-laden 2017 team went winless in Big Ten play — and didn't score more than 24 points in any game that year — Illinois has steadily improved on offense under coordinator Rod Smith. The defense had 20 takeaways in 2018 and 28 last season; creating turnovers is a Smith specialty.
Quarterback Brandon Peters is back. So are many of his best receivers. On defense, linebacker Dele Harding and defensive end Oluwole Betiku headed to the NFL, but on-hand are most of the key performers who began their careers as true freshmen thrown to the wolves in 2017.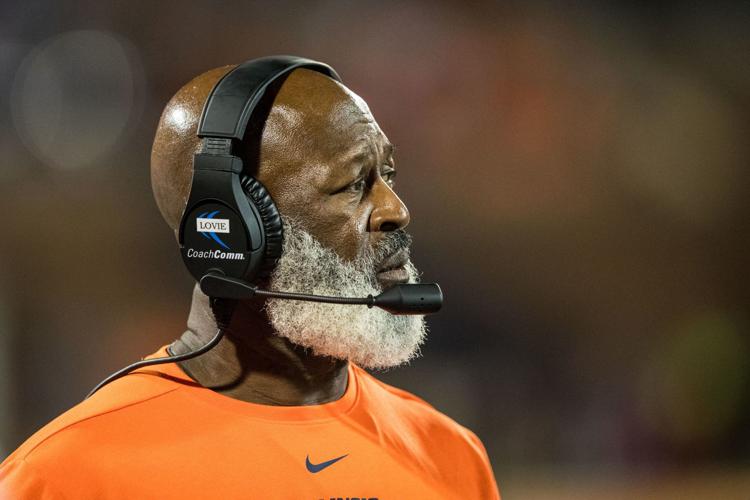 Smith took the risk of fielding a young, badly overmatched team in 2017 for a seasoned bunch in 2020. He also gave his roster a jolt of talent via the transfer market. Peters came from Michigan. Receivers Josh Imatorbhebhe and Trevon Sidney — plus Betiku — came from USC. Linebacker Milo Eifler transferred from Washington. Illinois adds two more eligible for 2020 in tight end Luke Ford (Georgia) and linebacker Derrick Smith (Miami).
He then lured back strength and conditioning coach Lou Hernandez, who'd worked for Ron Zook at Illinois from 2005-11 before going to North Carolina for seven seasons. In 2019, Hernandez's first year with Smith, the Illini looked more physical at the point of attack than I've seen from them in the nine seasons I've covered the Big Ten. Illinois is still leaky against the run, but its offense doesn't look punchless and stale.
Hernandez has helped Illinois players come up with a plan for managing their strength and conditioning while at home.
"You can come up with a lot of different ways to stay in shape by yourself," Smith said. "I'm not going on hearsay, I'm going on fact."
Smith figures if Illinois' players can stay in "pretty good" physical condition, the coaches can "adjust" everything else as needed. In a sense, he said, it's like the days when players went home for longer periods of time, stayed in shape, and showed up for more intense work closer to the season.
"I've seen guys miss the majority of spring workouts and summer workouts and then still have outstanding seasons," Smith said. "I'm going more on the premise that that's what's going to happen."
---
The 2020 Nebraska football schedule