In less than a year, the NCAA's transfer portal is already beginning to turn against the student-athletes it was supposed to help.
As The Athletic reported Thursday, of the 450 Power Five conference football prospects who have entered the portal, only 210 have committed to other schools. That leaves more than half without a new home. Some will certainly head to junior colleges. Others may dip down to the FCS level.
Either way, players are finding this newfound freedom — simply notifying your current school of your intention to transfer clears you to go anywhere — isn't all it's cracked up to be. Adulthood is like that.
On the Nebraska front, 12 players have entered the portal, according to the 247Sports database. This includes walk-on quarterback Andrew Bunch, who was welcomed back when he decided to stay.
Of the remaining 11, six have yet to find new schools: Guy Thomas, Quayshon Alexander, Breon Dixon, Justin McGriff, Caleb Lightbourn and walk-on tight end Branden Hohenstein. Excluding the three ex-Huskers who transferred to Oregon State before the portal officially started — Avery Roberts, Tristan Gebbia and Tyjon Lindsey — only Greg Bell (San Diego State) and Cam'ron Jones (SMU) have found new schools. Neither went to Power Five programs, though Thomas recently reported an offer to Colorado.
Bell told the San Diego Union-Tribune in March he was headed to SDSU as a walk-on because the Aztecs didn't have any scholarships available. Even though he retained a season of eligibility last year because he left after four games, that's a sobering reality. Bell may not have started at Nebraska this season, but he likely would have been the No. 1 back in spring practice as Maurice Washington worked on his legal issues.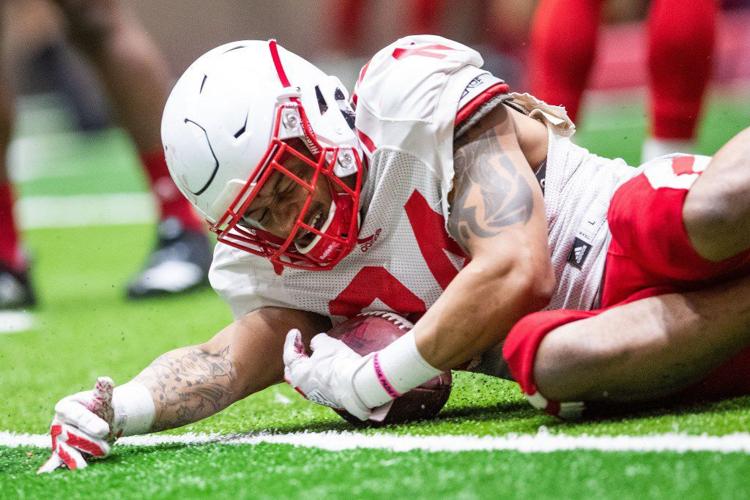 One reason teams don't have open spots, according to The Athletic, is that NCAA rules allow schools to sign just 25 players per year. There are good reasons that rule's in place. The SEC had it as a conference rule first in response to Alabama's unforgettable 32-man class in 2008 (five first-round NFL draft picks, multiple national titles) and Mississippi's 37-man class in 2010. The NCAA does allow back-counting, which can turn any 25-man class into 30. But every transfer counts toward that number. Nebraska, for example, is at 29 after the additions of graduate transfers Darrion Daniels and Kanawai Noa.
Basketball has no such limit, obviously, since 11 of the 14 guys currently owed scholarships at Nebraska — one over the 13-man maximum — have signed in this recruiting cycle. Fred Hoiberg will end up signing three freshmen, a junior college prospect and five transfers on top of the two newcomers signed by predecessor Tim Miles. That would be like a football program signing 72 guys in one class. It's quite possible, even likely, what Hoiberg has done at Nebraska is unprecedented for college basketball, especially if Isaiah Roby leaves.
In football, this annual limit creates scholarship count issues.
Arizona State coach Herm Edwards told The Athletic, for example, his team's scholarship count was down in the 70s. Some of this is based on ASU flat-out whiffing on in-state prospects for the 2019 class. Nebraska signed three of the top 15 prospects from Arizona, and the Sun Devils signed a fat zero.
But it's also based on not being able to replace all the transfers you lose. Penn State has lost 17 players, including some walk-ons, and there isn't any way to replace all of them unless you cut back on incoming freshmen. Few schools would ever do that. Although it'd be interesting to see one Group of Five team try it in hope that signing 15 transfers from SEC and Big Ten programs is a better talent acquisition strategy than signing the 84th-ranked class of freshmen.
Even if there were an exemption to the signing limit for transfers, don't presume that would be better for student-athletes. The more freedom and flexibility you allow programs, the more likely it is they'll use that as a rationale for nudging a player to transfer. And once a player is in the portal, all kinds of factors matter, like eligibility remaining, immediate availability and schematic fit.
Perhaps the NCAA allows some counting flexibility related just to transfers from four-year institutions. That'd help.
Perhaps the reality of the portal will help players understand the grass isn't always greener elsewhere, too. That may help even more.
Sign up for Big Red Today news alerts
Get a daily Husker news roundup, recruiting updates and breaking news in your inbox.