LINCOLN — Inside the quarterback manual that has been his life's work, Nebraska quarterbacks coach Mario Verduzco includes a "big chunk" on leadership. He's researched a wide spectrum of leaders and philosophies. Machiavelli's words to "The Prince" make the cut. So do Alexander the Great and Albert Einstein.
Those last two are, in temperament, almost polar opposites.
Verduzco calls Alexander a "proactive" leader. Yes, well, conquering whole sections of the ancient world before most of us get off our parents' health-care plan takes some assertiveness.
Einstein, a pre-eminent thinker of the 20th century, was more of a "passive" leader who, because of his reputation in physics, became a source of ideas.
Somewhere in between proactive and passive, Verduzco said, quarterback Adrian Martinez fits on the spectrum.
"But the bottom line is both (Alexander and Einstein) were performers," Verduzco said. "Performance is leadership."
And leadership is performance. So said Martinez on Tuesday. He's learned well from his position coach.
"He's acquired some power as a leader," Verduzco said. "But he needs to exercise his power with humility. We've talked about that piece of the puzzle."
Martinez's head coach, Scott Frost, wants more. Much more, based on his comments last week.
If Frost is bullish on Martinez's potential — talking him up as potentially one of the best, if not the best, quarterbacks in school history — he's equally bullish on Martinez seizing this team by the gills. Frost challenged his precocious quarterback in a way few have been recently challenged at Nebraska.
Sign up for Big Red Today news alerts
Get a daily Husker news roundup, recruiting updates and breaking news in your inbox.
"He's naturally going to be one of our leaders, but I want to see it go beyond that," Frost said of Martinez. "I want to see him be the guy that's setting the tone for the entire offense and the entire team. His play on the field is going to take care of itself. It's hard to be a real leader as a true freshman, but it's time for him to step into that role."
In other words, leadership is more than just on-field performance. It's holding others accountable — no easy thing in this generation of well-meaning athletes who have nevertheless been raised to mistrust authority or judgment of any kind in the "you do you" era of moral and ethical relativism. Coaches tend to fill that vacuum and run teams like minivan parents, getting overprotective and smothering every little flare-up in mood.
That style works OK when there's blue-chip talent at every position group and three hard regular-season games on the schedule each year.
It's a tougher tack to take at NU. Intangibles have to matter in Lincoln like they have in Iowa City and Madison.
"Any team is stronger when the voices in the locker room are the loudest voices and problems get fixed in the locker room," Frost said. "I don't ever want to run a top-down program that I'm micromanaging and running everything and fixing every little problem. The more problems that can get fixed before they even get to the coaching staff, the better team we'll have. And that responsibility falls on a lot of those guys."
Those guys, according to Frost, are Martinez, Damian Jackson, Mohamed Barry, Carlos and Khalil Davis, Dicaprio Bootle, Lamar Jackson, Matt Farniok, Boe Wilson and Jack Stoll. He said he left out a few.
Is that the beginnings of a Unity Council? Can Frost develop that bunch into a leadership group that walks the walk and talks the talk?
Frost was on Nebraska teams that had confident, salty enforcers who unburdened the coaches from having to do the heavy motivational lifting.
Barry, a fifth-year senior who had 112 tackles last season, fits the bill as a strong, tough performing leader. Bootle — quieter but starting to find his voice — certainly can. Stoll has a certain swagger to him.
Martinez plays the game with poise and cool. He doesn't brag. He doesn't blow off the media. He fits Verduzco's humble template. He handled a question about his Heisman odds beautifully — "my primary focus is getting better each day and helping this team win more games" — but deflecting praise is right in Martinez's wheelhouse.
Can he be tough on a teammate in practice?
Can he praise them publicly without boilerplate language?
Will freshmen point to No. 2 when reporters ask who runs the team? When I ask that question and I get one of those "everybody's a leader" lines, guess what? Nobody's really a leader.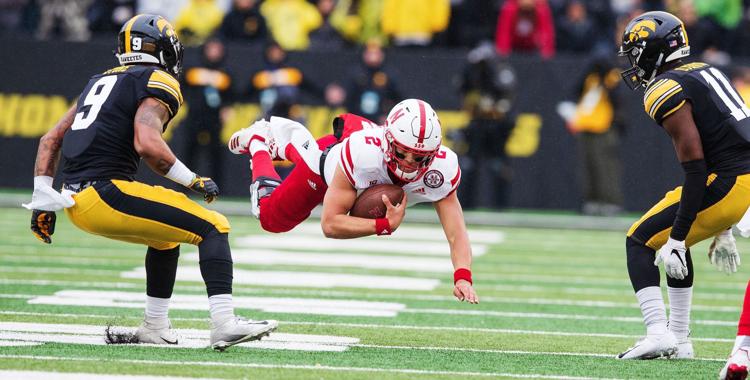 "He's got the type of personality that people gravitate toward," Frost said of Martinez. "So I think that even when he gets on people, people are going to accept it and embrace any sort of coaching he can give."
Frost has seen some leadership from Martinez but wants to "fast track" the process.
Interesting. Martinez won't take an ounce of flak from fans or media this offseason. Our to-do list for the sophomore was something close to "do that again, please."
The head coach has a bigger idea in mind. The kind that built an undefeated team at Central Florida in 2017. The kind Nebraska needs to rebound in 2019.
Martinez is finding his way here. He didn't "win" the job until right before the season. He got hurt in the first game and didn't get back to full speed until Game 4. By the end of the season — that last touchdown drive against Iowa — he had departing teammates saying "wow" about his play.
He can seize on momentum over the next six months.
"As last year went on, I kind of stepped more into that role, and this year I got to step more into that role," Martinez said. "It's validated in a sense that I got to become a leader, but I don't want to change and I haven't changed the person I am because of last season or anything in that nature. I'm the same guy that I've always been."
Somewhere between Alexander and Einstein.
Photos: 2019 Nebraska football spring press conference