LINCOLN — The five quarterbacks made their way from the tunnel up the sideline to the south end zone, jogging in unison in full pads and jet black uniforms.
After two weeks of questions on whether Adrian Martinez would play, he jogged with no limp, a heavy brace clinging to his left knee.
The longer the sophomore went through his regular routine Saturday, the more convincing it was he'd return as Nebraska's starting quarterback.
He was first in line for every drill, per usual when he plays, throwing on the run to assistants. He lined up behind first-team center Cam Jurgens and took practice snaps. Martinez threw passes with the first-team offense, handing off to Dedrick Mills and connecting with Wan'Dale Robinson. The farce was in full force on the big screen during starting lineups 20 minutes before kick, when Martinez's voice echoed into the crisp fall afternoon as he announced his name and hometown to the delight of the crowd.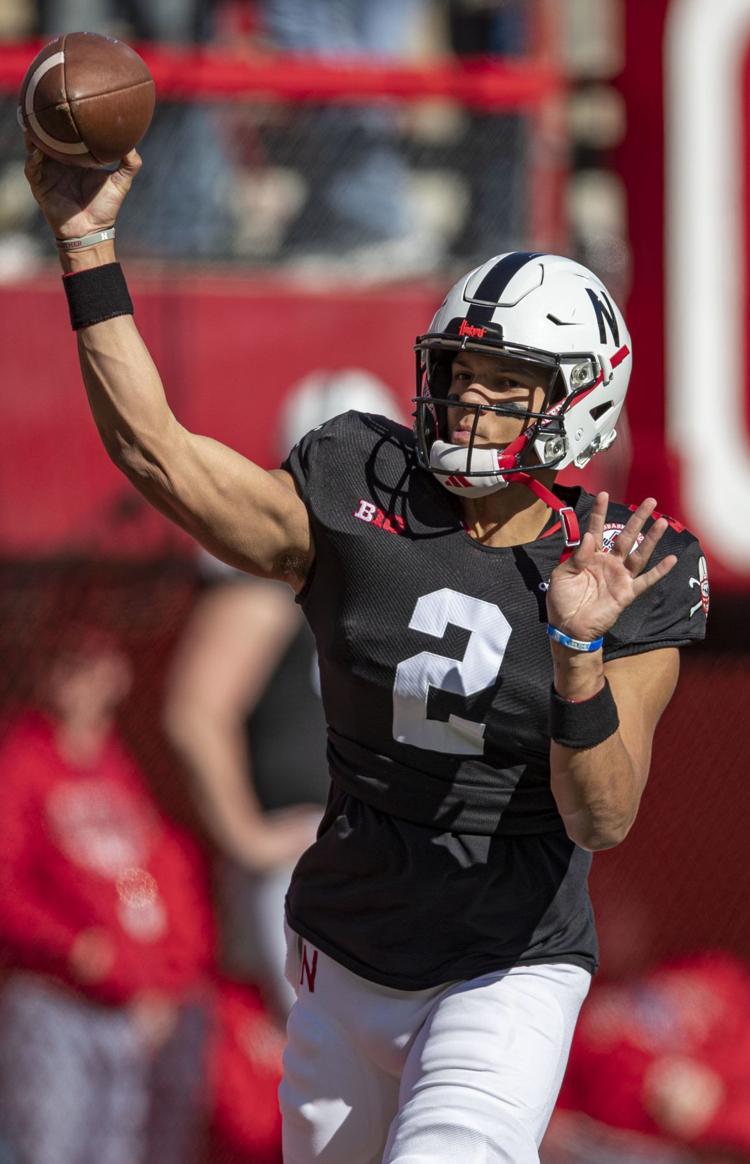 Nebraska is hardly the first team to misdirect fans or media or opponents on the health status of players. But the deception to try to gain even the slightest advantage shows the drastic change over the past four months surrounding the quarterback position.
The position Nebraska once believed to be so set, so solid, so reliable in 2019, has now become a charade of misdirection and clouds clarity on the final four games of the season.
"Right now we've got three injured quarterbacks, nicked up guys," coach Scott Frost said after the game. "I don't know where that's gonna leave us on Monday."
Entering the season, Nebraska was worried about a few things. Quarterback was not one.
Martinez was a Heisman contender. Though hindsight shows that was somewhat hyperbolic, his freshman year was historic. In 2018, he finished eighth in school history in passing yards in a season, second in completion percentage, fifth in total offense, first in 300-yard games and tied school record for total 400-yard games.
But 2019 has been a different story. In an offense that doesn't have a run play to hang its hat on, doesn't have receivers coaches think can get open, doesn't have an offensive line that can give a quarterback time, Martinez struggled through six games. He had three interceptions and two completions at halftime of the Ohio State game, failed to score a touchdown in the opener against South Alabama and was overall indecisive.
Searching for some reason as to why Frost's offense — purring like a Camaro by last year's end — wasn't working, a loud minority thought Martinez was the issue, which sowed frustration inside and outside the program.
Sign up for Big Red Today news alerts
Get a daily Husker news roundup, recruiting updates and breaking news in your inbox.
"I can't believe he needs to be defended," Frost said about Martinez's critics on Sept. 30.
On the final play of the third quarter against Northwestern, Martinez limped to the sideline and into the medical tent. In came Noah Vedal. The Wahoo Neumann grad led NU on a scoring drive in the final minute to win 13-10, and answers at quarterback became simultaneously more clear and covered in more mystery.
Frost thinks keeping injury information from fans and media benefits the health of his players, and he has been strict keeping that information close to the vest. Since Martinez was helped off the field, confusion as to the severity of his injury and his potential return has been questioned. Martinez stood on the sideline in a jacket and headset while Vedral did what he could against Minnesota in the 34-7 loss.
Vedral didn't finish that game, for reasons that have yet to be explained, though it was implied he was injured on his final drive in the fourth quarter.
And over the next two weeks throughout the bye, coaches gave little away.
Last Monday, when asked how Vedral was practicing, Frost answered by explaining how well Vedral played against Minnesota. Two days later, Verduzco said Martinez looked like his old self, and seemed like "a young guy that can heal pretty quickly."
That's when Saturday against Indiana happened. When Nebraska tried to trick the world, and Vedral came running in.
And in a game that began with confusion, only more piled on.
Vedral was helped off with what looked to be an ankle injury in the second quarter, and in came true freshman Luke McCaffrey. He managed, completing 5 of 6 passes, one for a touchdown, and running for 76 yards.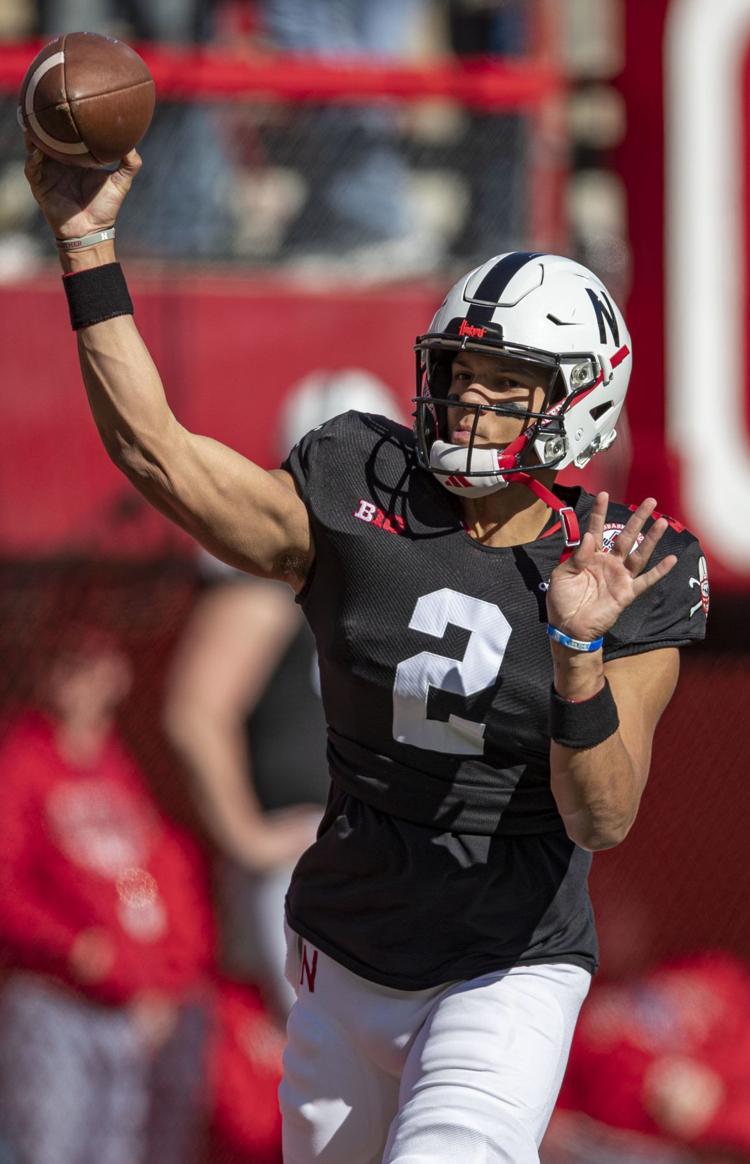 "He's a lighter guy, but he's willing to lower his shoulder and get an extra yard against a guy who might be twice his size and I don't understand how anyone else could not love that," offensive lineman Matt Farniok said.
But even he was banged up in the fourth quarter, and when the 90,000 assumed McCaffrey would lead the drive to potentially tie the game, here came Vedral.
Frost said when McCaffrey went into the medical tent, he looked at Vedral and Martinez, then asked trainer Mark Mayer: "Which one of these guys is less hurt.'"
Which is where NU now finds itself. At 4-4 and looking for its first bowl berth since 2016 in the second year under Frost, with more questions than ever at the position Frost is known for coaching stars.
Does playing Martinez risk serious injury? Is Vedral really OK? McCaffrey can only be used in two more games, so is he more equipped to handle Purdue and Maryland, or should he be saved for Wisconsin and Iowa, who Nebraska will be heavy underdogs against? Can Andrew Bunch win a game for Nebraska?
The answers to those questions change who the offense decides it wants to be for the final quarter of the season. Martinez throws far more than Vedral or McCaffrey, with 24 attempts per game in starts. With Vedral, Nebraska goes warp seed, as seen in the 90-second touchdown drive to open the game. With McCaffrey, the least-versed quarterback in the offense, they rely on his legs. He had 12 rushing attempts and six passing attempts Saturday.
Nothing is clear, other than that Frost won't show his cards until the rest of the table has. And that the clouds of confusion thicken as the season slogs on, leaving you to wonder if the quarterback on the screen pregame will be playing, or a mystery man behind the curtain.
Photos: Husker recruits attend Nebraska vs. Indiana