LINCOLN — Rewind the clock one year.
Go back to the Fourth of July 2018. As fans gathered around grills and lawn chairs before fireworks displays, conversations concerning Nebraska football were all about Scott Frost. Everyone was excited.
But no one could be sure what Year 1 would bring. The rebuild from the Mike Riley era, as Frost said in the spring and would continue to explain in the fall, would take time. That was clear by October, when Frost would say: "We had some rot and termites. You can't build a house on a foundation that is not solid."
But back in the summer, one of the biggest questions, was: Who would start at quarterback? The state seemed divided between two candidates.
In one corner, Adrian Martinez, the freshman from California who could run. But could he throw? In the other, Tristan Gebbia, the hard-working Calibraska survivor who could throw. But could he run? Does Frost start Gebbia then redshirt Martinez? Can Martinez really run the offense, despite not even playing his senior year back in California because of injury?
At the time, it was a close call. And why not Gebbia? He was the future pro prospect. He ran a similar offense in high school. Lock it in. Gebbia's the guy, some believed.
He wasn't, Martinez was, and it all appears so obvious now. This summer, the feeling is that Martinez is what separates Nebraska from the contenders in the Big Ten West. Because of his talent and ceiling, the hype train of Husker football heads into Year 2 with whistles blowing and the caboose wagging back and forth on the tracks at top speed.
"As long as that kid is at Nebraska," an anonymous coach told Athlon Sports, "they're going to be a problem in the West."
From Lindy's Magazine: "You know it's only a matter of time before (Frost) makes the Huskers great again, right?"
Street & Smith's: "If you're buying stock in any program to take a giant leap forward in 2019, Nebraska is as good of a bet as any in the country."
Phil Steele is picking Nebraska to be the most-improved team in the country.
The bulk of the hype from the summer college football magazines comes from belief in Martinez and Frost — and just about nothing else.
Vegas puts the line around eight wins, but the over is getting hit hard by fans and especially by four preseason magazines. Some have NU winning the Big Ten West. As the lull of the offseason festers from the Fourth to Labor Day, more fans and pundits likely will talk themselves into Nebraska playing in Indianapolis and maybe even winning its first Big Ten title.
Of the four magazines previewed, none picked Nebraska to have an All-American. None picked Nebraska to have an individual unit on either side of the ball in the top 20, except for the quarterback position. Questions are raised about the defense, the offensive line and a lack of proven playmakers.
But it doesn't matter, they all argue, because of this quarterback, Martinez, and this coach, Frost. The trust in them, it appears, makes up for deficiencies, at least on paper.
All four magazines previewed below pick Martinez to finish in the Heisman voting. One magazine called him a wizard. All expect him to carry NU back to prominence. And part of that trust falls on Frost — the coach who took Central Florida to the Peach Bowl in Year 2 and made McKenzie Milton into a quarterback who could break Twitter with a highlight.
The expectations — despite the questions — are as high as they've been for Nebraska football since the early 2010s.
So spring forward to July 2019, and the questions of last year are answered, as proven by these preseason magazines. What are the expectations? Dream as high as you'd like. Who is the starter, and what's that mean? Martinez, Martinez, Martinez, and he's the Captain America of the Nebraska universe.
"Brace yourself, America," an excerpt in Lindy's reads. "Nebraska football is about to matter again."
Phil Steele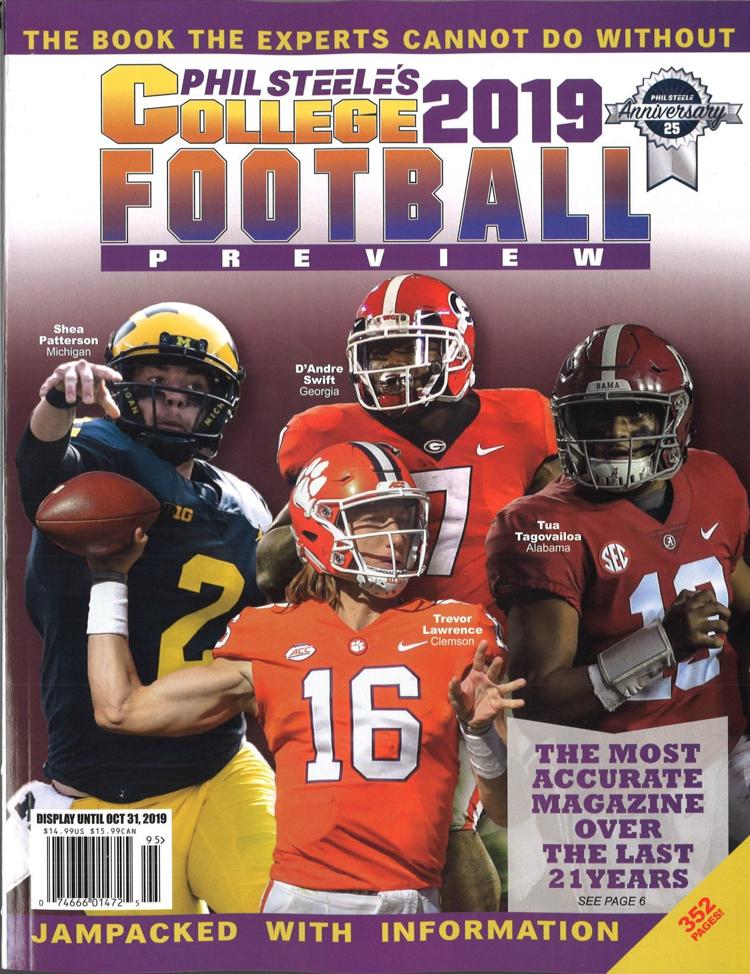 The premier preseason sports magazine, which it likes to tell you about often. It is the most accurate in terms of prediction in the last few years, which it shows with a graph on Page 2. It is the college football bible and previews every team in rigorous detail with statistics that will take hours to digest.
Cover: The front page is of four college football stars, none of whom is Adrian Martinez. Michigan's Shea Patterson, Clemson's Trevor Lawrence, Georgia's D'Andre Swift and Alabama's Tua Tagovailoa pose from left to right.
NU rank: 19th nationally (first in Big Ten West)
Iowa rank: 23rd (second in Big Ten West)
Four playoff teams: (1) Clemson vs. (4) Georgia, (2) Alabama vs. (3) Michigan
NU national unit rankings: No. 8 quarterback, No. 56 receivers, No. 40 offensive line, No. 48 defensive line, No. 52 linebackers and No. 25 defensive backs
NU bowl prediction: Rose Bowl vs. Utah
Mistakes: Mostly solid, other than a few holes in the roster. Doesn't include defensive lineman Darrion Daniels, a sure starter, and lists Maurice Washington as the starting running back. That's still up in the air.
Special features: You know those auto parts magazines you can pick up at gas stations for free? How the entire thing is just text after text in small boxes? That's this magazine. More stats than you'll know what to do with. It'd take about 30 hours to parse through the entire thing. Valuable yet overdone.
Street and Smith's
Street and Smith's is a fine magazine and easy to get through. Not as much information as, say, a Phil Steele, but it is more aesthetically pleasing. As usual, high on Nebraska, though it makes some radical forecasts here and there, like picking Iowa to finish sixth in the Big Ten West.
Cover: Minnesota's Tyler Johnson, who finished 23rd in the Big Ten in rushing last season, graces the cover.
NU rank: 24th nationally (first in Big Ten West)
Iowa rank: No national rank (sixth in Big Ten West)
Four playoff teams: (1) Alabama vs. (4) Oklahoma, (2) Clemson vs. (3) Georgia
NU bowl prediction: Holiday Bowl vs. Washington State
Mistakes: Breon Dixon will not be starting at outside linebacker. I say this with confidence because he's not on the team. Neither is CJ Smith, who announced this summer he's transferring as well. Both would be bold picks, even if they were on campus.
Special features: Street and Smith's is a little bit more of a pop magazine. A lot of listicles, including a best athlete category for each conference. For the Big Ten, that went to JD Spielman.
When Adam Carriker talks, you'll want to listen. Get every episode of the "Carriker Chronicles" in your inbox.
Athlon
No. 2 to Phil Steele in terms of accuracy, Athlon does a good job breaking down the teams and conferences without being overwhelming. Athlon clearly goes to press later than other magazines. The rosters and newest transfers are updated. If Steele is the adult, Athlon is the maturing teenager.
Cover: Adrian Martinez — posing in what could end up becoming an iconic shot — with his trademark headband and hair blowing in the wind.
NU rank: 17th nationally (first in Big Ten West)
Iowa rank: 18th nationally
Four playoff teams: (1) Clemson vs. (4) Georgia, (2) Alabama vs. (3) Michigan
NU recruiting class rank: 4th in the Big Ten
NU bowl prediction: Citrus Bowl vs. Texas A&M
NU Big Ten unit rankings: No. 3 quarterback, No. 9 running backs, No. 9 receivers, No. 6 offensive line, No. 8 defensive line, No. 10 linebackers and No. 6 defensive backs
Mistakes: Solid, up and down. No mistakes on the Husker side of things.
Special features: Some BuzzFeed-like listicles. A list of people to follow on Twitter, 15 storylines for the season. Those fill the first five pages.
Lindy's
If Athlon is the maturing teenager, Lindy's is the 13-year-old. Pretty, color-heavy magazine with some substance, but not as much as Athlon, with some stats, but not as much as Steele. Still, a pretty good overview of the college football world. Able to be looked through within an hour.
Cover: Adrian Martinez scrambling away, eyes up field, about to make a play.
NU rank: 21st nationally (third in Big Ten)
Iowa rank: 14th nationally
Four playoff teams: (1) Clemson vs. (4) Oklahoma, (2) Alabama vs. (3) Georgia
NU recruiting class rank: 19th nationally
Special features: Listicles that would probably get axed at most major news outlets: The Top Live Mascots. Coaches Who Should Run For Office. Six Coaches Who We'd Love To See In A Summit With Vladimir Putin. See what I mean?
Get ready for Nebraska's fall football camp with our 2019 Husker Camp Countdown
The World-Herald is counting down the top 50 Nebraska players you need to know heading into the 2019 season.