LINCOLN — Nebraska quarterback Adrian Martinez doesn't want to offend anyone, but he really doesn't know much about what fans and media think about his performance this season.
That's by design. He avoids any talk about his play if he can, and has removed from his phone the one app that contains most of the praise and criticism about him.
"Me being honest, when I first got here, I loved social media," Martinez said. "And then kind of over the course of time, I don't even have Twitter on my phone anymore. That's just the way it's been and it's been my way of handling it. That's just how it goes. Especially during the season you want to tune out as much as you can and just focus on the guys inside the stadium."
The sophomore started 2019 with Heisman Trophy buzz, but the Huskers' season hasn't gone as expected for Martinez or the team. NU stands at 4-6 overall and 2-5 in the Big Ten, and Martinez, while missing two games because of a left knee injury, is completing a lower percentage of his passes for fewer yards per game. Both Martinez and his coach, Scott Frost, said the criticism and constant speculation has been hard on the 6-foot-2, 225-pounder.
One of Martinez's friends, Nebraska volleyball setter Nicklin Hames, said Martinez has managed the fan and media noise around his play well.
"I'm proud of how he's handled all of it, because he's in the spotlight and there's so many people who watch every single thing that he's doing," Hames said. "He had a great game the other day, which was really awesome to see, and I just hope that he will — I know that he will — have confidence in himself."
Hames plays for a program that's ranked in the nation's top 10 and receives universal praise from media and fans. Nebraska volleyball's following is legion and the pacesetter of every other collegiate volleyball program. So Hames appreciates the support.
But she, too, was surprised by the intensity of the attention when she arrived the same year as Martinez.
"I think you know there's going to be attention, but you don't know the gravity of it and how much attention there really is on you," Hames said. "They'll be there for the good and the bad, and they're going to say their opinion no matter what. The best thing about Nebraska is how awesome the fan base is and how supportive they are, but one of the negatives is if everything is going bad, they'll have something to say about it."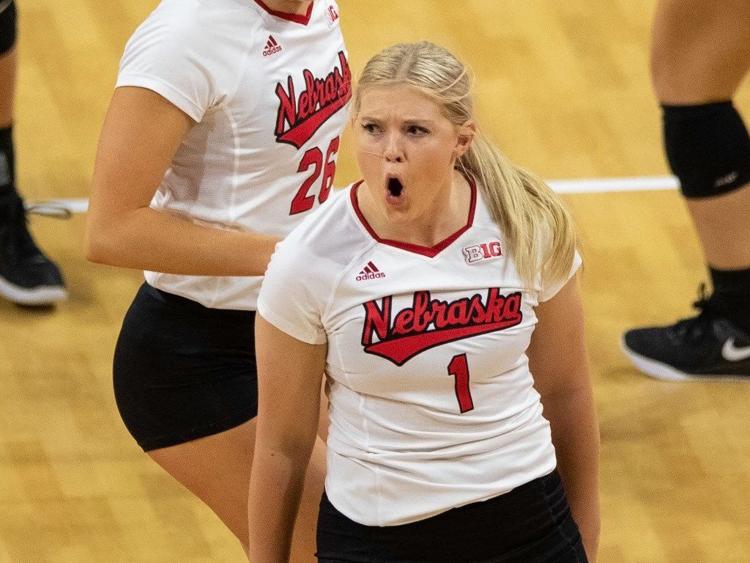 Martinez leans on the saying of his mentors — Frost and quarterbacks coach Mario Verduzco — about praise and blame being all the same. A quarterback will get more than his proper share of both.
"If you read the good stuff, you've got to read the bad stuff, and I'd rather just take that out of the equation," he said.
He'll read a piece his parents send him, and he can't avoid when people tell him what they think in person. Otherwise, he keeps a low profile when he can.
"It's part of Nebraska, it's part of playing for a big-time football team," Martinez said. "I wouldn't say it's something I necessarily prepared for coming into the season, but it's something you have to deal with."
Frost knows. As Nebraska's quarterback in 1996 and 1997, he had the task of following legend Tommie Frazier. He lost just two games as a starter, but still received consistent criticism through the first 15 games of his career, especially from his fellow students, who once chanted for the backup quarterback, Frankie London, during the 1997 Central Florida game.
"I went through it when we were 11-2 and I was the most hated guy in the state of Nebraska," Frost said of the 1996 season. "It's hard."
Frost has talked to Martinez about those experiences.
"I'd argue his are a lot tougher than mine," Martinez said.
At least Frost was spared social media. Simply typing Martinez's name into Twitter brought up the gamut of emotions from the last several days. One user claimed Martinez had to be the "worst QB in college football" after taking the 20-yard sack against Wisconsin. Another said Martinez looked "DECISIVE" for the first time since the win over Illinois.
"Adrian Martinez is a top 5 in the nation QB when healthy," wrote one.
"Adrian Martinez's field vision is absolutely terrible," wrote another.
"We're more than just athletes — especially Adrian," Hames said. "He's a great person, and I feel bad for him sometimes because everything that's said about him is based on how he plays on the football field."
Photos: Every season-opening starting Husker quarterback since 2000
With Nebraska in the midst of another quarterback competition, take a look back at photos and statistics from all the passers that started the opening game of the season since 2000.