LINCOLN — Nebraska almost did it.
Almost overcame three errors and plenty more mistakes. Almost found that last clutch hit. Almost won the weekend series against a team with a top 25 RPI.
Instead, Illinois connected on a two-run double with two strikes and two outs in the top of the ninth inning. Moments later, the Huskers — with the tying and winning runs in scoring position — grounded out.
NU (23-16, 12-6 Big Ten) rallied from four runs down but ultimately dropped the rubber match to Illinois 6-5 on chilly and windy Sunday afternoon at Haymarket Park. Instead of keeping pace with Big Ten leaders Michigan and Indiana, the Huskers head into finals week trying to rediscover the steady play that helped them dominate the first half of the conference season.
The Huskers play at Northwestern next weekend in their final regular-season road series with three weeks before the league tournament.
Sign up for Big Red Today news alerts
Get a daily Husker news roundup, recruiting updates and breaking news in your inbox.
"We have a couple days here where we can really focus up, study, get things done," junior outfielder Mojo Hagge said. "Then there comes a time where it's time to click back into baseball."
The list of Husker mistakes Sunday read like a long word problem. All three errors came on bunts, with the third one eventually costing the game in the ninth. Starting pitcher Reece Eddins plunked leadoff batter Michael Michalak on a 0-2 pitch in the third, and Michalak later scored. Eddins, a senior whose 4⅓ innings marked his shortest outing in Big Ten play, left a pitch over the middle of the plate in the fourth to Jack Yalowitz, who crushed the mistake into the right-field bullpen.
Hagge pointed to the eighth, when he began with a single in a 4-4 game but was caught stealing on a fake-bunt-and-run play. Illinois went ahead for good minutes later.
"I didn't get a good jump, and it's on me," Hagge said. "We have a chance there to go ahead in the eighth and that's that. If we would have scored there and held them to zero, it changes the whole ballgame."
Then there was lack of the clutch hits — elusive for Nebraska in recent weeks —  against Illinois right-hander Cyrillo Watson. Hagge said the fastball velocity bothered NU's lineup. Husker coach Darin Erstad said the breaking balls led to too much chasing out of the strike zone.
Whatever it was, Watson lasted 6⅓ innings, scattering three singles and a pair of walks through the first five innings. Hagge's RBI single in the sixth scored Luke Roskam and cut the deficit to 4-1, but the man behind him on the bases, Joe Acker, tripped rounding third and was tagged out to end the rally.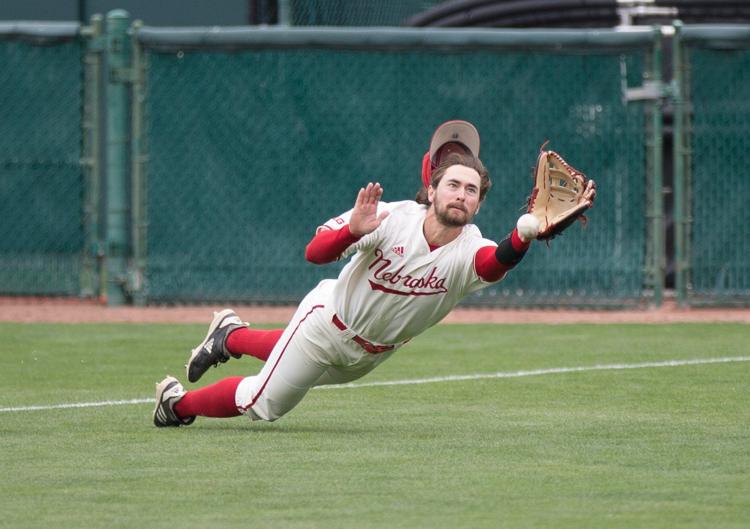 After coaxing a pair of walks in the sixth, NU greeted reliever Sean Leland with a double steal and later loaded the bases with two outs. Consecutive two-strike RBI singles from Acker and Cam Chick tied the game, breaking Nebraska's 3-for-21 slump with runners in scoring position on the weekend.
"I just want them to be aggressive on their pitch," Erstad said, "and not guess up there."
The ninth for Illinois (28-14, 8-7) began with a single and NU closer Colby Gomes followed by scooping up a bunted ball and throwing wide to second base. The freshman collected a pair of outs from there and got a 2-2 count on Kellen Sarver before the Illini freshman drove a two-run double to the wall in center.
The Huskers worked two free passes in the bottom half and Chick added a two-out RBI single before Angelo Altavilla grounded out to shortstop to end it.
"Mentally, I thought they were just taking it to us," Erstad said. "They showed their experience, they came in for the kill. And we fought it off and almost pulled it out."
Photos: Nebraska baseball faces Illinois